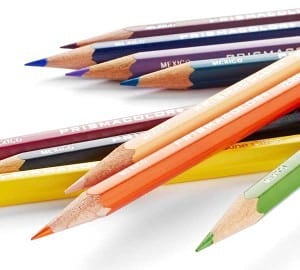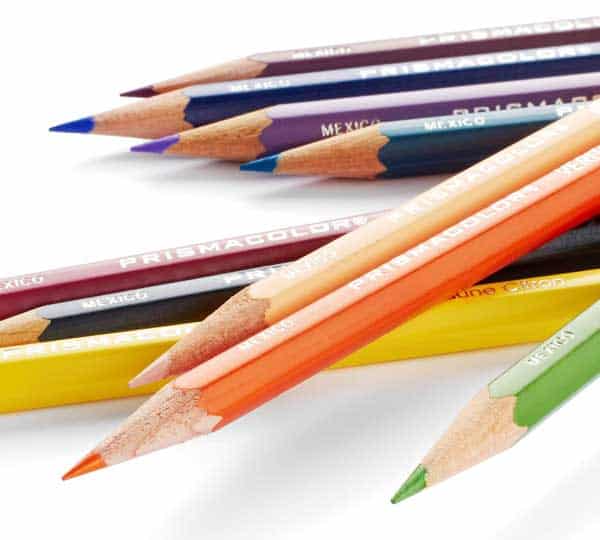 What are the best colored pencils for artists?
There are dozens of colored pencil brands on the market. Choosing the best colored pencils for artists work can be critical to get the best results.  
Although digital art is getting more mainstream there is still a majority of  artists  who enjoy creating work with more traditional means.  Is pleasing to see that good old pen, ink and colored pencils are not yet dead!   So what are the best colored pencils for artists?   We look at 5 different sets:

Darice 80-Piece Deluxe Art Set
The Darice art set is great for the beginner as it has a variety of mediums in addition to quality colored pencils.  
Oil pastels, paint brushes, water color cakes and a lot more are packed into this 80 piece art set which fits into a neat and robust wooden box.
The colored pencils provide a fairly generic range but are of very good quality.  
The reviews on Amazon indicate that the oil pastels are the icing on the cake.  There are other elements in this art set which are not quite up to the same level such as the markers which appear to be 'run of the mill'.  
Although it may not be up to professional artist standard the Darice art set is still exceptionally good value for the beginner. It's a great set to try out a variety of different art products.
See the latest price for the Darice 80-piece Deluxe Art Set set right here…
Prismacolor Scholar Colored Pencils, (60 pencils)
Another great set of high quality pencils  to suit the beginner.  They have very good blending qualities and nibs resistant to breakage (often a problem low quality pencil products).
Lead performance, vibrancy of color and smoothness of line all add up to a very good color pencil.
On the other side of the coin the pencils sometimes leave a waxy finish. The case provided does not provide a great deal of protection for your pencils.  So you may have to store them in a more substantial container to protect them.  All in all this is a very good quality set, especially for a beginner with a nice range of colors.
See the latest price for the Prismacolor Scholar colored pencils right here…
Prismacolor Premiere Soft Core Colored Pencils, (72 pencils)
This is quite a notch up from the Prismacolor Scholar pencil set.  They are ideal for professional artists with smooth superior blending and great tonal quality particularly for shading.  
The pencils are robust and pretty resistant to nib breakage.  The leads provide a water proof finish and the pigments have good fade resistant qualities to keep your work fresh and vibrant.
The leads are very responsive to stroke pressure giving subtle changes across the range of pressure.  High quality across the board makes this the flagship pencil of the Prismacolor range. It is a sound investment if you want to get a very high standard finish to your artwork.  There do not appear to be any significant negatives with these pencils
See current price of the Prismacolor Premiere  Colored Pencils, 72 Count right here…
Faber-Castell Colored Pencils with CD, (120 pencils)
Is Faber Castell a good brand? If you want the absolute best the Faber-Castell Colored Pencils are the way to go and are well worthy of this accolade!  
The colors are extremely vibrant due to particularly high pigmentation and the nib breakage resistance is excellent. The triangular outer casing design is superb as it does not impose on the user experience.  This ergonomic styling allows you to forget the pencil is in your hand reducing grip fatigue and increasing focus on the drawing.
The pencils have an added bonus in that they can be used with water to create water color effects.  The nibs are a dream to work with as the color glides onto the work surface with very little pressure. I use these extensively for cartoon artwork and am extremely happy with the Faber Castell brand in every aspect.
With such a good range of colors in the set (including flesh tones) and with subtle blending qualities  the range of color available is virtually endless. We believe that this makes them the best pencils for blending.  I could not find any aspect to criticise other than they are the most expensive colored pencils in this review.  However you get what you pay for!  See the latest price for the Faber-Castell Colored Pencils with CD, 120 Count right here…
Prismacolor Premiere Soft Core Colored Pencils, Manga Colors, (23 pencils)
Prismacolor have created this small set of colored pencils specifically for Manga drawing and colors.  
With similar qualities to the Prismacolor Premier Soft Core pencils (above) the Manga set have great blending and shading qualities. Color can be laid down on virtually any drawing surface seamlessly.  
The color pigment is water proof and light/fade resistance maintaining vibrancy of color.
The leads in the manga set allow for great detail and precision when required. The set comes with a box which converts quickly into a stand.   Therer are minimal negatives with this pencil – the main being the small number of pencils in the set which although true actually gives a decent range of manger colors which are easily blended.
This set is similar to the Prismacolor Premiere set above, but included are colors geared toward manga drawings. The highlights of these pencils are the smooth laydown quality, ease of blending, and shading ability. The pigments are both fade-resistant and waterproof. The pros generally revolve around the lead, which comes with a shorter point that is built to last.
These pencils are also great for achieving precise details.   The cons for this set are minimal. Some users have complained of lead breakage despite the shorter points, but many disagree. Personally I have found these Manga color pencils to work really well without breakage and I couldn't fault them in this respect.
See latest price  for Prismacolor Premiere Soft Core Colored Pencils, Manga Colors, really good pencil brands for Manga Colors…
Which are the best colored pencils for artists?
There are lots of variables to consider when selecting the right color pencils for you.  Each set has it's own features and qualities.  However if you are looking for the best set Faber-Castell is the premier choice for sheer quality in my view.  
I have had some great results with these pencils.  You can always tell when you have a quality drawing product as there are no distractions from things that aren't quite up to the right standard.  Quality means you can focus entirely on your drawing to get the best results possible.  You can buy much cheaper colored pencils but when you are striving for perfection you need the best tools you can afford to get there.
If you are looking for the best colored pencils for artists, Faber-Castell is also the choice I would make.
This recommendation is made based on extensive personal use of the Faber-castell pencils.   This is also backed up by some great reviews on Amazon.  However in the end it's up to you to make the decision.
Still uncertain about which are the best colored pencil for artists?
There is one cheaper solution. That is that most suppliers, particularly the ones recommended in this review have smaller sets avaialble.  You could try out a smaller more economic set of colored pencils to decide for yourself which brand suits you.
My recommendations are just that – mine.  However, it's your opinion counts as you are the one who is going to use these pencils.  If you are willing to trust my judgement then go ahead and purchase a set that I have recommended.  
If you feel that you would like to try before making a bigger investment then I would urge you to try a smaller see and try them out first.  If you click though on any of the recommended sets I have made they generally have a smaller set option available.
Finally – whichever brand you chose I hope that you find the best colored pencils for your own individual style of artwork as color takes art to a different  level – Good Luck!