Blog
Books
Other Artists
Who was Dr Seuss
Theodor Seuss Geisel, a.k.a. Dr. Seuss, is an internationally known author of award-winning children and adult books.  The son of German immigrants, he created the most popular beginner reader books in the world. A poet, a cartoonist, a film maker, a political activist, and an author are just a few of the hats he's worn during his writing career.
Born at the turn of the century, he wrote 44 children's book that became his legacy.  The distinct Dr. Seuss illustrations are eye catching, and most children have been exposed to at least one of his books by age five.  
Adults and youngsters use Dr. Seuss quotes on a regular basis even if they don't realize it. Simple vocabulary words and a catchy poetic rhythm are the foundation that made Dr. Seuss books legendary. 
Though these great stories abound in hard cover, technology has put Dr. Seuss books online so modern kids can enjoy the same stories on their tablets as generations before did with the original paper versions.
Dr. Seuss Facts
Everyone knows that Dr. Seuss wrote children's books with crazy characters that use a weird play on words.  But here are a few things you probably didn't know about the famous author.
Real name: Theodor Seuss Geisel
His first book And to Think That I Saw It on Mulberry Street was published after being rejected by 27 publishing companies.
Before becoming a children's book author, he won an advertising contract for Flit, an insecticide, for which he coined the phrase, "Quick, Henry, the Flit!"
He won a Pulitzer Prize, an Academy Award, three Emmy Awards, three Grammy Awards, and three Caldecott Honors
His cartoons appeared in magazines Vanity Fair, Life, and Liberty
He wrote a total of 60 books in his four-decade career
He appeared on the game show To Tell the Truth in 1958
He worked as a cartoonist and writer for Judge, the leading humor magazine in America
During WWII, he worked in the animation department for the US Army and produced several short films (one later won an Academy Award)
His birthday (March 2) became the date for National Read Across America Day
Having been caught drinking gin in his dorm room during the prohibition years, he was kicked off the writing team of the college humor magazine.  Encouraged by his writing professor, he adopted the pen name "Seuss" so he could continue writing without the Dean's knowledge. He added the "Dr." because his father had wanted him to practice medicine.
His first published cartoon appeared in the Saturday Evening Post in 1927 for which he was paid $25
His one and only comic strip Hejji was published in 1935
He created over 400 political cartoons during WWII
He wrote the story, screenplay, and lyrics for his only musical fantasy feature film The 5,000 Fingers of Dr. T in 1935; it earned an Academy Award Nomination for Best Scoring of a Musical Picture
After dropping out of college to become a cartoonist, he was awarded a doctorate in English by Dartmouth after the huge success of The Cat in the Hat giving credence to the "Dr." in "Dr. Seuss."
He was inducted into the California Hall of Fame by Gov. Arnold Schwarzenegger posthumously in 2008
He wrote several other books under the pen name "Theo LeSieg" which is his last name "Geisel" spelled backwards
Dr. Seuss Book Text and Illustrations
It took a long time for Dr. Seuss books to become what we know today.  His work during the early part of his career was aimed at adults through advertising and at times was very political.  He blended humans, animals, and eccentric machines to create a platform for a very diverse storyline in his books.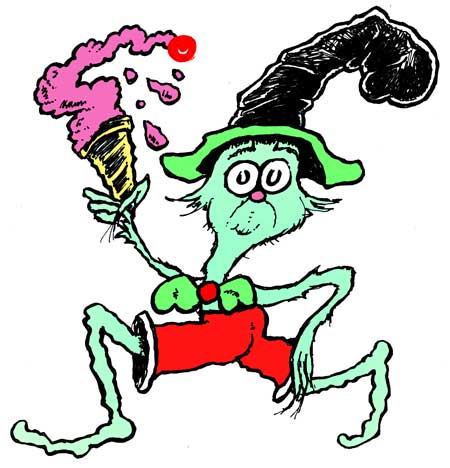 In 1954, Life magazine published an illiteracy study indicating a steep rise in children being unable and unwilling to read.  The reason?  Children found their books boring.  The chairman of Houghton Mifflin tasked Dr. Seuss with creating a book using a list of 250 words first graders should be able to read. Nine months later, The Cat in the Hat was born. It used 236 of the required words.
With this new style of writing, Dr. Seuss realized that he could combine a simplified vocabulary and innovative fictional characters to entice young readers.  He began to create fun rhymes with outrageous creatures to tell an interesting story. The rhymes helped the children learn to read as the Dr. Seuss illustrations lent an air of juvenile comedy.   Children were no longer bored, and illiteracy rates decreased.
Dr Suess Made Reading Fun
Reading a Dr. Seuss book isn't just practicing words. With zany rhymes that tell a story, reading becomes fun. Each story carries within it an important life lesson.  By weaving words together in a comical and entertaining way, the stories become timeless pieces of childhood.
In a Dr. Seuss book, text and cartoons join forces to address issues children face as they grow up.  By addressing real situations that children encounter, they figure the moral of the story out on their own. Dr. Seuss characters learn that kindness, perseverance, respect, and diversity are necessary in everyday life.
Telling a story with rhymes isn't just fun for kids. It helps increase cognitive brain functions. Dr. Seuss wrote his stories in a way that children could relate to and in a manner that was easy to remember.  His hilarious rhymes are made of strange and unconventional words, but it works.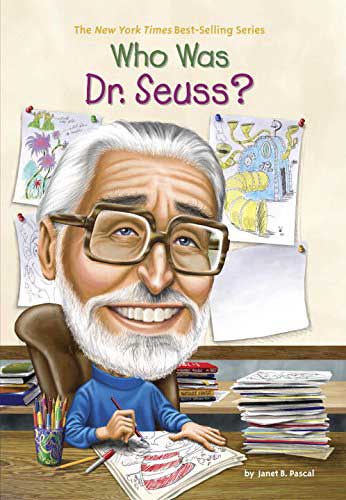 Dr. Seuss Quotes – the Man
Famous people have famous quotes, and Dr. Seuss is no exception.  Like his books, he's full of wisdom, humor, and character. His playfulness with words and genuine apathy for children is what makes his stories and wild characters stand the test of time.
There are plenty of Dr. Seuss quotes from his books that are known worldwide.  But what about the man himself?  What makes him tick? Why did he spend his life dreaming up outlandish characters to entertain children?  In his own words, he gives us a glimpse into his own sense of wackiness.
Children want the same things we want. To laugh, to be challenged, to be entertained and delighted.
Don't cry because it's over. Smile because it happened.
I like nonsense. It wakes up the brain cells.
Only you can control your future.
When asked why he had no children of his own, he replied, "You have 'em. I'll entertain 'em."
Dr. Seuss Quotes – the Books
If an author can sell over 600 million books, that says something.  With timeless classics, quotes make their way into our lives every day. These Dr. Seuss quotes from his books are just as popular today as they were generations ago.   
A person's a person, no matter how small – Horton Hears a Who!
I meant what I said, and I said what I meant. An elephant's faithful, one hundred percent.- Horton Hatches the Egg
Oh, the things you can find, if you don't stay behind! – On Beyond Zebra!
The sun did not shine. It was too wet to play. So we sat in the house, all that cold, cold, wet day. – The Cat in the Hat
Well, in Who-ville they say, that the Grinch's small heart, grew 3 sizes that day. – How the Grinch Stole Christmas
I am the Lorax who speaks for the trees, which you seem to be chopping as fast as you please! – The Lorax
I like green eggs and ham! I do! I like them, Sam-I-Am! – Green Eggs and Ham
Dr. Seuss Characters
Dr. Seuss attended Oxford in his pursuit of an English degree because he wanted to become a teacher.  However, his wife encouraged him to quit school, forget being a teacher, and become a full-time artist.  Lucky for us, he listened to her. He dropped out of college and went to work as a cartoonist.  And thus the wacky and weird Dr. Seuss characters we know today were born.
In high school, Dr. Seuss enrolled in an art class during his freshman year.  This is thought to have spawned his love of drawing. But he didn't want to draw the normal world around him, thanks to his vivid imagination. 
During the early 1900's, color printing was limited and expensive. Despite these limitations, Dr. Seuss was meticulous about his color schemes.  He wanted to attract the attention of early readers – five and six year olds. 
Bright Colors Make Dr Suess Illustrations Captivating for Children
By using saturated reds and blues, as evidenced in The Cat in the Hat, the visual is striking enough to capture the young eye and hold their focus. This combats the boredom children feel when they see a page full of words they don't yet recognize.
In the early Dr. Seuss art work, shaded pencil drawings and watercolor are the main medium used. But when he focused on the children's books, he started off with just pen and ink drawings that were filled with bold bursts of flat color.  When he wrote The Lorax, he began adding a variety of other colors.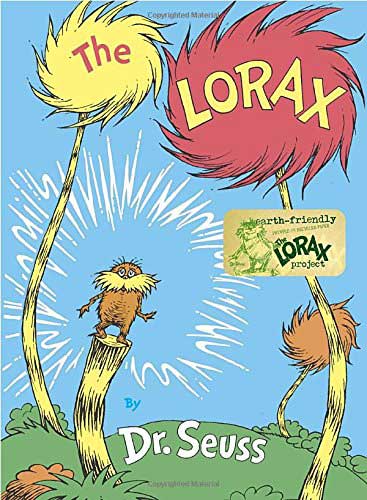 Suess's Non conventional line work adds so much character
Dr. Seuss steered clear of conventional straight lines. His characters have rounded bodies and a droopiness about them. The Grinch, for instance, is not the handsome Greek god of the story, but has more of a bubble body with a face that has sagging features.  His droopy face conveys unhappiness and misery.  Over-extended upward lines depict his malevolence when he concocts the plan to steal Christmas and spread his unhappiness in Whoville.
Most characters have an odd covering of fur or feathers. Humans look human but often look as if they're having a bad hair day.  Body parts are overly exaggerated to convey a particular characteristic such as kindness or surprise. 
Emotion with Lines
The big-hearted elephant Horton in Horton Hears a Who has oversized ears resembling angel wings. This supports his angelic sense of duty to save the Who's.
The settings for the stories are void of straight lines as well.  Imagine drawing an elaborate city skyline and then slowly melting it.  The end product is the world of Dr. Seuss' characters.  Buildings, machines, staircases, and other concoctions of his imagination are all devoid of straight lines. In this way, he shows motion with lines. 
The drawings are simple yet effective in conveying motion, emotion, and thought. The characters intent is easily recognized by young readers.  The illustrations give the story a sense of constant movement with minimal lines.
The Cat Behind the Hat
He later created elaborate paintings that cast shadows over the simple pen-and-ink drawings that were published. This resulted in three "painted books" geared towards his adult audience.  Happy Birthday To You! was painted in gouache, The Seven Lady Godivas and McElligot's Pool used finished pencil and gouache on board methods. 
Most artists paint self-portraits, and so did Dr. Seuss.  The most famous entitled The Cat Behind the Hat was published in the Saturday Evening Post in 1957, four months after the release of The Cat in the Hat. The portrait depicts his alter ego with a bowtie and tall red and white hat similar to that of the Cat.  Using irregular lines, droopy facial features, and bursts of colors, he would fit well into one of his imaginary worlds. 
Top 5 Dr. Seuss Books Every Child Should Read
If you want to share the classics of Dr. Seuss books, online e-books and paper versions are now available.  Introduce your children to the kindness of Horton, the mischievousness of the Cat in the Hat, the small-hearted Grinch, and everyone's favorite breakfast of Green Eggs and Ham.
Horton Hears a Who! 
When Horton the elephant hears a Who, the fun begins. Horton teaches children that although everyone is different, we're all important.
In the classic style of Dr. Seuss, illustrations pop off the page to grab a youngster's attention. In 72 pages, your child will fall in love with the Dr. Seuss characters as they learn to read and rhyme.
When lovable Horton discovers a civilization of Who's living in floating speck of dust, he does his utmost to protect them.
When an eagle interferes, Horton must rescue the Who's by convincing them to make a loud ruckus to prove they exist. 
Horton shows children that no matter how small a person is, every person matters.
How the Grinch Stole Christmas 
Born in 1957, the Grinch has been stealing Christmas and antagonizing the residents of Whoville for generations.
This is the version of 'Twas the Night Before Christmas in an alternate universe.  That mean ol' Grinch whose heart is three sizes too small sneaks into the village and steals all the gifts, thinking he can ruin their Christmas morning.
Using unique Dr. Seuss characters like Cindy Lou Who to show the cold-hearted Grinch the true Christmas spirit, your heart will melt with each turn of the page.
This story is the epitome of a favorite holiday gone awry. And thanks to the antics of the giant green Grinch, the hilarious citizens of Whoville are reminded that Christmas is a time for giving love and not about receiving material gifts. 
The Cat In The Hat 
There's no better cure for boredom than spending the day with an overgrown cat in a hat and a double dose of his chaotic friends. 
That's what Dick and Sally discover one rainy afternoon much to the chagrin of their babysitter who happens to be a goldfish. 
The madcap adventure starts when a knock on the door announces the arrival of a giant cat wearing a hat who turns the humdrum day upside down.  
Another wacky conglomeration of Dr. Seuss characters is introduced when the Cat lets loose his companions, Thing 1 and Thing 2.  After destroying the house, can Dick and Sally right things before Mom gets home? 
Green Eggs and Ham 
 Let your kids enjoy the bizarre adventure of Sam I am on his quest to answer one of the great mysteries of life:
Do you like green and ham?  With a long list of places of where Sam can indulge in his green eggs and ham, your child will be a die-hard fan of this delectable snack. 
The Dr. Seuss art work on each page gives a fantastic visual representation of Sam's adventure.  The simple words and easy rhyming rhythm encourage children to read by themselves while the artwork gives clues to the words meanings. 
This beginner book helps to teach children the fundamentals of reading as they identify with the distinct Dr. Seuss illustrations that give a glimpse into his kooky imagination.
Dr. Seuss Collection 20 Books Set Pack 
If one Dr. Seuss book is good, 20 are amazing.  Twenty hilarious tales wait to be told in this magical set.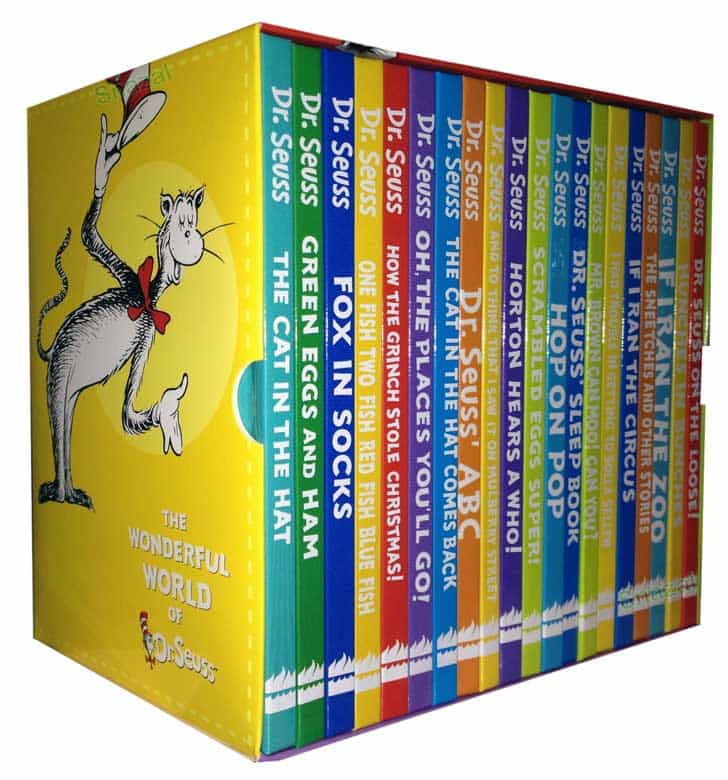 Made smaller than the standard book size, they were tailored to fit a child's hand. Words, colors, numbers, animals, and adventures are meticulously crafted for the enjoyment of young readers. 
Included are The Cat in the Hat, The Cat in the Hat Comes Back, How the Grinch Stole Christmas, Fox in Socks, Oh the Places You'll Go!, One Fish Two Fish Red Fish Blue Fish, Dr. Seuss' ABCs and many more. 
Dr. Seuss art jumps out of these hardcover books in vibrant color.   The set fits snugly in its included storage box that boasts a smiling Cat in the Hat.
The legend of Dr Suess lives on
Dr. Seuss uses unforgettable characters and unique illustrations to ignite the imagination. Each story has a purpose with an underlying moral that children recognize on their own. 
In every Dr. Seuss book, text and sketches combine to create a fast paced and interesting story that hooks the reader. Catchy rhymes, insane creatures, and outlandish backdrops entice the reader to dive into the world of these silly characters. 
He revolutionized the way children learn to read with strange characters who are completely comfortable in their weird worlds.