Blog
Graphic drawing tablets
Overview of the XP – Pen Artist 15.6 Graphics Tablet: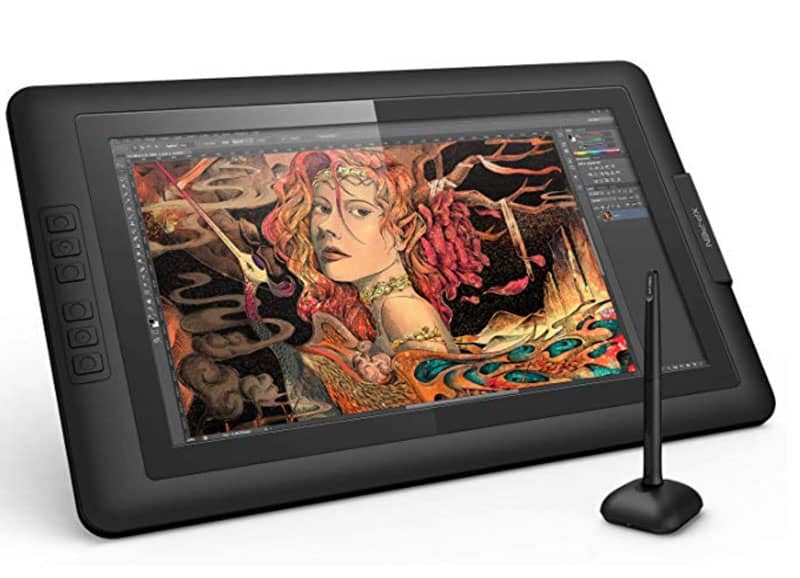 PROS
Thin 12mm profile but is very strong and highly portable. Looks sleek but with the bonding of the casing and screen, the tablet feels really robust which for me is great as I do use it 'on the hoof' and tend to be less than gentle with it in transit!

Very easy to set up and use out of the box. Took just a few minutes – easy peasy!

Powered through the USB so you are not restricted to a wall mounted power source.

Pen pressure is 8192 levels which is what you would expect as a minimum for professional use.

 

Pen action is for me very smooth and responsive.

The pen tool does not require batteries.

6 adjustable buttons on the side of the tablet which are very easy to program through the software installed on the enclosed CD or via the XP-Pen web site.

 

Probably more custom control than most would need but really appreciated and particularly appealing to the more techy artist!

Integrates seamlessly with software packages including Photoshop, Autodesk, Adobe Illustrator, Sketchbook and more.

The tablet comes with an antifouling glove and additional nibs for the pen.

The tablet is very stylish to look at and although this is not a feature I generally consider (my priority is the functionality) it is inspiring when you use it as it does look the biz'.

The screen display is nice, bright with very crisp images.

Last but not least the packaging was excellent so you should receive the tablet in pristine condition.

 

I have seen really poor packaging delivered resulting in damage, delay and a general pain in the neck.

 

This is the second product I have had from XP-Pen and packaging has been consistently top notch.

The price! – miles less than many of comparable tablets from other competitors!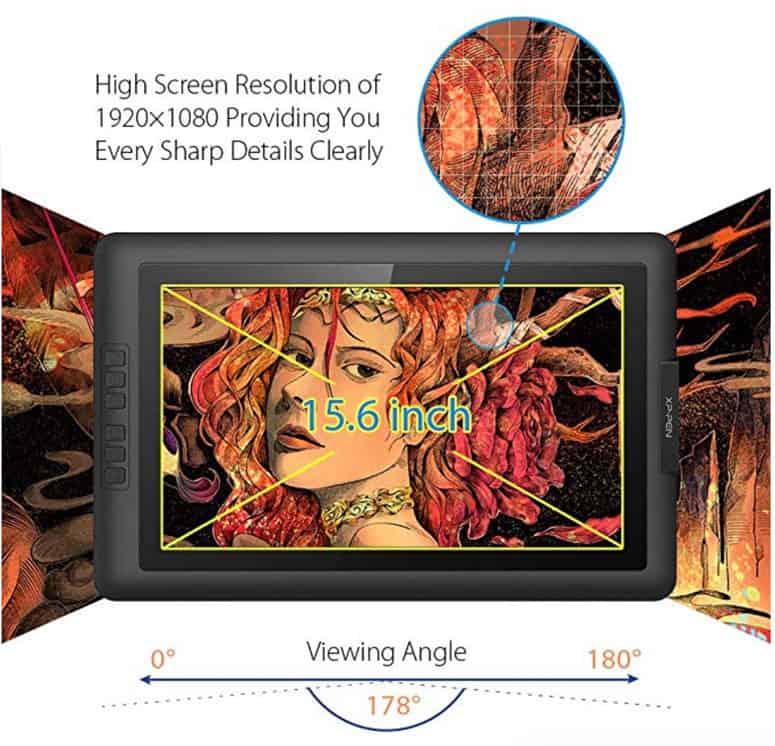 Cons:

The pen isn't as weighty as a battery operated pen.

 

You may think this is a disadvantage – horses for courses – I prefer a lightweight pen tool in hand.
There isn't a stand provided for the tablet which more brands are doing.

 

But ho hum – it's just a minor gripe.
XP – Pen Artist 15.6 Graphics Tablet – Techy Stuff!
8192 levels of  pen pressure sensitivity

15.6" 1920×1080 IPS 16:9 Display with 178° of visual angle

supports 4k displays. 

USB Type-C input   

11mm thin profile

3 in 1 cable

Brightness adjustment button

6 fully customizable express keys

one-click toggle to switch between Pen and Eraser

Compatible with Windows 10/8/7, Mac OS version 10.8 or later,

Compatible major graphics software – Photoshop, Painter, Illustrator, Clip Studio, and more
Overall I think this is a classy looking on-screen tablet that ticks nearly all the boxes.  The price is quite unbelievable for so much quality!
See the amazingly low price of the XP – Pen Artist 15.6 Graphics Tablet on Amazon here…