Art containers and storage
Art equipment
Blog
Your art portfolio binder should look as if you mean business!
You have one opportunity at making a positive first impression. It's important to portray yourself as a confident professional when you enter a room. A nice suit and all your artwork neatly organized in a professional looking presentation case can boost your confidence and impress your clients. The right portfolio holder adds to the look of professionalism, protects and organizes your artwork and supplies.  Making it easier to transport everything you need to give that impeccable artist presentation.
Alvin PCL1824 Presentation Case Leather (PCL1824)
For the ultimate professional who regularly uses art portfolios, the Alvin leather art portfolio is a presentation case that was designed to impress.
You'll enjoy the professional look of a upscale briefcase with the mobility and functionality of a high-quality portfolio holder.  Fumbling with folders and tubes and risking losing pages on the way to an important meeting isn't good.  Invest in a presentation case that shows the client you value your artwork.
The genuine leather makes it stylish and durable while neatly storing and displaying your art. It secures its contents with a heavy-duty nylon coil zipper.
The black velvet interior lining gives your clients a glimpse into the elegance of a polished presentation case. The full-sized interior pocket provides extra storage for smaller essential.
Slide your photo sheets into the 10 acid-free protective sleeves with archival quality snapped neatly into one-inch binder rings. An elastic strap secures the pages in place. The leather ergonomic handle makes for easy transporting. It folds completely flat so you can move seamlessly through your artist presentation. A matching identification tag adorns this leather art portfolio for that finishing touch.
Get the latest price and more details for the Alvin leather portfolio here…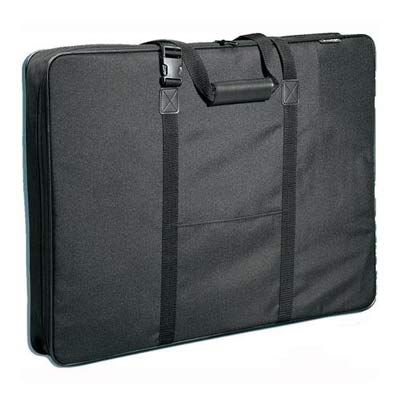 PRESTIGETM Carry-All Soft-Sided Art Portfolios for 32 x 42″
This versatile art portfolio functions like a suitcase as it professionally advertises your photos, presentation boards, or charts. It's made of water-resistant black nylon to protect its contents. The sturdy wire-sewn frame forces it to keep its shape as you fill it, while the three-inch gusset allows for extra expansion. Carry it like a briefcase, or snap the two handles together and convert it to a comfortable shoulder strap for carrying heavier art pieces. The zippered inside pouch holds pens, markers, and such. Another pocket holds artwork or papers secured via an elastic strap to prevent shifting.
The ample interior can fit easel or foam boards, prints, presentation boards, and more thanks to the accordion-like folding capability. It can expand or collapse depending on the thickness of the contents. Giving a presentation to clients? Prop it up on an easel, fold it in half, and exhibit your boards like a pro.
Get the latest price and more details for the Prestigetm Carry-All Soft-Sided Art Portfolio right here 
X-Port Professional Expandable Art Portfolio Case
Tear proof, waterproof, expandable, lightweight, and affordable, this polyester art portfolio case was made to store and protect your presentations and artwork as you transport them with ease.
It can hold a maximum of 24 foam boards and can even fit framed art pieces. The frame consists of corrugated plastic stiffeners which allow it to stand on its own as it keeps your delicate art pieces safe. The expanding gusset adds six extra inches for more space. The pleated side panels were designed to expand to accommodate only the depth of the contents and eliminating wiggle room.
To secure your artwork in place, use the elasticized dividers located on both of the internal walls. Boards, matte photos, or canvas will be held snugly in place and protected. Two nylon handles converge into a single leatherette handle for holding it like a briefcase, or use the adjustable shoulder strap for conversion to a messenger bag.
The top flap folds over to make it easier for inserting and removing display boards or photo slides. There are no smaller pockets, but there's an external business card holder. For the art student carrying their framed canvases to class, this art portfolio case lends a professional look. Available in three other sizes, these art portfolios will definitely impress.
Prestige Elegance Heavy Duty Art Portfolio (34 in. x 42 in.)
Art portfolios should announce your professionalism and organization. With several sizes available, there is an abundance of storage in this nylon waterproof portfolio holder.
The four-inch wide gusset provides extra room as you need it, and two full-sized interior pockets that open from all three sides are a splendid cache for smaller items.
Another interior storage case is perfect for odds and ends. The exterior front zipper pocket holds writing utensils, while the petite pocket on top of that holds smaller incidentals.
The dual handles are easy to grip, and the detachable shoulder strap makes it easier to carry a fully loaded art portfolio. Fully unzipped, it doubles as an impeccable presentation case.
Get the latest price and more information for the Prestige Elegance Heavy Duty Art Portfolio here…
Itoya ART Portfolio 18×24 Storage/Display Book Portfolio
Are you looking for a way to give a professional artist presentation of your paintings or photos while preserving their quality? With this art portfolio and its acid-free polypropylene pages, it provides high archival benefits to protect your work as you flip through the pages.
No glue or tape necessary. Each sleeve contains a black acid-free separator sheet so it holds one photo on each side – doubling the amount of available space.
The reversible spine insert allows the presentation case to be tilted without shifting the pages. It opens in portrait layout but can be used in a flip-chart style as well.
Designed to be durable and functional, this is a superb medium to store, transport, and show off your artwork.
See the latest price and more information on the Itoya Art portfolio here…
Choosing the right artist presentation case for you
Mobility doesn't have to be limited when transporting art. As a briefcase or with a shoulder strap.  The X-Port Professional Expandable Art Portfolio has ample storage space. Ideal for large foam boards, photo slides and more, and it's decently priced.
But if you're looking for that "wow" factor to announce your presence, nothing says you're a professional like a leather art portfolio. The Alvin Presentation Case is a briefcase to carry your artwork. A presentation case to display it. And an art portfolio to store it all in one chic case.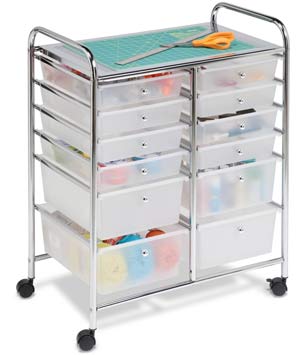 Looking for a mobile storage unit for your art studio?
Do you need something that keeps your pens, pencils, paper and all those other items that create clutter tidy?  
Check out our mobile cart storage review article to see how you can keep everything in one place and easily to hand