Blog
Drawing tips
Gift ideas
Graphic drawing tablets
Graphics software
Download lynda.com videos and become an expert on your graphics software

Modern day cartoonists and graphic designers are relying more and more on software to  to produce quality artwork. With competition for jobs at an all time high employers have the luxury of picking the best, most knowledgeable people.  High level software skills in  cartooning, art and graphics is a huge asset and can open doors when you are really good at what you do.  To learn a new piece of graphics software like Photoshop can take months of hard work, without a good tutor but is absolutely necessary to get the edge.   A nightmare, dragging you away from the thing you do best – drawing and designing!



Resources to learn have never been more abundant with the internet providing endless free and paid videos, tutorials and courses. Finding the best and easiest way to learn can be a minefield with video quality and information  varying from excellent to low quality garbage.
My initial 'tutor' for Photoshop was Digital Photo Magazine, a monthly publication with short excellent Photoshop tutorials on DVD. This was a great resource but didn't flow through the learning process. I wanted to learn comprehensively going through the basics and then progress through advanced Photoshop techniques seamlessly.
YouTube is another resource which is completely free. However the quality and format of video presentations is so wide that it's difficult to find anything that really gives you top quality tuition A – Z.
About a year ago I was listening to a business podcast and Lynda.com was recommended as a 'fantastic learning resource'. I just thought it was the usual hype but being curious I took a look at the the site and signed on for an initial free trial.  I was not disappointed.
Lynda.com was founded by Lynda Wyman way back in 1995 as a handy resource for her own personal students.  over twenty years later she has successfully developed her small teaching aid into a huge online educational library of video tutorials . 250+ thoroughly vetted instructors deliver an evolving portfolio of subjects.  Lynda.com is constantly  adding to their huge library with around 60 new courses per month which keeps them several steps ahead of their competitors.
Over 12 months of paid subscription later I can confirm that Lynda.com is without doubt the best educational online resource for learning graphics software I have ever seen and here's why.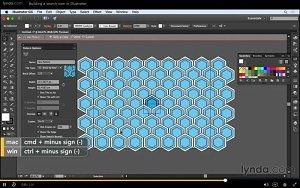 The video quality is HD as expected.  The sound quality is superb and visually you can't fault it. However it was the exceptional  standard of the tutorials that sold it for me.  Comprehensively delivered calmly (without any 'theatrics' that you often get elsewhere) and professionally by experts who really know what they are talking about.
Anyone providing video tutorials for Lynda.com is thoroughly vetted which ensures the level of tutoring is maintained to the highest standard. The videos are polished, professional productions with great graphics and demonstrations of the software that explain each lesson point fully.  This provides a smooth, distraction free learning experience, allowing you to focus totally on subject and learn easily.
High quality software video tutorials include:
Photoshop – various versions 
Photoshop Elements – various versions
Adobe illustrator
Autodesk 
CAD 
Indesign
There are also many 'non-graphics' tutorials such as Word, Powerpoint, and Access.
The tutorials are fully indexed and logically broken down into manageable chunks. There is also a running 'autocue' style script which can be activated to flow under the video screen where desired. The sections are incredibly well crafted, linking together in a logical flowing style which was one of my main requirements.  Here is an example of a very small part of an Adobe Illustrator tutorial.

I really like the way you can dive in and out to watch sections of the full tutorial, which is automatically saved so you come back in exactly the same place where you left off. This is really useful as some tutorials are a few hours in duration and can be broken up into bite size chunks to suit your everyday life.
There are comprehensive tutorials for the main contenders including Photoshop, Photoshop Elements, Adobe Illustrator, Coral draw and Sketchbook Pro. These are just a small fraction of the impressive library of 3000+ online tutorials. If multimedia software or the need for coding is on your education target list there is everything you need here.
How to download lynda.com videos on a 

free

 14 day trial 
The monthly subscription charge is very reasonable with unrestricted access to all video tutorials. The best part is that there is no risk as you can have a free 10 day trial before paying the monthly subscription (there are other alternatives with an annual fee to save money). I would highly recommend that you try out the free trial of the best tutorials on the internet.  
Click on the banner below to get more information on the free 14 day trial in which you can try out high quality video courses for graphics software plus a host of other subjects.  If after you try out the free 14 day trial you decode to subscribe monthly you can cancel at any time and there is an opt back facility if you want to take a break or just dive in for a month to take in a couple of tutorials for a new software, new skill of a simple refresher course.  It really is a great way to keep your software skills up to date for a really low price.