Art equipment
Blog
Warning
: Trying to access array offset on value of type bool in
/home/procartoon/public_html/wp-content/plugins/wp-social-sharing/includes/class-public.php
on line
81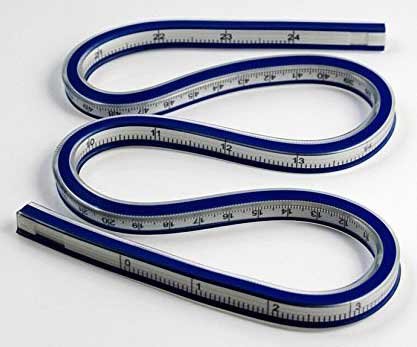 Artists, fashion designers, and crafters have one thing in common.  They all use a bendy ruler curve tool in their projects.  Altering clothing patterns, drawing sketches, or creating needlepoints borders benefit from having a bendy ruler than can provide a contoured curve in one smooth motion. 
Trying to get consistent curves in large projects can be difficult if drawing by hand.  A more symmetrical and simpler way is to use a flexible curve ruler that does the work for you. Curve rulers can be molding into many shapes – circles, triangles, "S" shapes, or anything else you dream up – because it's flexible makeup lets you control its curvature. 
Quint Measuring Systems Flexible   Curve
Getting a consistent curve can be frustrating and sometimes impossible.  With this 36-inch flexible curve ruler, finding and creating the exact curve you want is easy. 
The lead core weighs it down to keep it stable as you trace the curve.  It's heavy enough to keep its shape while you draw the lines.  Protective plastic covering the lead core makes cleaning it simple. 
Use a wet rag to wipe away pen ink or pencil smudges.  One side of the curve ruler is raised to assist in outlining the curve.  Inches, centimeters, and millimeters are clearly marked for easy measuring.  The extended length works well for larger projects since you can make one perfectly contoured curve without needing to reposition the ruler.  Rather than trying to keep a tape measurer in place, this curve ruler bends to do your bidding.
Get the latest price for the Quint Measuring Systems tool for drawing curves here…
18 Inch / 45cm Flexible Bendy Ruler
Aimed towards more medium-sized projects, this 18-inch flexible ruler lets you get your curves under control.  It starts out straight until you bend it. 
Lay it on your project, and it creates s consistent arch or set of arches.  The width is about ½ inch, so it's easy to hold, and not too bulky.  Bend it into the curvature you need, hold it in place, and draw or cut around the curve.    
Inches and centimeters are clearly marked just like a regular ruler.  The markings mimic that of a straight ruler, so there's no confusion of what the measurements are. Both outside edges are slightly offset and raised to give a precise measuring element for either ink or pencil.
The vinyl casing is brightly colored and contrasts with the ruler markings.  It rolls up and can be nicely stored in a small box in a drawer or closet shelf. 
See the latest price for the 18 Inch / 45cm Flexible Bendy Curve here…
C-Thru 30-Inch Flexible tool for drawing curves
No length increments are marked on this ruler, so you'll need to use it in conjunction with a tape measurer. 
The outer edge on one side is raised for easy ink marking, and the pliant plastic material is easy to hold while tracing curves.  Use the flat edge for pencil drawing, and the raised edge for ink.
With 30 inches at your fingertips, long consistent straight or curved lines can be drawn with one attempt.  It holds its shape consistently and works well with either straight lines or severe curving. 
It's a remarkable tool for pattern making and sewing patterns with those hard-to-curve shapes.  Soft and pliable, it can be used by adults and kids who love to draw, sew, woodwork, or do other types of crafting involving curves.
See the latest price for the C-Thru 30-Inch Flexible Curved Ruler here…
Staedtler 18-Inch Flexible Curve 
If you're project is on the smaller side, this 18-inch flexible curve ruler is a great addition to your toolbox.  One side is marked with inches while the other is in centimeters.  One inch on either end does not curve, so you'll need to take that into consideration as you bend it. 
It can handle tight curvatures as small as 2 ¼ inches and maintains its curve.  Anything smaller will require that you help to hold it so it doesn't spring back into a looser curve.
The plastic coating is soft yet durable and can withstand quite a bit of bending. Measuring arm holes? Necklines? Bend it to the curve, then transfer it to paper to alter your pattern. 
Drawing up some architectural plans?  The job will get done easier and faster with this useful little tool.
Get the latest price for the Staedtler 18-Inch Flexible Curve here…
24 Inch (60cm) Flexible Bendy Ruler Curve  
More flexible than a wooden ruler and more stable than flimsy seamstress tape, this 24-inch flexible curve ruler is absolutely ideal for drawing, creating fashion patterns, and anything else that requires a pliable yet solid measuring tool. 
Inches are marked on one side with centimeters on the other for double-sided use.  The edges are flexible plastic while the measurement markings are a paper insert fit snugly between the plastic edges. 
The metal core makes curving easy.  It keeps the shape you put it in without bouncing back to being straight.  Draw a straight line, bend the ruler, and trace the curve you need without ever switching out measuring tools.
Get the latest price for the 24 Inch (60cm) Flexible Bendy Ruler Curve here…
Which is the best Bendy Ruler Tool for Drawing Curves for your artwork?
Drawing a perfect curve by hand can be difficult.  A simple tool like a curve ruler serves the sole purpose of giving even and consistent curvatures for drawing, sewing, designing, and more.  Easy to bend to almost any shape, a flexible curve ruler helps take the guesswork out of consistent contouring.  
For a smaller project, the Staedtler 18-Inch Flexible Curve Ruler can accommodate tight bends to make those hard-to-get shapes.  Draw, transfer, or modify patterns with quick and accurate curving measurements. 
Larger projects can be monstrous to complete by yourself. Sometimes another set of hands is necessary to hold the ruler while you trace it.  With the Quint Measuring Systems Flexible Curve Ruler, yours are the only hands you need.  Its own weight weighs it down to stabilize the entire 36 inches.  It bends and curves just as easily as the smaller curved ruler.  While it doesn't hold tight shapes well, it does well for larger gradual curves required on bigger projects. 
Whatever your project may be, a ruler is always helpful and usually necessary.  If consistent contouring is what you're looking for, a flexible curved ruler makes a great addition to your tools