Art equipment
Blog
Graphic drawing tablets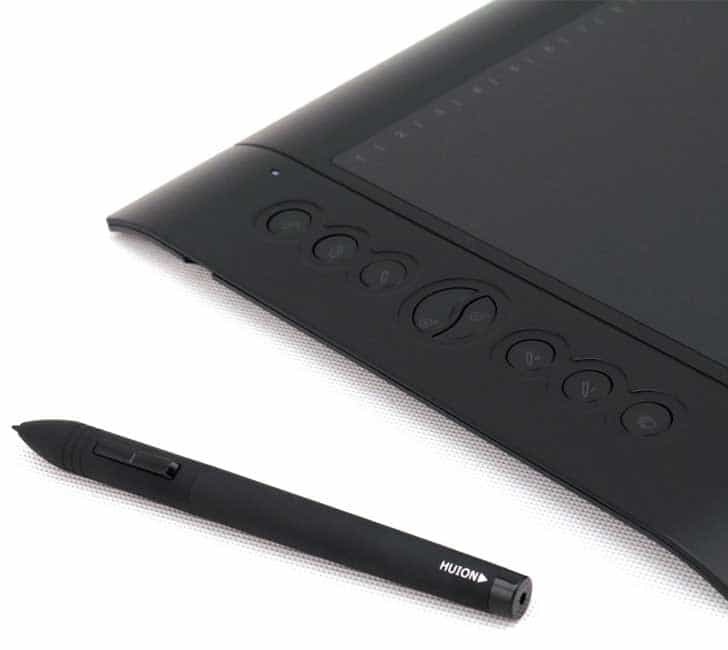 If you are on the lookout for the best drawing tablets for artists there is such a huge choice it can be difficult to know where to start.
The market for tablets is getting more diverse with a multitude of features such as screen size, processor power and price to name a few.
For the cartoonist and graphics artist it can be a daunting experience to know which is the best graphics drawing tablet to buy!
Hobby artists may be looking for a small, basic indirect draw tablet which is connected to a monitor. Professional cartoon artists may want a larger graphics drawing tablet to draw directly onto the screen.
The benefits of a tablet are considerable allowing easy art creation, no messy paint and ink and the ability to share work instantly with the world wide web. As an educational aid graphics drawing tablets are particularly good for children encouraging them to draw and paint while improving computing skills at the same time.
This graphics tablet review looks at seven different machines that may give you food for thought and a better idea of what type and specification would suit your style ability and pocket.
The great thing about technology is that even the cheaper graphics tablets are packed with features and capability that can provide you with the tools to create highly professional artwork.
Best Drawing Tablets for Artists – 7 Graphics Drawing Tablets Across the Range
Wacom Intuos Draw/ Art/ Photo/ Comic

I have included these 4 tablets under one section as they are basically the same tablet but with varying graphics soft ware to suit different styles of art. As the names suggest there are four tablets to suit drawing, general artwork, comics and cartooning and photography.
The Wacom brand is synonymous with quality and I can fully back that up as I have two Wacom tablets including the medium sized Wacom Intuos Art. It is thin, sleek and packed with power and features.
The beauty of this range of tablets is it is a one stop shop – no software to buy as it comes with the package. A great way to kick off your digital art or as an additional more mobile tablet.
No batteries just plug into the monitor and you are good to go. If you want more freedom there is a conversion kit available so the tablet does not have to be hooked up with your computer.
The price is very attractive with the small tablets – a bargain for such high quality with software included!
Check out the latest price on Amazon here…
Huion H610 Pro Graphics Drawing Pen Tablet with Hot Keys Compatible with Windows and Mac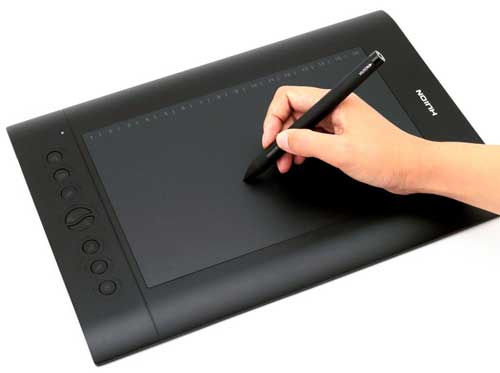 A generous 10 x 6.5 inch drawing surface with a slightly grainy surface gives as near to drawing on paper experience as you can get. There are 8 customizable buttons on the side and 16 hotkeys on the top gives a multitude of options.
The pen has the standard 2048 levels of pressure sensitivity and 2 programmable control buttons. The unit is thin, lightweight but feels substantial at the same time. It is very well constructed, easy to carry and most of all is ideal as a starter tablet or a highly portable second tablet.
You get a carry case to keep it clean and scrape/scratch free and a drawing glove thrown in for good measure. There are over 500 high rated reviews on Amazon for this best selling tablet.
The main takeaway from previous customer reviews is how easy the Huion H610 is to use and how close the drawing experience is to drawing on paper. For well under $100 the Huion H610 Pro has to be a serious contender.
Get the latest price on Amazon here…
Wacom Cintiq 22HD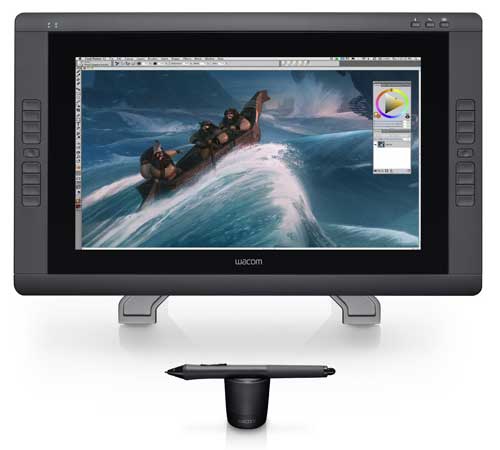 For direct draw desktop graphics drawing tablets the Cintiq 22HD is possibly one of the best tablets for artists you can get. Yes you can buy the larger size in the range but for me this is the one to get if you are looking for a high spec' desktop tablet at a reasonable price.
It has a 21.5 inch HD screen in wide format. The highly advanced pressure and tilt sensitive pen is an absolute joy to work with. Drawing, Painting and sketching feels 'real' as the superb pen technology replicates the natural feel of conventional artists tools.
To save time there are express keys, scroll ring and radial menu that are customizable shortcuts at your fingertips.
Overall this is a really well built machine of the highest quality. There is an upgrade with the Cintiq 22HD Creative Pen display which has some brilliant added features such as hand gesture control which adds just over 20% to the overall cost.
Get more information and the latest price here…
Turcom 8" x 5" Pro Graphic Drawing Capture Pen and Touch Sensitive Tablet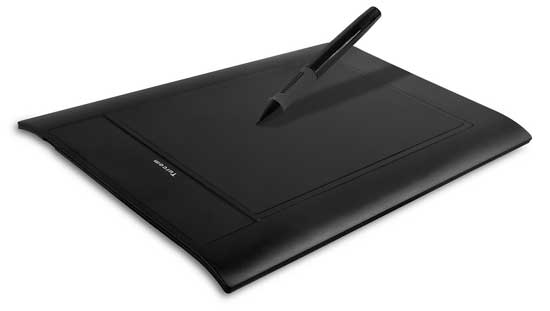 If you are looking for a cheap indirect draw graphics drawing tablet that makes a great workhorse then you won't go far wrong here.
The Turcom has a sleek ergonomic design with an 8" x 5" active drawing area. The wifi pen does require batteries unlike some other products. The surface of the drawing area  takes some getting used. Once you are into it this is a great little tablet.
The tablet is Mac/ PC compatible and comes with an installation disc. There is also a white version available.
For the lower cost end of the market this provides good value.  It is sturdy enough to withstand general continuous work and looks pretty darn good too!
More information and price on Amazon here…
XP-Pen Artist22E 22inch FHD IPS Graphic Pen Display Interactive Drawing Monitor with Shortcut keys and Adjustable Stand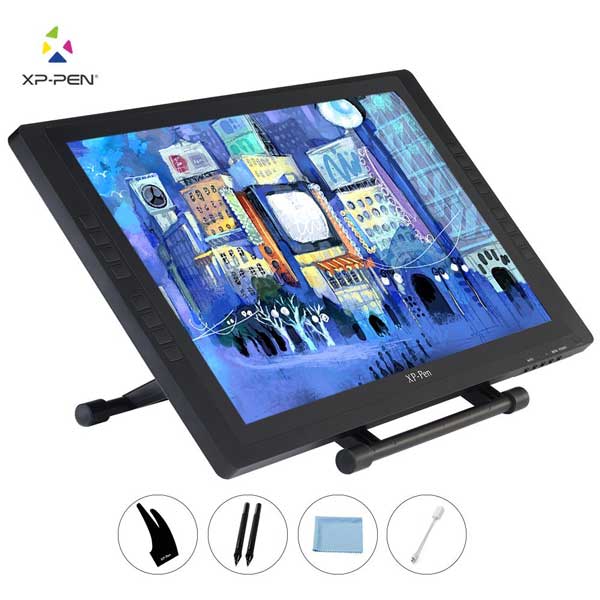 This is an excellent alternative to the Cintiq 22HD with a much lower price ticket. It is packed with great features and is around a third of the cost of the comparable Wacom Cintiq.
The monitor is provided with a 22" direct drawing area and is housed on a sturdy adjustable stand which comes with the package.
For customization it has eight express keys on both sides which is beneficial to left and right handed use.
Compatible with both Mac and PC the tablet provides 2048 pressure levels with a 1080P FHD IPS display.
If you can afford the Cintiq 22HD it is worth the investment. If your budget won't stretch that far then the XP-Pen Artist22E is a quality alternative tablet for a relatively low price tag.
Get  the latest price on Amazon here…
Wacom Studio Pro 13" and 16"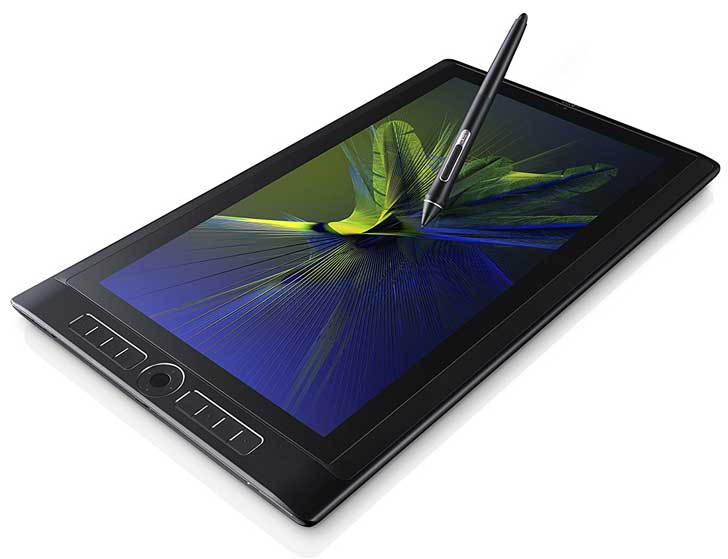 Having recently bought the 16" i7 version I can safely say that this is the best portable direct draw graphics drawing tablet I have ever used.
It feels fantastic to draw on, has fantastic features and looks fantastic – it just works so well in every way.
The only downside is the price. It is in my opinion way over the top and I put off buying this little baby for quite some time. If you look on Amazon the rating is not that high for this product. When you delve into the reviews the complaints that are dropping the rating are not directed at the product but the price.
Once I had tried I had to buy and the justification for me is that I now own the best direct draw graphics tablet that will never need to be upgraded. Expensive yes but over the long term worth it.
Check out the latest price on Amazon here…
GAOMON M106K Professional Drawing Graphic Tablet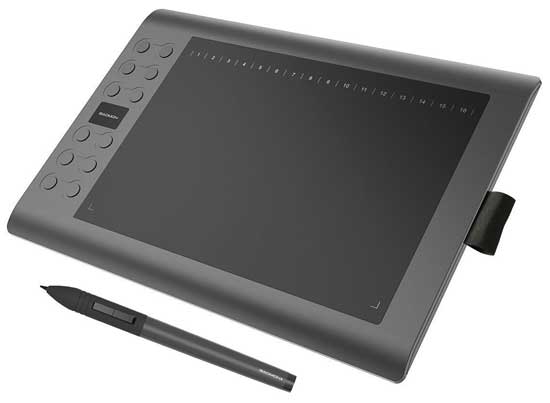 Not one of the well known brands but has some really good features for the money. This indirect draw tablet has a 10" x 6.5" drawing area and comes with a rechargeable pen that lasts around 350 hours per charge.
For a low priced tablet it is packed with customizable features. 12 Express keys on the left and 16 Function keys on the top provide plenty of scope to set up the tablet to your drawing style.
The tablet also comes with an Artpaint AP20 Pen, a quick start guide, Usb Cable, recharge cable for the pen, 4 x pen tips and in addition a tip clip.
The GAOMON M106K has 2048 levels of pressure on the point of the stylus, is MAC/PC compatible and will run on most graphics software packages such as PhotoShop, CorelPainter, Illustrator, SketchBook Pro, and Manga Studio.
If you are looking for a cheap graphics drawing tablet packed with features this seems like a great buy.
Get the latest price on Amazon here…