Art equipment
Blog
Drawing tips
Warning
: Trying to access array offset on value of type bool in
/home/procartoon/public_html/wp-content/plugins/wp-social-sharing/includes/class-public.php
on line
81
5 Highly rated lightboxes for drawing and tracing
As an artist, you may need to create duplicates of a particular drawing.
An easy and accurate way of making a copy of an existing drawing or pattern is to use a lightbox rather than re-drawing it from scratch.
What is a lightbox and what can a lightbox do for you?
It can be an artist's best friend. It's a box housing a light bulb that illuminates the image from behind thus creating a high contrast image that makes tracing it easier.
With a consistent uniformity of light that is projected through a translucent piece of glass, shadows and uneven lighting are eliminated.
If you think it's too complicated to learn how to use a lightbox for drawing, you're wrong. It can be used by every experience level.
Professionals and beginners use lightboxes for drawing and tracing, designing embroidery patterns, stencils, tattoo tracing, sketching, calligraphy, and so much more.
Please note:
If viewing from Canada or the United Kingdom article links will be diverted to amazon.Ca or amazon.co.uk and may be substituted for an equivalent model if the selected model is not available in your country.
Huion L4S Tracing Light Box USB Powered with Adjustable Light Intensity
You can't go wrong with 1,500 lux of LED brightness.
Because of the high output of light, this lightbox can penetrate through thicker paper than some others can.
But if this is too bright, it can be gradually dimmed to the level you prefer. Just press and hold the button until it reaches the desired lighting level.
It was developed with memorization technology to automatically set itself to the previous brightness level after it has been turned off and restarted.
The glass panel is made of acrylic so the smoothness is perfect for clean smooth lines.
It's a square shape measuring 14.17 x 10.63 inches, and it's only 5.1 mm thick. It's sturdy yet lightweight with a sleek thin design that makes it easily portable.
The USB cord is included, but so is the AC adapter. Connect to your computer, or charge it from any power outlet.

US ART SUPPLY Lightmaster LED Lightbox Board
If you require a larger working area for a project, you may enjoy the 12 x 17-inch surface that lets you spread out.
It's big, but it's lightweight for its size as it weighs only 3.6 pounds. With it only being 3/8 of an inch thick, it can easily slide in your bag for effortless portability.
The 8-watt LED light is energy efficient and lasts up to 50,000 hours.
It's easy to adjust the brightness level with touch button technology. Press the button to brighten or dim the light to the perfect level.
There is no USB cord, so you're dependent upon electricity. But the power cord is an awesome three feet long with an AC adapter.
The price may be a little higher on this lightbox, but it includes a one-year warranty plus a couple bonus items: a scalable grid and a circle template to assist in those precise measurements.

Litup LP3 LED Light Pad Lightbox
For even larger projects, this 18.86 x 14.21-inch lightbox is perfect.
The acrylic work surface is 16.93 x 12.2 inches. But it's still considered lightweight and extremely portable because it's only 0.31 inches thick and weighs approximately 3.5 pounds.
The included USB cord is a whopping 6.5 feet long, so you have a bit of a radius to move around if you need to.
The LED adjustable light is good for 50,000 hours. The brightness is evenly distributed over the entire work surface without putting out much heat.
Dim the brightness level by holding the touch button for one to three seconds to achieve that perfect amount of light.
Press it once quickly to turn it off or on. All of this is wrapped in one nice price and includes an 18-month warranty.

Dbmier A2 Ultra-thin Artcraft Tracing Light Box
A bit smaller than the others, this lightbox measures 12.60 x 20.47 inches with an acrylic workspace of only 9 x 12 inches and is a quarter-inch thick.
The LED light is controlled by a three-way switch. Control the brightness level to low, medium, or high with a press of the button.
It's big enough to accommodate most projects, yet lightweight and portable enough to take with you when you're on the go.
No need to connect to your laptop or try finding a USB port. It's furnished with an AC adapter cord. Plug it into the wall, and you're ready to go.

Artograph LightTracer Light Box
If most of your time is spent drawing, you know how uncomfortable it is to be bent over a flat surface.
The Artograph has a slanted 10 x 12-inch surface to make it easier on your arm to get positioned a little better as you spend a few hours drawing.
It even has a built-in recessed tray near the top to hold your pencils, pens, or other items.
Need to carry your lightbox around with you? Not a problem since it only weighs two pounds. There's no USB cord, so just plug it into a wall socket to power up.
With an LED light gradient of up to 14,000 lux, there are bright levels of light, but the surface remains amazingly cool.
As for pricing, if you're looking for a cheap lightbox for drawing but also want comfort and efficiency, this may be your best bet.

So which is the best lightbox for drawing and tracing?
For business or pleasure, the right lightbox will save you time and effort while helping you to achieve high-quality results.
If you are tackling a large project and need a big work surface, the Litup LP3 LED lightbox has the added space to make those big jobs doable.
If you're on a budget but looking for a more comfortable drawing pad, the Artograph LightTracer is a portable and durable yet cheap lightbox for drawing.
So whether you're drawing a stained glass window design or tracing a tattoo pattern, a lightbox will make it simpler and easier than you think.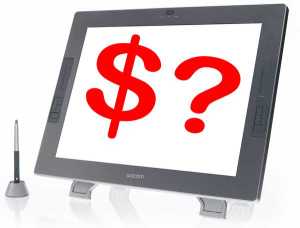 Thinking of buying a graphics tablet? Not sure how much they cost or what you would get for your money?
Take a look at our review of 5 tablets across a range of screen size and specification.