Art equipment
Blog
Pens and Pencils
Warning
: Trying to access array offset on value of type bool in
/home/procartoon/public_html/wp-content/plugins/wp-social-sharing/includes/class-public.php
on line
81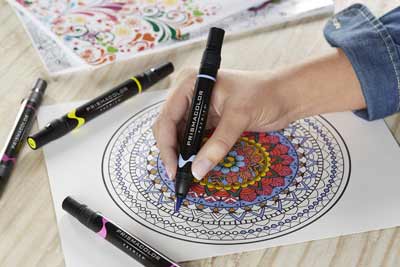 The best markers for coloring are those that deliver impressive results.  Inky fingers, bleeding, spills, and lost caps take the fun out of drawing and coloring.  As an artist, your hands move quickly and in a wide range of motion over the paper.  You don't want to fumble with jerky motions and wet ink.
The best art markers have fast-drying ink, blend well, and handle layering of multiple colors.  They must cost a fortune, right? Some of the best markers for drawing are not as expensive as you think.  For the cost of a regular set, you can double your investment by using dual-tipped markers. 
Fine tips and broad tips come together in these sets of the best drawing markers we could find.
Prismacolor Premier Double-Ended Art Markers, Fine and Brush Tip, 12-Count 
You don't draw or color with one type of line, so why use one type of marker?  The brush tip makes thick lines for quickly covering large areas or layering multiple colors.  Use the fine point for precision lines and details. 
The color stays consistent at each tip thanks to a single ink source that feeds both ends. The alcohol-based dye delivers rich and vibrant colors while the pigment resists fading.
The fast-drying ink doesn't smudge, but it will bleed through thinner paper. The anti-roll cap prevents them from escaping your work area.
Sketch fashion design projects and color them without changing markers.  This could be the best art markers set to add to your collection.
Get the latest price on Amazon here…
Ohuhu 40 Colors Dual Tips Art Sketch Twin Marker  
Write, draw, color, highlight, or layer with these markers.  Create patterns, sketches, letters, and more. Each is equipped with a broad and fine tip. 
Forty vibrant colors beckon to brighten up your sketchpad or coloring book.  Fade resistant ink makes your drawings last indefinitely. 
Blend the colors to add depth, light, or create new colors.  The best drawing markers move smoothly and deposit ink evenly in their wake.  That's what these do.  No jerking or skipping over the paper. 
If using them on thin paper, put a piece of cardboard or extra piece underneath to stop the bleeding.  But they perform best on 12gsm paper. Can't find the marker you're looking for?
The color-coded caps mean no more digging around to find the color you need. These versatile markers give you all the tools you need in one beautiful black carrying case.
Get the latest price on Amazon here….
Super Markers Twin-Tip Broad-Liner Marker Set-100 Unique Colors 
You can't go wrong with 100 markers no matter what your project may be. Every spectrum of the rainbow is contained in this set of non-toxic markers. 
One end is broad for thick lines while the finer tip is perfect for filling in those minute details. 
The water-based ink is also acid-free which makes them one of the best markers for coloring if used by children. 
There's no carrying case, but they do come with a lightweight cardboard holder that keeps them organized.  The caps are on a bit tight which helps to prevent drying out.  Kids, however, may need help to remove them. 
Break out the crafts, scrapbooks, coloring book, and sketch pads.  There's no limit to what you can create with this fantastic array of markers.
Get the latest price on Amazon here…

Copic Premium Artist Markers – Refillable 72 color Set 
Why keep purchasing new markers if your old ones dry out when you can just refill them?  If one dries out or the tip is bad, add more ink and replace the nib. 
While this set is more expensive than some others, you'll be saving in the long run. 
The alcohol-based ink adds brilliance to your drawings as it dries acid-free.  It's also non-toxic and won't hurt the environment.  Blend, mix, and layer different colors to create unique designs. 
One tip is chiseled for fine lines while the other makes thicker brush strokes.  Each nib has its own color-coded cap for quick recognition.  Complete with a durable transparent plastic box, using and organizing these markers is a cinch.  
This set could be the best art markers for full-time artists looking for a long-term investment.
See the latest price on Amazon here…

Kuretake Zig Twin Tip Marker Clean Color F, 24 Color Set 
These water-based markers are the best drawing markers for anyone who enjoys felt pens and sharpies rolled into one.  Use the fine tip to write in a journal or outline a drawing in your adult coloring book. 
These are one of the best markers for drawing captions in a scrapbook or dating the back of a photo.
The broad tip produces thicker lines as the thin tip makes narrow lines. Thinner paper can be used, but they work best on heavier paper.
Packaged in a clear plastic box, keeping them organized and at your fingertips is easy.  The ink dries quickly and doesn't smear. 
It's also acid-free, odorless, and xylene-free which opens the door to endless drawing and crafting possibilities.
Get the latest price on Amazon here…
Which are the best markers for coloring and drawing that you'll love to use?
The best art markers make it easy to draw in smooth fluid movements.  The ink should adhere to the paper without losing its brilliance. An added perk is having two tips on one marker that adds to productivity and efficiency. 
If you're looking for best markers for coloring, try the Super Markers Twin-Tip Broad-Liner Marker. Non-toxic, water-based ink in a large variety of colors. This set allows greater scope and flexibility for line thickness and color selection.  
For the more advanced artist, the Copic Premium Artist Markers is a  wonderful gift.  Refillable ink and replaceable nibs means continued use of their favorite markers for years.   These have a high ticket value but due to their refillable feature and replaceable nibs offer great value over the longer term.
Find the best markers for drawing that will promote a pleasant artistic experience with the beautiful results you desire.
Related post:
The best Gel pen sets for cartooning, general artwork and craftwork – see the review here…