Art equipment
Blog
Pens and Pencils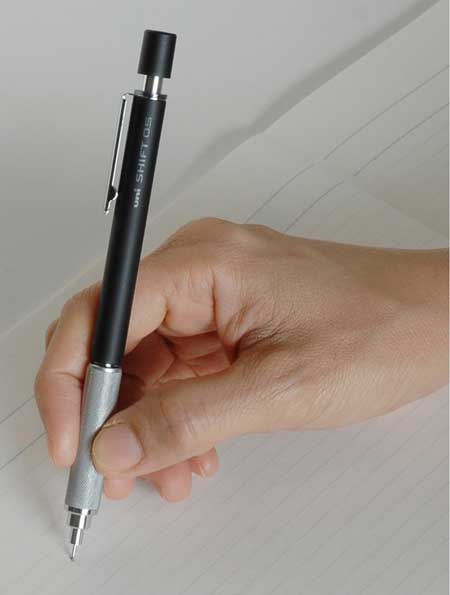 The best mechanical pencil for an artist is the one that feels natural, lightweight, and leaves graceful lines.  Having the right writing tool can make a world of difference in a drawing. 
The main advantage of mechanical pencils is that the lead never dulls, so it never needs sharpening.  Pencil sharpeners aren't a hot commodity these days and finding one isn't always easy.  Those cheap throw-away mechanical pencils aren't meant to last and can't always be recycled.
So why buy dozens of those when you can buy one high-quality pencil that will last for years? Finding the best mechanical pencil for sketching, writing, and drawing can save you money plus help the environment. Ditch the flimsy pencils, and let your fingers fall in love with a more eco-friendly and comfortable writing tool.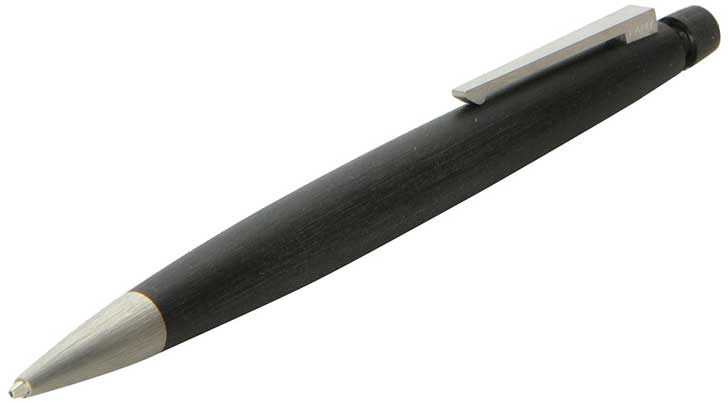 The Advantage of Using the Best Mechanical Pencil
The one huge advantage I have found is consistency.  If you are constantly jumping between different pencils it can affect the end result and at the very least means you have to re-adjust every toime you draw.  
I stick to one mechanical pencil the Lamy 5mm 2000.  It looks great.  It feels great and it performs superbly.  To me it's like taking a ferrari out for a spin and helps increase the drawing experience.  Yes it is more expensive but i have had my Lamy for a long time and it has paid for itself many times over.
Pentel Energize Mechanical Pencil 

The best mechanical pencil for drawing makes you forget your hand is hard at work.  Its comfy latex rubber grip rests against your fingers as the smooth tip glides over paper. 
The 0.7mm lead is thicker than the standard mechanical pencil lead, so it doesn't break as easily. It's better for people who press a bit harder as they write and like thicker lines.
Your pockets and purse will be free of holes, thanks to the retractable tip.  Create a sketch, push the tip back in, and slide it in your shirt pocket till next time.
It's the most inexpensive on our list, but that doesn't mean it's cheaply made. It's designed to look, feel, and function just as well as its competitors.
Get the latest price here on Amazon…
Rotring Rapid PRO Mechanical Pencil, 0.7 mm, Matte Black

As one of the best drawing pencils on our list, it's designed with the sleek feel of a felt-tip pen.
The hexagonal metal body houses high quality 0.7mm lead which some artists prefer. With the thicker lead, you'll spend less time making thicker lines. 
The retractable tip protects the lead (and your pockets) when not in use.
With the knurled finger grip, it prevents slipping while fitting comfortably against your fingers.  Every time you click for more lead, it's automatically sharpened by the built-in sharpener under the push-button cap.
Plus, you know you've got a winning mechanical pencil when the manufacturer puts a two-year warranty on their product.
Get the latest price here on Amazon…
Uni-Ball Pipe Lock Drafting 0.5mm Pencil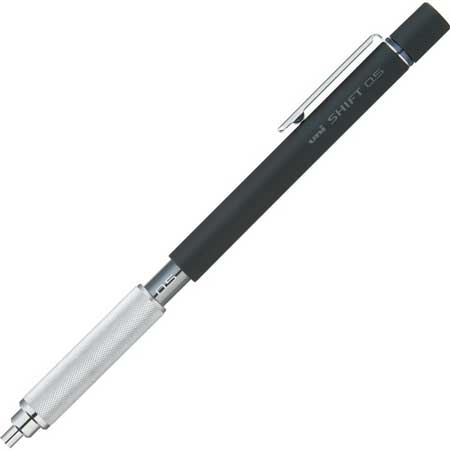 Part metal and part plastic, this is another of the best mechanical pencils for drawing and graphing.
The upper body is black plastic while the tip is silver metal. This blend of materials gives it a lightweight yet stable feel. The lighter weight eases hand fatigue, and fingers won't feel as cramped as they do with a cheaper pencil.
The tip is retractable, making it safe for your pockets.  In case it suffers a jam, the tip unscrews to give access to any malfunctioning lead.  The exceptionally comfortable diamond-patterned grip causes the perfect amount of friction against your fingertip to avoid slipping. 
The 0.5mm lead is tucked firmly inside with added protection to lessen breaking.  It's one of the most attractive yet functional mechanical pencils that you'll love to use.
Get the latest price here on Amazon…
LAMY 5 mm 2000 – The Best Mechanical Pencil with Brushed Stainless Steel Clip – Sheer Class!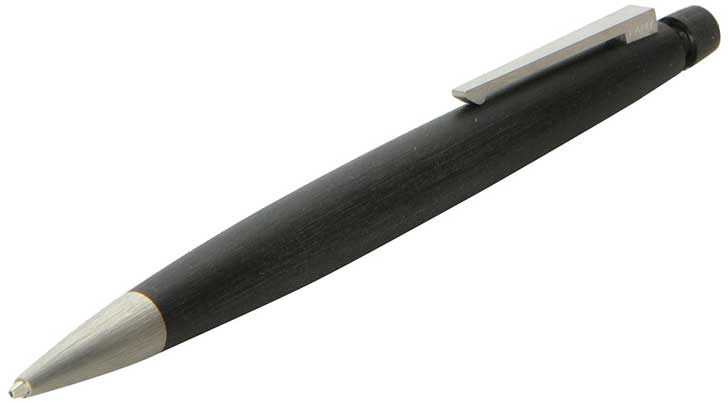 We're breaking out the big guns now with the best mechanical pencil any artist would love to own.  
It's the most expensive on our list, but once you try a Lamy, you'll wonder how you ever wrote without one. (Also check out the Lamy calligraphy pen set in my calligraphy pen set review – Lamy is my brand of choice as their pens and pencils feel and respond so well in hand).
The exquisitely crafted full metal body lets you know you're holding one heck of a pencil.  It's designed to last and comes with its own ram rod for clearing jams, broken lead, or build-up.
It uses 0.5mm lead which makes it the best mechanical pencil for sketching more delicate lines and finer details. The simple yet chic design is versatile enough to use with your sketch pad or take it to the office with you. 
It's so special, it even comes with its own stylish protective carrying box.
Get the latest price here on Amazon… 
Penac TLG-205 0.5 mm automatic mechanical pencil B00U0RGFBQ

When using a mechanical pencil, art comes out looking just as good – if not better – than with a regular pencil.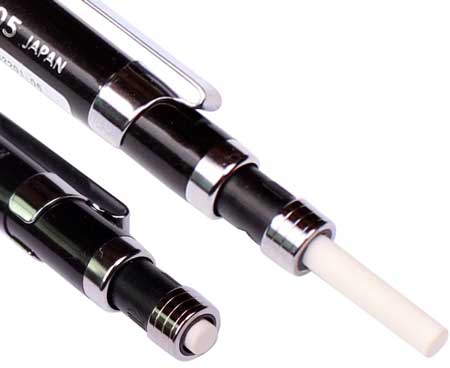 The best drawing pencils let you focus on the artwork you're putting out, not the effort you're putting in to get the desired results. That's why the ergonomic rubber grip is my favorite feature of this pencil.  Constant use doesn't mean cramps and stiff fingers.
Slightly heavier than a wood pencil, its all-metal body is well balanced and doesn't feel flimsy. But it's not too heavy to use for long periods of time.
The lead is 0.5mm so it works well for light-handed drawing and slimmer lines.  And, of course, the lead tip is retractable to protect not only you but also the lead.
Get the latest price hereon Amazon…
The best mechanical pencil to suit every purpose
Millions of pens and pencils are produced each year. That's a lot of non-biodegradable items in our landfills.  By reducing the number of writing utensils you buy, you can help the environment and save lots of money. Instead of purchasing cheap one-use pencils, invest in the mechanical pencils that will last for years.
The best mechanical pencil for drawing or writing fine lines may be the Penac TLG-205.  The molded rubber grip feels natural and the lead is perfect for sketching a portrait that requires details or just doodling in my art pad. 
If you're looking for the best mechanical pencil that will survive the test of time, try the LAMY 2000. Its distinguished look tells onlookers you're a serious artist.  It's built to be your go-to pencil for drawing, but also elegant enough to bring to the office.
No matter which model you choose, by switching to a mechanical pencil, art lovers and writers can do what they love while getting the results they want.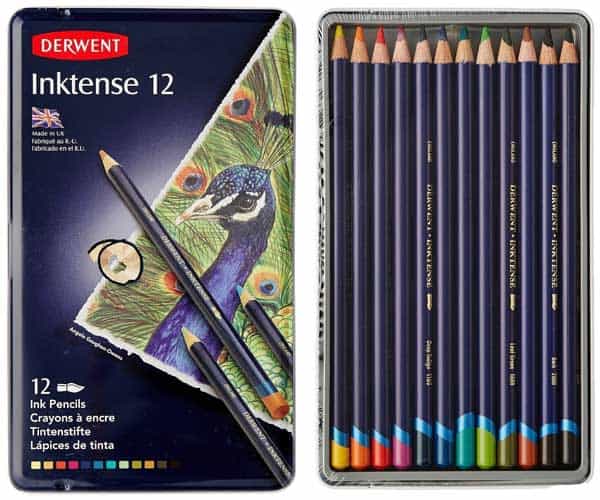 If you are looking for the best colored pencil set on the market check out my review of 5 top rated colored pen sets here…  Perhaps you would like the additional feature of water color pencils which give a further dimension with the facility to add water, washes and other effects that cannot be achived with colored pencils – see my review on 5 top rated water color pencil sets here…