Blog
Drawing tips
I hated it when people asked me to create caricatures.  Catching the likeness could be quick or a protracted nightmare that would see me staring down at the deadline with dread!.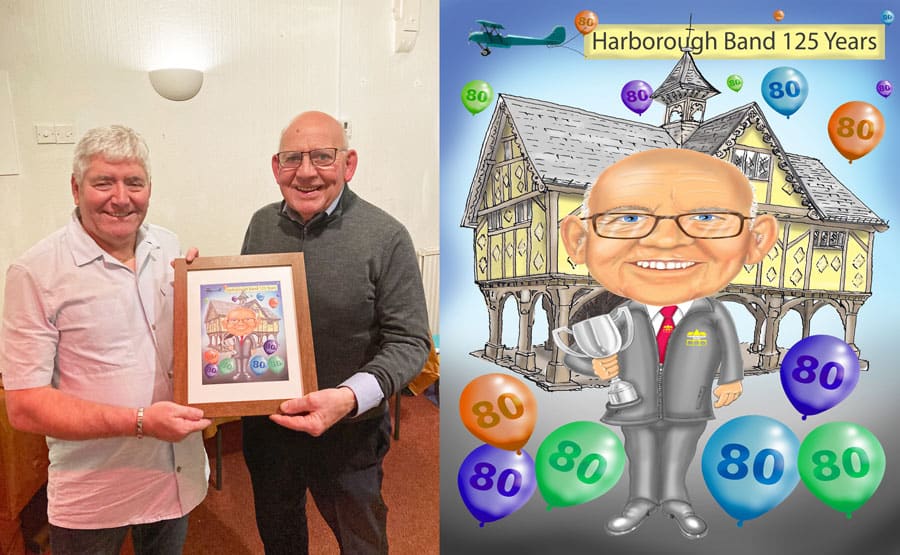 80th Birthday caricature commissioned by the Harborough brass band (UK) for Mark Stamp
Freehand caricatures can be a nightmare!
I can't do a quick sketch like some lucky caricaturists seem do so easily.  I don't do exaggerated features in a really cartoony style and tend to stick to a close likeness. trying to capture the victims personality.  On the rare occasion, when the person I am attempting to capture has really distinct features I will have a stab at it.  But I generally try to get a really good likeness and 'cartoonize' the rest of the image. 
So far it has worked.  The bottom line is the response from the person I am drawing and / or the person commissioning the caricature.  I have had some really good feedback so I must be doing something right!
I am fairly well known in brass band circles as I have been the cartoonist for brass band world magazine since 2002.  Most caricatures are brass band themed, which are usually quite colorful with brass instruments and brightly colored uniforms.
Caricature faces are always a challenge
The body, uniform, instrument and even buildings have never been a problem for me.  Faces were always difficult and I envy those cartoonists who can capture a likeness in a few minutes.  It took me years to develop a method and gain the confidence to produce caricatures that people are willing to part cash for.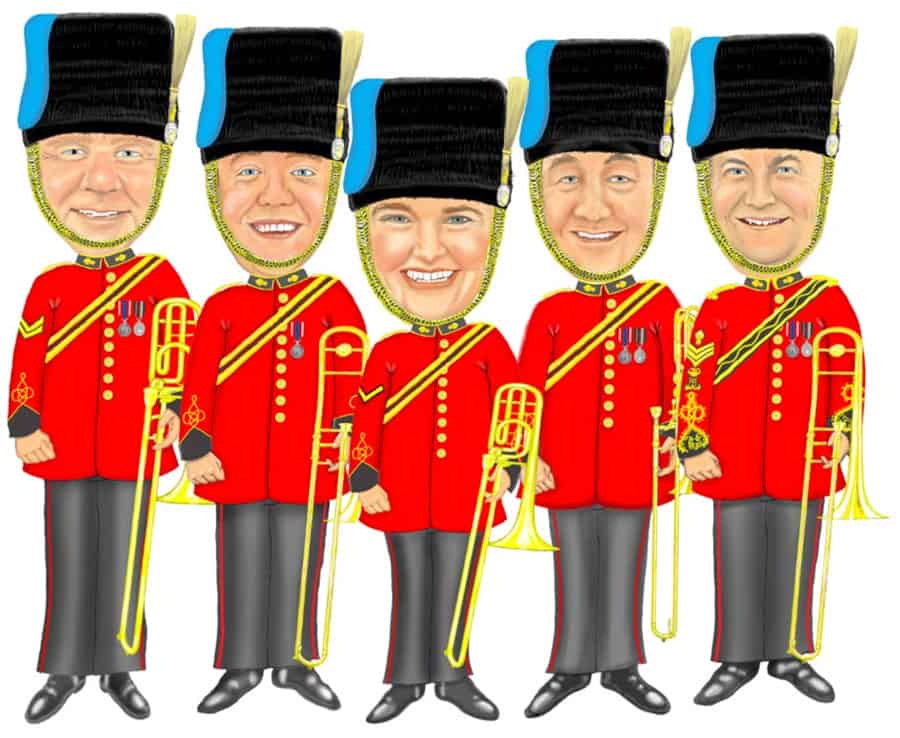 Trombone section of the Nottinghamshire Royal Engineers Band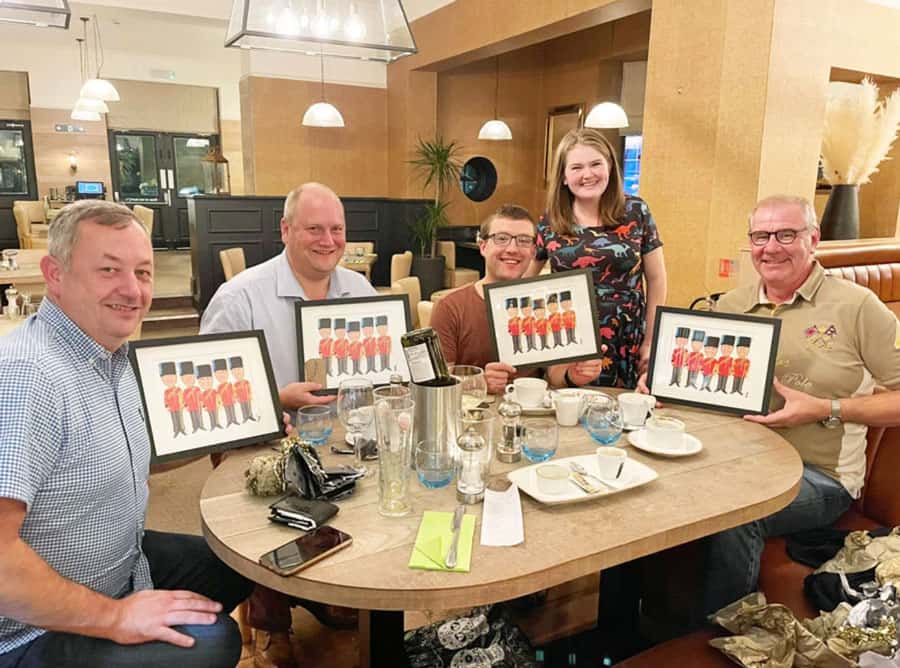 Here are the trombone team receiving their caricatures
I decided to bite the bullet a few years ago and developed a method using a light box to pick out key features of the face.
A lightbox is a fantastic tool for tracing outlines – especially capturing critical facial features and quickly sketching complex buildings.  Relatively cheap and easy to use – See the latest prices and variety on Amazon here
Eyes and mouth in particular using a pencil on 80gsm photocopy paper over the photo of the face. The eyes mouth and the shape and alignment of teeth can make or break a good likeness.. The key elements would then be scanned and the resulting j.peg transferred to my trusty Wacom Studio Pro graphics tablet.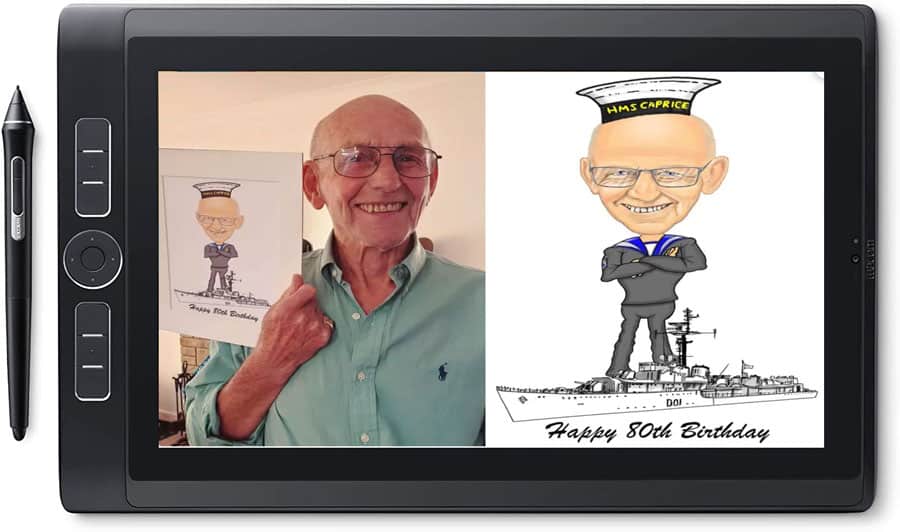 Wacom 16″ Studio Pro – A fantastic graphics tablet – A real workhorse that I have used for years – see more details and price (they are not cheap but so worth it!) on Amazon here
Benefits of a 'direct draw' graphics tablet
The beauty of a direct draw graphics tablet (tablet you can draw direct onto the screen) is that you are visually right there. Not 'offset' with a tablet to the side linked to a screen. The latter is like trying to draw with your non-drawing hand. With a direct draw tablet you almost have the feel of drawing on paper.
I know some of you use indirect tablets and are very good at what you do, and I suppose its just a matter of learning.  For me I don't like indirect drawing.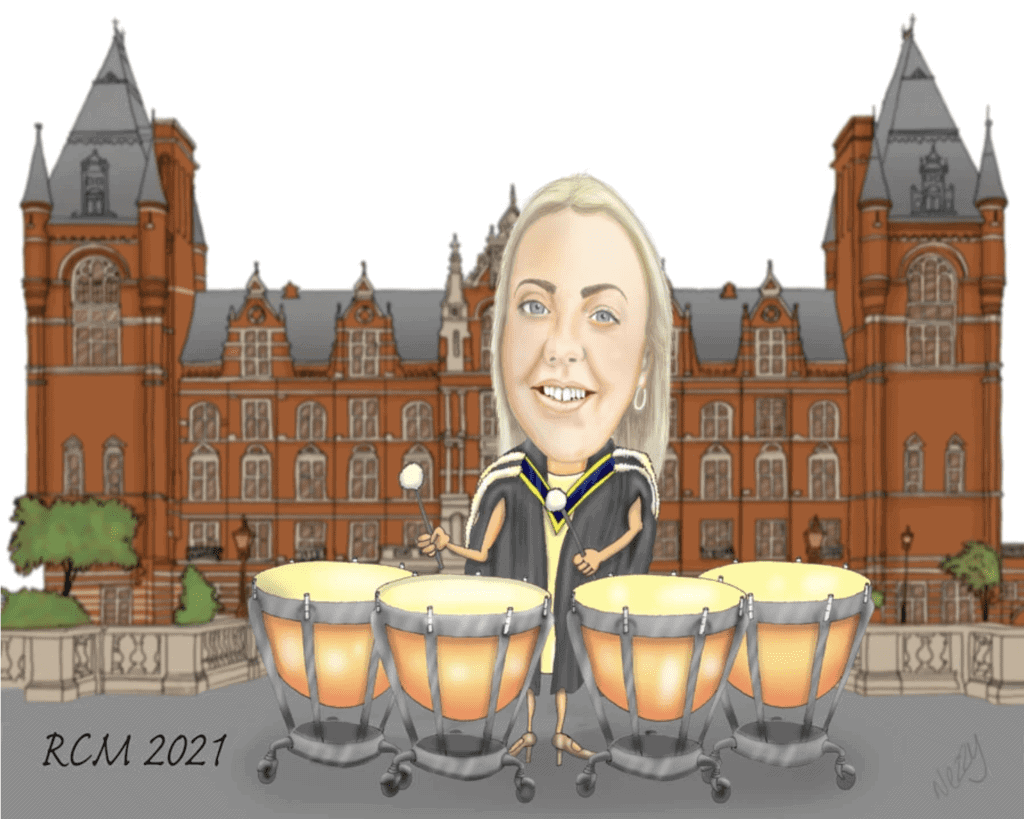 A student graduation at the Royal College of Music, London.  The easy bit was the student – the tricky part was the Royal College of Music building in the background!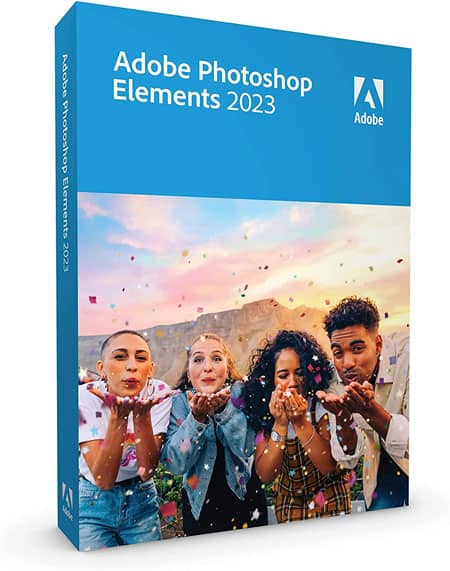 Graphics software benefits for caricatures
Graphics software (I generally use Photoshop Elements) gives so many options.  Take the above example.  The brief was to put the building in the background. I created a pencil sketch and subsequent pen and ink outline using a photo of the building. I overlaid the photo with 80gsm photocopy paper on a lightbox and created the ink drawing.
This was scanned direct into Photoshop Elements and all coloring and shading done using the graphics tablet.  To give the scene depth I selected filters/gaussian Blur and adjusted it to suit.  You can see how the guassian blur gives a distant feel to the building.  It also makes the main subject pop off the screen.
I did the same process for the timpanI creating one without gaussian blur.  It needed to be in sharp focus in the foreground.  With a few clicks of the graphics pen I duplicated the timpanI into an additional three layers.  One timpany became four in a few seconds.
The students head was created using my method of tracing the key elements of her facial featured (eyes, mouth, teeth).  The scan went directly into Photoshop Elements and using many layers I created a lifelike head.  The students body is pen and ink freehand on paper then scanned into the software and colored in on the tablet. 
Graphics tablet or freehand?
To create this all freehand would be a tall order to say the least and I would never have entertained doing caricatures without a graphics tablet.  It's horses for courses and some are lucky enough  to be able to churn out superb caricatures freehand.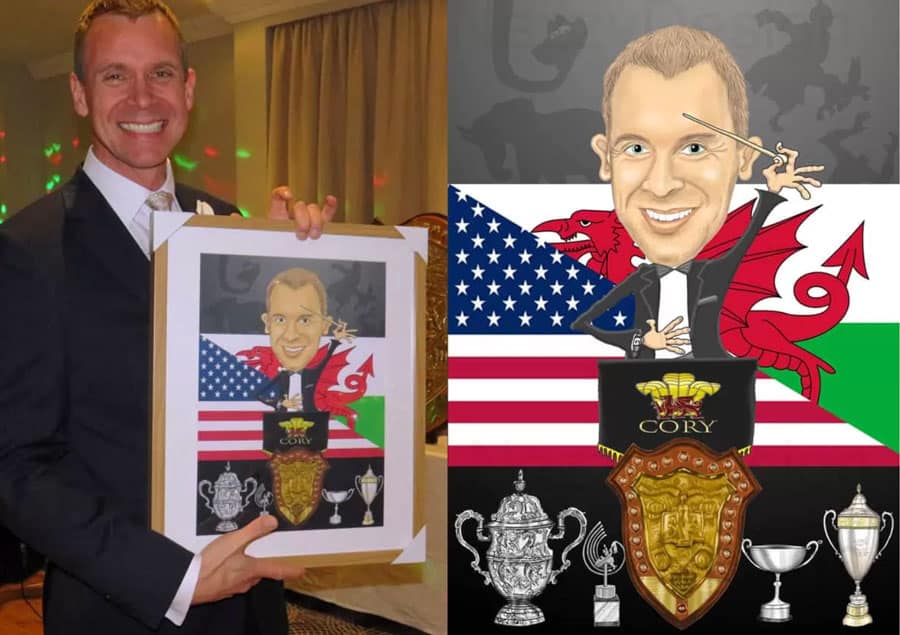 Phil Harper, Conductor of the Cory Brass Band (Wales, UK) – presented to him by the band after completing the grand slam of major brass band titles
For me the graphics tablet and software gives so many options and removes tragic errors that cant be undone. With multi layered artwork I can also repurpose any part e.g. instruments, backgrounds and bodies for other commissions.  It's a no brainer, unless of course you are a genius freehand caricaturist – which I am definitely not!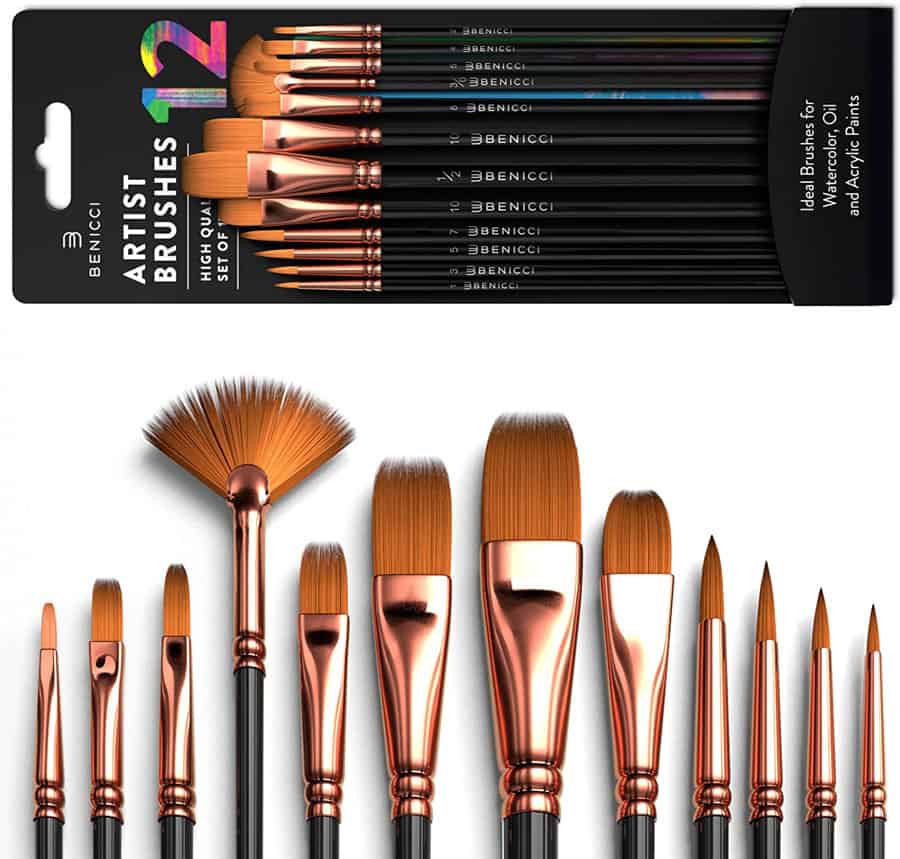 Professional Artists Brush Sets – See the full range on Amazon Here