Art equipment
Blog
Pens and Pencils
Warning
: Trying to access array offset on value of type bool in
/home/procartoon/public_html/wp-content/plugins/wp-social-sharing/includes/class-public.php
on line
81
Which cartoon pens measure up?
I have tried out many different pens ranging from cheap dip pens (pens dipped into ink) to very expensive high tech drawing pens.  
Every cartoonist has their own preference and I am sure that in time you will find the right pen for you.  
However, till you find your perfect pen I have created this cartooning equipment review and have have picked out my top 5 pens.  
These are all pens that I have used for drawing cartoons.  I hope you find  this cartooning equipment review useful.
 

Rotring Art Pen – Medium Nib

This looks great and is very stylish in appearance.  I really enjoyed working with this pen as it really feels good in the hand and you can adjust the width of ink line just by turning the pen slightly as you draw.  
The ink is provided in push fit cartridges or there is the option to install an adaptor which allows you to refill from a bottle.
This really is an excellent pen and very hard wearing.  I still have my original pen and nib and it is over 20 years old!  There are a variety of nibs with very fine, fine,medium and calligraphy that I have tried and can recommend.
Pros and cons of the Rotring Art Pen
The disadvantage over some other throw away pens is that you have to refill and unless you maintain it to a high standard (cleaning the nib after every use) it can become clogged with dry ink.  
The main advantage is long term cost.  Although the initial cost of the pen is more than good quality throw away pens the Rotring art pen works out cheaper over a longer period as the packs of cartridges or the optional refillable plunger cartridge reduce ink cost.  
Unlike throw away pens there is also a psychological advantage.  A great looking pen not only feels good in hand it makes you feel better as well.  I have always noticed this with a well crafted and stylish pen and seem to get better results.  Perhaps it's just me! But I find that it certainly ups my game!
This is a high quality stylish pen for cartooning with a slight draw back of constant maintenance. 




Rotring Rapidograph 0.5mm Technical Pen

 

I bought a set of Rotring Radiograph pens with all the accessories.  It turned out to be a bad choice as I ended up only using three pens out of the set and none of the accessories.  
The featured 0.5 technical pen gives consistent line strength and generally feels very good in the hand.  I did find that in prolonged use it did get uncomfortable due to the shape of the front end and the annoying threaded portion (where the head cap screws on).  
The ink source is by snap fit cartridge and the Rotring ink is of a very high quality.
Pros and cons of the Rotring Rapidograph 0.5mm Technical Pen
One disadvantage is that it requires high cleaning maintenance as it clogs easily if the ink starts to dry out. It is also not the most comfortable pen to hold in prolonged use.
If you are going to get this pen I would recommend that you also get the 0.3 for fine detail and the 0.8 for larger stroke detail.  Ink cartridges are quite expensive and this takes the edge off this model over throw away type felt tip pens.
On the plus stage this pen gives a high qaulity ink finish that is consistent every time.
 General long term cost is possibly on a par with throw away pens. 


Staedtler pigment liner fineliner technical drawing pen black ink 0.05mm

This is the throwaway pen I currently use for cartooning and is used to draw the cartoons on the Procartoon.com website.  It has a nice even flow and very good ink finish.  
This differs from the previous reviews above as it is a use and throw away type pen.  So when the ink runs out the pen goes in the trash!  
Having said that it is quite cheap in comparison to other refillable models.  I generally use the 0.3, 0.5 and 0.8 although there are several other sizes available.
Pros and cons of the Staedtler pigment liner fineliner technical drawing pen black ink 0.05mm
The only criticism I have is that the barrel is quite narrow and can be a bit uncomfortable to handle when in prolonged use.  Obviously they are a throwaway pen and connot be refilled.
Apart from thet they are a great workhorse and very reliable if look after them and keep the cap on when not in immediate use.


LAMY Calligraphy Pen Set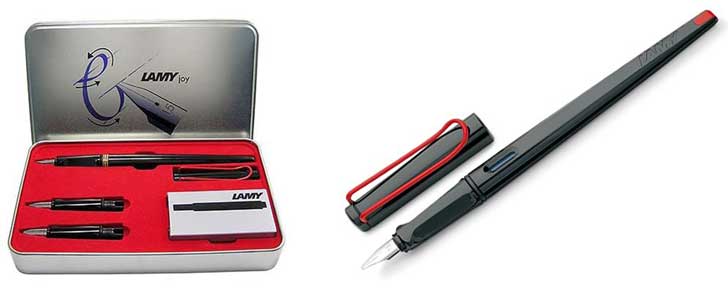 This is my cartooning pen of choice.  I have tried out dozens of pens over many years and this little set is miles in front – It's wonderful! 
The set comes in a smart metal box (also ideal as a gift set) and there are 3 different sized nibs (1.1, 1.5 and 1.9 mm).  The pen top is fitted with a strong clip so it will not leap out of your pocket.  There are a set of 5 Lamy black ink cartidges and an instruction manual.
Pros and cons of the lamy Calligraphy pen set
The best feature is the ergonimic barrel shape.  It has two bevelled edges on the sides of the barrel that makes the pen feen part of your hand. I don't ever get 'grip fatigue' using the Lamy Calligraphy Pen which for someone who uses the pen for hours at a time is a massive plus.
The nib and ink flow is as smooth as you can get and very responsive.  It is also very consistent which is essential when you instinctively know what you want and what you know you will get. 
It looks great and makes you automatically up a gear when you have it in hand.  Until you have tried this pen you won't know the feeling as it's quite hard to define.  I use it for everything not just for drawing!
Three nib sizes give most  line width you will need.  The pen is also fantastic for creating fonts and general writing
There are no cons to this pen – Absolutely none!

Faber Castell Pitt Artists Pen 

High quality fibre tip throw away pen with great ink flow and finish.  There is not much to chose between this and the Staedler Pigment Liner but  the price tag for the Faber Castell pen is substantially higher.  
Overall this pen performs very well, feels great in the hand and comes in fine, medium and broad (which is more a brush than a pen).  
I would use the medium and fine for cartoon work and the Indian waterproof ink does a great job. It was only the price that stopped this pen from getting it's nose in front of the Staedler brand.
Pros and Cons of the Faber Castell Pitt Artists Pen
The price is a little higher than the Staedler equivalent.  It does feel great in hand but can become uncomfortable after prolonged use.
It does provide a very good waterproof ink finish which is consistent and just right for adding colored washes after without bleed.

So Which is the best cartooning pen for you?
From this cartooning equipment review – pens you can see that I would recommend that you try out the Staedler Pigment Liners for a throwaway pen.  They are great pens and there is no hassle in maintenance – just what I like.  Pick up the pen and draw and the price is very reasonable.  
For me the Rolls Royce of cartooning, writing and calligraphy pens is the Lamy Calligraphy pen which is available in a neat 3 nib pen set. Stylish, draws and writes like a dream – I cannot fault it and use it all the time.
I have used this particular pen and other versions in the LAMY brand for many years. For me it is the best drawing, calligraphy and writing brand I have ever used.  Not the cheapest pen on the market buy hey! I don't mind paying a bit more for quality and this pen is sheer quality in every respect.
The beauty of this set is the interchangeable nibs which quickly allows a fast change to provide 3 variations of line width.  The pen clip is stylish but also extremely strong and practical.  Clip this into your top pocket and you can bet your life it will still be there even if you do a handstand.  Love this feature as I have lost a few nice pens in the past which had not had a secure clip.
Don't get me wrong there are some great cartoon pens but based on my experience you won't beat the LAMY brand!
As I said at the beginning or the article it's down to preference and you may decide to use another pen altogether.  I hope you found this post informative and I will be writing more reviews on equipment that I have personally used or have first hand knowledge of to  give you some useful information.
---
Found the cartooning pen for you? – now take a look at which is the best watercolor paper brand paper for pen, ink and watercolor/watercolor pencils with five top quality heavy grade paper pads
SaveSave
SaveSave