Graphic Drawing Tablet reviews – Article Index
---
Top 5 graphics tablets for cartooning in the low to medium price range

We review the best five different tablets from starter to mid price range ideal for cartoonists…more
---
Wacom Studio Pro 13″ and 16″ – The Ultimate Mobile Art Studio?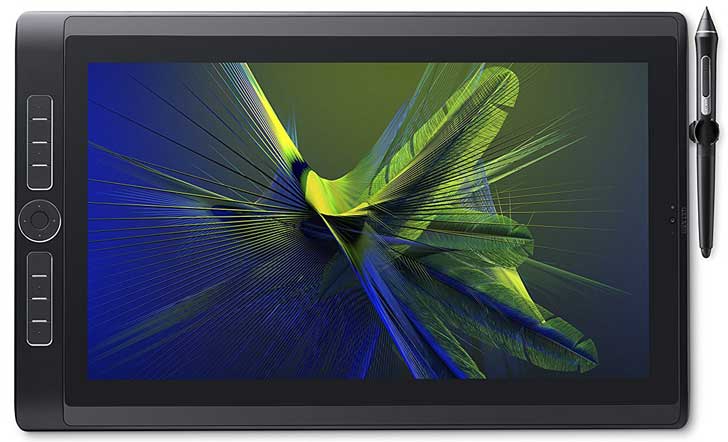 If you need the highest quality and specification plus mobility Wacom now have two great graphics drawing tablets on the market.  
With the recent addition of the 16″ model and several processor options Wacom have certainly put the cat amongst the pidgeons.
See the full review of the Wacom Studio Pro 13″ and 16″ with all processer options here…
---

Cintiq Alternatives – Ugee 1910B 19″ Graphics Drawing tablet
The Wacom Cintiq Range is superb – no question.  However there are Cintiq alternatives at a fraction of the price which offer good qualityproducts without breaking the bank.
 The Ugee 1910B offers a great alternative with a generous 19″ screen and plenty of features to create stunning artwork.
See the full Ugee 1910B 19″ Graphics Tablet Review here…
---
Intuos Pen and Touch graphics Drawing Tablet
Superb build, features and versatility with three sizes to chose from.  This is one of the most popular tablets on the market for good reason.  We review the three sizes and the common features and benefits – See the full review right here…
---

For the beginner or those on a limited budget these four Wacom tablets are fantastic value.  Not only do you get a Wacom Intuos tablet but the software is included.  Each graphics tablet and software bundle are designed for a specific artistic talent – Comic, Art, Photo and Draw – Check out this fantastic offer here…
---
The best on line training resource online 
Become an expert in your favourite graphics software.  Procartoon reviews  Lynda.com – a class  act that will raise your game to a level you wouldn't believe! Check out the Lynda.com reviews right here…
---
The magnificent 5 – Cintiqs Revealed
The Rolls Royce of the graphics drawing tablets is unquestionably the Cintiq range.  You would expect that the largest, most expensive would be the best.  We drill down to see which in the range gives the best value in terms of quality, features and drawing experience.  The result isn't quite what you might have expected…more
---
5 of the best drawing tablets for under under  $50
If you are on a tight budget, testing the graphic tablet water or simply want a cheap but portable tablet we  look at five different brands for under fifty bucks and compare their features, functionality and give them each a rating based upon overall performance
---
Which are the 5 best buy graphics tablets?
We pick out  the best buys in five different categories of drawing tablets as artists have different requirements such as best entry level, price, size or with software bundle included. 
Check out the best buys right here…
---
 10 top tips when using on screen drawing tablets
Some essential tips to enhance your drawing experience and save you a heap of time to concentrate on what you do best…more
---
Graphics drawing tablets with very high customer ratings
We review 5 graphics tablets accross a range of prices and screen types (direct and indirect draw) which have one feature in common.  They have been highly rated by previous customers so you can rst assured that you have a great track record to look at before you buy.
---
Which is the best drawing tablet for beginners – introduction and graphics tablet comparison
If you are just about to venture into the world of digital art but are not familiar with what is available, what graphics tablet does what and how much do graphics tablets cost this article is for you….More
---
 

Huion GT-220 – best drawing tablet brand under $800? – Possibly the best Cintiq alternative
Wacom may regarded as the Rolls Royce of digital art technology but that name comes at a price.  We analyse  the merits of the Huion GT-220 which is a considerably cheaper option…more
---
Graphic tablets costs and what you get for your money
We look at what is available across a range of $50 – $2000 comparing different brands at different price points with some interesting results…more
---
Wacom Cintiq 22HD Review – for professional digital artists
The Cintiq range covers several different screen sizes and offer the highest quality in digital tablet technology.  After considereing the merits of each member of this prestigious stable  we focus on what we believe is the best in the Cintiq range at this present time – the 22HD which gives the best value in terms of screen size and cost…more
---
Photoshop Elements 14 – Best picture editor under $100
Adobe Photoshop Elements 14 is the cut down version of its more expensive full Photoshop Software – but don't let that fool you.  Fore this low price you get  the best program for editing photos, cartoons in fact any artwork you can upload.  It is packed with features like the outstanding Adobe Photo Raw interface that lets you simply adjust your raw photo's to a professional finish.  We review the highlights and consider the limitations of Elements 14 and the best guide to show you how to use it in our informative in depth review… 
---
If you are considering moving into digital art or thinking of getting a cheaper second portable tablet? Don't want to risk paying hundreds of dollars for a top spec' graphics drawing tablet? We look at 5 relatively low cost indirect draw graphics tablets.  They are not the cheapest on the market as you can get a decent tablet for under $50.  However these are in a price range and level of quality that may just be what your looking for.
See the review of tablets £50 – $100 right here…
---
Squartrade protection plans review for your graphics tablet
After you buy your new tablet is it worth taking out a protection plan in case the dog decides to chew the screen We look at the pro's and con's of Amazons Squaredeal plans and how it actually works…more
---
Best drawing tablet review – Wacom Bamboo Create Pen and touch Tablet
The Wacom Bamboo is arguably the best 'indirect' (off screen) tablet.  We review the qualities of the Bamboo which is a very reasonably priced tablet in the digital art market…more
---
 What is a drawing pad for computer?
You cannot beat the magical experience of good old pen and paper – however there are plenty of reasons for going digital or even partly digital…more
---
5 top rated external hard drives to save your precious artwork and photography from being lost forever.
We review 5 of the most reliable external hard drives on the market across a range of storage capacities from 500Gb – 5Tb.  If you are not currently backing up your digital artwork you are playing Russian Roullete as computer failure, viruses and accidental deletions are not uncommon.  Read the review right here…
---
Do you really need an artists graphics tablet glove?
I road tested a pair of graphic tablets gloves to see what all the fuss is about.  Are they really worth having – do they actually enhance the drawing experience or are they just another 'add on' gimmick to empty your art and graphics equipment budget a bit more – Take a look at what I found…
---
Boogie Board LCD Writing Tablets: The Best of Both Worlds
If you have been out walking, shopping or simply woken up with a great idea for a cartoon it needs to be captured before that spark of genius disappears forever.  A boogie board is ideal for any artist to quickly sketch out this inspirational gems that flash through your brain and the most unexpected time.  
I am often in mid conversation with someone and they either say something funny or give me a new angle for a new cartoon.  I used to scribble ideas on bits of paper and then lose them!  Not any more as these cheap and cheerful devices allow you to keep your ideas in one place and are small portable and invaluable.  See my review of the range of Boogie Boards and what they can do for your flashes of drawing inspiration…
---
More Graphics Tablet Reviews and Articles Here