Blog
Graphic drawing tablets
Warning
: Trying to access array offset on value of type bool in
/home/procartoon/public_html/wp-content/plugins/wp-social-sharing/includes/class-public.php
on line
81
This is a really well built graphics drawing tablet at an affordable price and well worth considering as a Cintiq alternative.  The screen resolution and color accuracy are not as good as Wacoms superior products however, for the money this is a really good choice for an art student or artist with limited resources and compared favourably with other Cintiq alternatives on the market.

Specification and Features
Size: 19″

display panel (TFT) (Screen size is measured diagonally i.e. top corner to diagonally opposite bottom corner)

Digitizer:

UC-Logic (UC Logic is one of the wordls leading digitizer manufacturers)

Resolution:

1440 x 900 (i.e. screen is 1400 pixels x 900 pixels)

Pressure sensitivity:

2048 levels (pen sensitivity 'in hand' to accurately replicate a real pen).

Contrast ratio: 800:1 (ratio of the luminance of the brightest color to that of the darkest color) 
Stand:

Metal adjustable angles from 20

o

 to 90

o 

there is a seperate offer on Amazon which includes a larger adjustable stand –

see offer here
Brightness: 300 nits (a nit is a measurement of light intensity 1 nit = 1 candle per square metre)

Operating System Compatability:

 

Mac or PC (VISTA onward).

Dual Monitor Capability: Yes
LPI (lines per inch on screen): 5080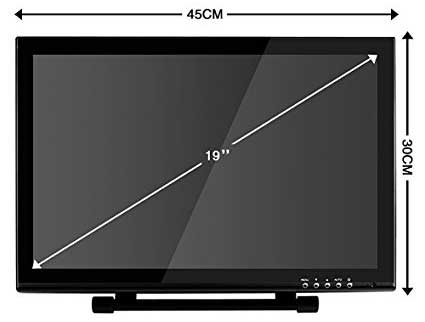 Whats included in the box?
Ugee 1910B Graphics pen Tablet Monitor

Two digital stylus pens and USB charging leads

VGA Cable

USB Cable 

Power Adapter and power chord 




Barrel Holder with 8 Tips and One Remove Ring

Driver CD 

Ugee User Manual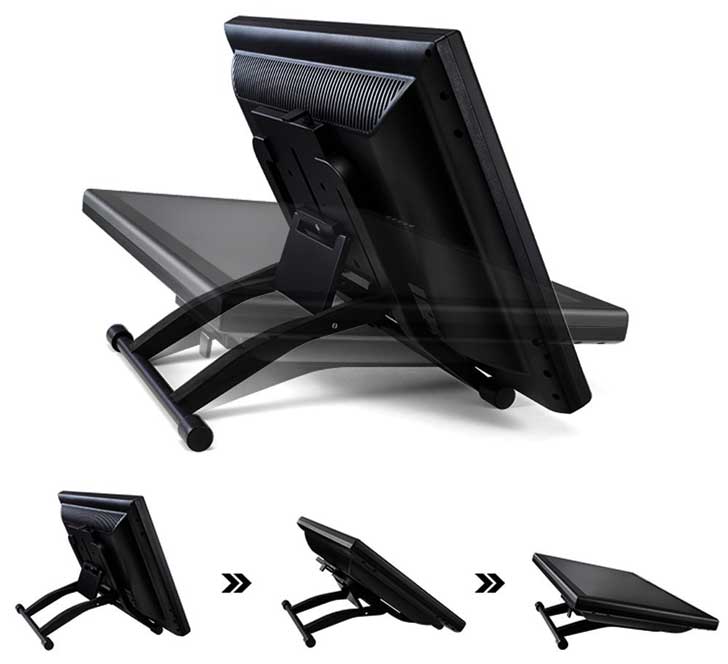 Installing the Ugee 1910B Driver and Performance
The driver is supported by Mac and PC (VISTA or higher). 
You can either use the CD that comes in the box or you can download the driver direct from the Ugee web site.  If you have not installed a tablet on your PC before this should load easily – just follow the instructions.
If you had any previous graphics tablet software on your computer it needs to be completely removed before uploading the Ugee driver.  The best way to proceed once this is done is to switch everything off, connect all leads and reboot before uploading.
The icon for the driver  does not automatically appear on the desktop and will need to be located in the downloaded file to activate it.
There may be some adjustment requirements in your display settings to ensure that the computer and Ugee monitor are working in harmony and it may be necessary to tweak the resolution and display ratio on your computer.  This will vary depending upon the specification your computer monitor is capable of and set at.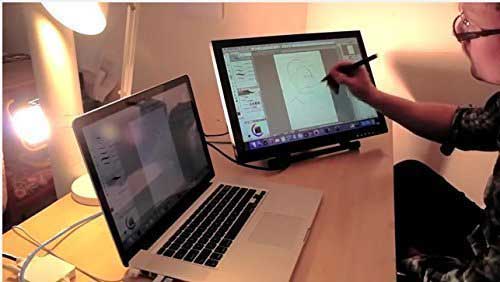 Screen Surface is flat all the way to the edged with no bevelling.  This allows uninterrupted drawing with no unwanted obstructions. You can also use a ruler on the screen surface.  
The sleek smooth surface without belelled edges is great for tracing by using the tablet as a light box.
The pen is substantial with good balance in hand with minimal parallex (gap between pen tip and on screen cursor). The UC-Logic Digitizer is extremely responsive giving great pen experience with no lag while drawing.
Pros
Price – a fraction of the cost of a Cintiq

Great 19″ screen size

Adjustable stand

Excellent pen sensitivity and battery free

Quality build 

Jitter free

Battery-free pen

Uses EMR, a sensitive digitizer system allowing excellent drawing control
Cons
Pixelation is visible on screen

Color accuracy is not totally accurate

Installation of the driver can vary
Ugee 1910B – Cintiq Alternative in Conclusion
There are some shortcomings when compared with the Cintiq range as there is some pixellation on screen and the absence of hand gesture capability.  However, for the money (which is considerably lower than any of the Cintiq range) you get a really robust reliable and large screen to work on.
For students and artists on a limited budget this direct draw graphics drawing tablet provides superb value and will give great results.  The Cintiq range is the tablet that most artists aspire to use but they are really expensive and thankfully the Ugee 1910B is one of the top tablets in the  Cintique alternatives.