Art equipment
Blog
Drawing tips
Graphics software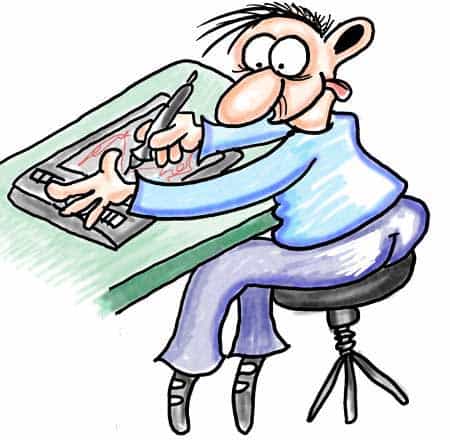 Online drawing tools can be enjoyed by users of all skill levels.  Artists, engineers, graphic designers, and teachers use online drawing to express their creative ideas.  With all the free drawing applications available, users can practice drawing on their own or collaborate with others in real-time. 
Some online drawing applications form a sort of chat room environment which is perfect to avoid trolls or anyone who would draw inappropriate content in a public forum.  Drawing software used to cost a fortune, but now there are free tools accessible to anyone. 
Of course, they don't have all the bells and whistles that a paid tool offers.  But they offer the basic painting and drawing functionality that serve the general populace well.
How does online drawing work?
Instead of picking up a pencil and piece of paper, your computer and mouse are now the only tools you'll use with an online drawing program. I find it difficult to use a mouse because it's rather big and clumsy compared to a slim pencil or paintbrush. But once you get used to it, it becomes easier to control the movement of it.
Online drawing programs don't always need to be downloaded. If you purchase a program, it will need to be installed. The online tools that we'll discuss here are completely online and free to the public.
All programs are different in regards to how "free" they are. Some let you begin as soon as you open the site. Others require you to create an account for the purpose of assigning you a username (in the case of online drawing public forums). Some sites let you use their free version with the option to pay for the "featured" tools.
 Is free online drawing better than purchased software?
Many software applications that require to be purchased usually have a free version available. The caveat to free online drawing applications is that while they're free, their functionality gets diminished. Depending on what type of online drawing you want to do will determine if the free tools are worth investigating.
In other cases, purchasing the software isn't necessary if you buy a subscription. Adobe Illustrator offers access to all of its functionality with a monthly subscription. The free alternative is Gravit which has most of the same features and seems much easier to use. Sometimes this may be more cost effective than spending hundreds of dollars for the programs you need.
Free online drawing tools are not always free
Some online drawing sites offer limited access to their programs as a marketing tool. Creating an account is all that's required to open the door. The catch is that once inside the program, all the necessary features you need are "premium." You'll have to upgrade your account by paying in order to use more than just the few basic free tools.
5 sites for free online drawing tools
This is a free online drawing tool that has the basic settings similar to what's found in Microsoft's Paint.
There are only for the three drawing buttons (color, pencil size, and line vibration). Line vibration makes the lines jiggle so your drawing has a bit of life to it.
Cartoons, anime, or pieces with extreme detail can be made if you're comfortable using a mouse instead of a pencil or stylus.  Once your piece is complete, it can be shared online to Facebook or Twitter directly from the site with a single click.  It can be emailed, downloaded, or saved to your desktop. 
It works well as a teaching tool since it produces a specific URL for each drawing. Send the link to someone, and when they click on it, they'll see an instant replay of each step you took to create that drawing.
Pros
No registration required

Can be shared on social media

Instant replay functionality
Cons
This combines online drawing tools and chat rooms into a collaborative platform.  Choose a room you'd like to join, and start drawing.  Everyone in the room can see what you're creating as it's being created. 
You can also start your own private chat room if you want to avoid strangers.  Scribbles, sketches, and anything else you'd like to draw can be done here.  Your work can be saved and shared on social media. 
The chat room environment lets everyone draw in real-time on a single canvas.  Draw your own image or let others help you. There are photos that serve as the background and you can draw over the photo.
For example, there is a photo of a grassy plain with a beautiful blue sky where people drew horses running over the plain. Imagine having a blank chalkboard and everyone in class starts doodling on it at the same time with no rules.
Pros
Start your own chat room and limit who can join

Collaborate with other artists in a public room

Choose the type of background you want to draw on

Users of all skill levels welcome
Cons
Registration is suggested but not required (users can draw as a guest)

Other people can draw over your work as you're drawing it

Public forum means no filter on what can/cannot be drawn (explicit content)

Images fade after one minute
This is a more complex online drawing platform than the previously mentions apps.  Drawing tools are vertically aligned on the left and right sides of the blank canvas.  
Draw an image on the canvas, as with other online drawing tools, but a few nifty features standout: shapes (circle, square, etc.) can be added and duplicated with a single click, drawings can be made into GIFs, and your own images can be imported. Font size, color, and type can be changed.
Photos can be drawn on and text can be added to the image, but that's the extent of its photo shop functionalities.
I've never made a GIF before, so this was a fun tool to play with. Draw at least two images and click "Save to animate." After you have all the images, click "Generate GIF" and a new window opens with your very own GIF dancing on the screen. Download it to your PC, and it's yours. For free.
Pros
Shapes can be replicated

Nice array of drawing tool selection

Turns images into GIFS and save as your own

Friendly user interface

Import images for altering
Cons
Text box cannot be moved once created

Images are saved in .png format (I used Microsoft Paint to save to .jpeg format)

No social media sharing options
After using this free application, I felt like I had much more artistic skill than I actually do.  The tools are represented by clickable graphics that coordinate with their function. 
I find this type of interface more pleasant and less daunting to use than buttons that assume I know what they do. A pen, quill, crayon, paintbrush, and spray do just what they're supposed to in terms of drawing functionality. 
Shapes can be clicked onto the canvas and moved.  Click the stamp icon, then click the canvas, and it drops a perfectly formed butterfly with rainbow coloring onto the canvas.  Click on the happy face icon, and an impressive selection of animals, plants, and people appear. 
Add any of these clip art images into your drawing wherever you wish to place them. Their size is adjustable by dragging the corner out.   Import your own image and add tons of clipart, text, and other drawing effects.  Painting effects like spider webs, spirographs, lines, and arrows can be dropped into your artwork as well. 
The background can be changed to blank, a grid, graph paper, blueprint and others.   I found that I really enjoyed playing around with this online drawing tool because I was able to incorporate my own scribbles with pre-drawn graphics.
Pros
Awesome user interface that is fun to use

Utilizes clip art

Import your own images for editing

Saves file in multiple formats
Cons
Does not share to social media
Drawing, sketching, and doodling are pretty straightforward with this application.  But you can also type all kinds of text on a blank white canvas or on an imported image. 
This is a nice tool for the business world because process flows, lists, outlines, and more can be displayed just like on a standard whiteboard in a corporate office. It's made to let people collaborate and share their work with one another.
There are options to change the font color and thickness.  There was only one font, and I was unable to change it to a different type.  There's the option to import your own photo to add text to it, or import an image from the web by using its URL. 
You can add text to photos or just create artwork out of words (for example, music lyrics, and poems).  And, for the social butterflies, you can share your hard work on Facebook, Twitter, Reddit, and Google+. If you want more features, you have to create a premium account (free for the first 30 days).
With a paid account, you can get some awesome tools like the ability to use multiple white board pages, PDF and PowerPoint importing/exporting functionally, and a lot more advanced tools.
Pros
Draws and adds text boxes that can be dragged anywhere

Simple interface functionality

Has mobile app versions

Shares to social media and email
Cons
Only one font type

You have to pay for the premium features for the better online drawing tools it offers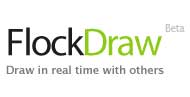 Flockdraw.com
Flockdraw is another community whiteboard-based public online drawing forum.  Its purpose is to bring people together to collaborate artistically. 
The number of users at any given time is unlimited, but only 10 can draw at a time.  You'll need to create a drawing session, or search for an existing session already underway.
No registration is needed, but there is the option to create a username. I joined as a guest and got in with two clicks.  There's a gallery that showcases some really cool finished artwork by other users.  There's a chat box so you can talk with other users while you draw if they're in your session.
The drawing tools are pretty basic (pencil, paintbrush, etc.).  There is a Save option – it saves the entire whiteboard. A URL is produced that you can copy and send to your friends, or share it directly to Facebook or Twitter.
The best features of flockdraw.com are that you can create your own group session, chat with other users in real-time, and draw your heart out – all for free.
Pros
Free with no hidden premium features

Group forum with privacy option

Collaborate in real time

Chat option to work with other users

Social media sharing capability

Has a mobile app
Cons
Only a few basic drawing tools
Online Drawing Tools – A Good Option?
For artists and designers on a tight budget, anything free is awesome.  Yes, not all of the free online drawing applications are going to be perfect.  After all, they're designed with the basic artistic needs in mind.  Some are better than others.  Some aren't worth wasting your internet on. 
From a user perspective of a beginner with online drawing, I can attest to both factions.  If I were trying to learn some drawing techniques, the instant replay function of Sketchtoy.com has my vote.  As a visual learner, it's always beneficial to see a breakdown of the steps. 
If I wanted to play around with creating my own amateur GIFs, I think Drawisland.com would do well. The worth of the free online drawing tools is based on how well you know how to use them.
Since practice makes perfect, some artists toss away the expensive programs and use the free versions to make some truly outstanding pieces of art.  
The beauty is that you can try all of these out without spending a brass razoo!   If you have yet to use any graphics software this is the ideal way to start…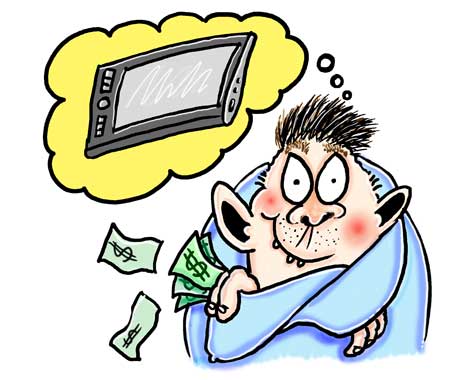 If you are looking for your first graphics drawing tablet, want to upgrade to a higher spec or larger model or would like to get a more portable model – see my articles on the full range of tablets on the market here…