Blog
Graphic drawing tablets
Warning
: Trying to access array offset on value of type bool in
/home/procartoon/public_html/wp-content/plugins/wp-social-sharing/includes/class-public.php
on line
81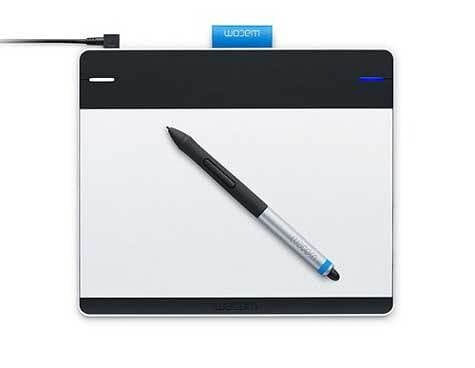 Wacom intuos pro sizes – small, medium or large?
The Intuos Pro Pen and Touch tablet created by Wacom was designed with one thing in mind. Creativity. Drawing, sketching, photo editing, or painting are all at your fingertips.
How can Wacom provide creativity, precision, and efficiency all in one complete package? By giving you the tablet that combines all of these aspects into one simple piece of technology. But it gets better. You can take advantage of not only its magnitude of capabilities, but you can choose from three distinct Wacom tablet sizes in this range that fit your designing world.  
Intuos Pro Tablet Features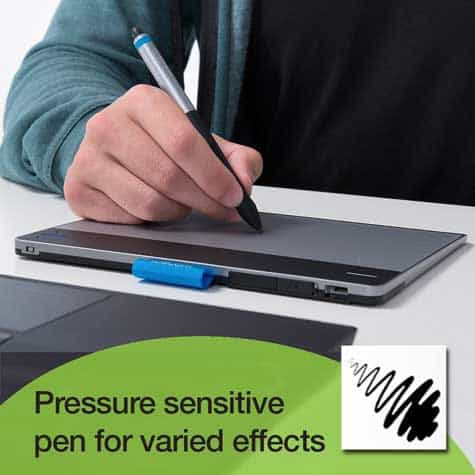 Pressure sensitivity could be one of the most important aspects that artists look for. The Intuos Pro is equipped to deliver 2,048 levels of pressure sensitivity. Not only that, but the pen also has tilt recognition. Use the pen to draw lines in a variety of widths while comfortably holding the pen without any restrictions. Hold it just like you would a regular pencil when you're drawing. No need to hold it awkwardly upright at a 90 degree angle. Control the line width and density based on how firmly you press down just as you would with a traditional pen, brush, or marker.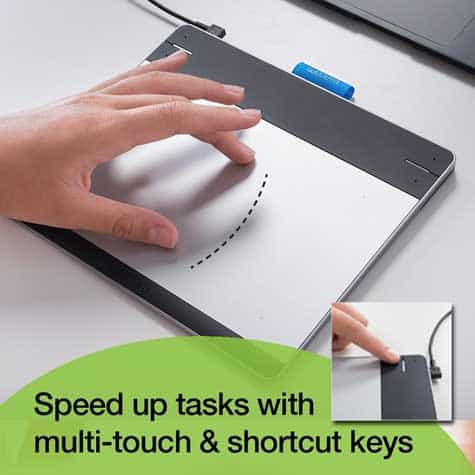 The Intuos offers multi-touch gesture support in collaboration with the ergonomic pen. Use the pen to draw, and use the fingers on your other hand for touch-screen support. You can pan and navigate with your fingers, zoom in or out, and create your own custom touch shortcuts. Being ergonomic means that it is suitable for left and right-handed users.
No tablet would be complete without the buttons. The express keys and multi-touch ring functions are located on the bottom of the tablet. They give you the ability to customize your favorite shortcuts and put them literally at your fingertips. All of these time-saving settings are there to help boost your productivity in a faster way so you can be more efficient without losing focus on your creativity.
Feel like ditching the cords and plugs? Go ahead! This tablet provides wireless options while still keeping your creative juices flowing. Create your masterpiece on the go, in an airport, in a cab, or in the spare guest room. A fully charged tablet can last about five hours running wirelessly.
All tech gadgets need to be charged. The Intuos Pro has a USB port with an included cord. Feedback has been that the port is a smidgeon too big to snugly fit the cord into the port. When charging the tablet, you may want to keep an eye on it. Wiggle it around a bit to make sure it's getting a charge.
Which Intuos to buy – Size is everything!
Smaller is sometimes better depending on the type of work you're doing. It's also at the bottom of the price range. This tablet can be found for just below $250.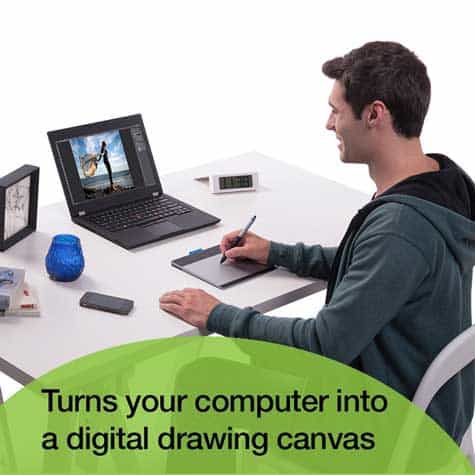 For the compact workspace, the small tablet may work best. While having limited working space available, you can still have access to the huge performance capabilities of the larger model. Highly portable, the small Intuos Pro can be easily tucked into a standard sized laptop bag. The smaller size does not diminish any of its high performance capabilities. The small-sized tablet working screen area is approximately 4×6 inches.
If you have limited space, perhaps just need to do some photo touch-ups, write small, or use small/short brush strokes, then this size could work best for you. Students often prefer the small Intuos Pro tablet because it's lightweight, fits well on a small table or desk, and can fit into a regular sized backpack.
Coming in at just under $350, the medium-sized tablet has often been called the perfect size. It's the most popular because it's not too big, and not too small. It has all the fantastic capabilities of the large tablet, and more working space than the small tablet. It's the preferred choice by users who require multiple monitors. The working screen area is approximately 8.8 x 5.5 inches.
The large tablet, available for about $499, is perfect if you are used to painting on a large canvas and need to convert that talent to a tablet. The larger screen means you have a full range of motion and a seemingly endless toolbox to unleash your artistic skills. Spending hours on a small tablet can become extremely uncomfortable very quickly. The working screen area is approximately 12.8 x 8 inches. If the small or medium tablets will make you feel cramped, then the large Intuos Pro is the tablet that can offer you the most bang for your buck.
Pros:
Three different sizes to choose from
Small – 12.6 x 8.2 x 0.5 (1.4 pounds)

Medium – 14.9 by 9.9 inches (2.2 pounds)

Large – 19 by 12.5 inches (3.9 pounds)
Wireless accessory kit included in original purchase
Readily available accessories – such as Wacom Intuos Pen and touch nibs
Compatible with PC (Windows Vista SP3, 8, 7) and MAC (OS X 10.6.8 or later versions)
Cons:
USB charging port has 'wiggle room'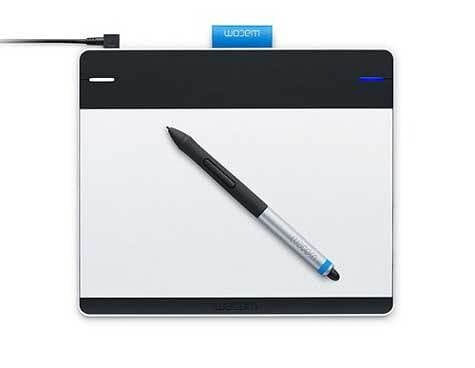 For those of us who love photography, art, and graphic design, the Intuos Pro tablet offers a powerfully streamlined creative piece of technology with all the right tools artists need to create professional results. With three sizes to choose from, no job is too big, too small, or too difficult for this amazing tablet.
See the latest price for all three sizes in the Intuos Pro tablet range right here…