Blog
Graphic drawing tablets
Graphics software
4 cheap drawing tablets for pc or Mac – packed with Wacom qaulity, features with software included
Painting doesn't have to be messy. Drawing doesn't have to include tons of erasing. With a Wacom tablet, you can draw, sketch, paint, edit, and create digital artwork straight on your computer without the cost of expensive materials.
One of the best graphic tablets for beginners, the included software is easy to navigate and the free online tutorials show you how to create your artwork all for less than $100.

These Wacom tablets are easy to use and come complete with their own downloadable software that will get you going in no time. No complicated installation is required. Connect the tablet to your computer via the included USB cable, install the drive, and download the software. Then you're ready to go.
This range provides cheap drawing tablets at the highest quality with real added value in the software.  Learning how to draw on these cheap wacom tablets couldn't be easier!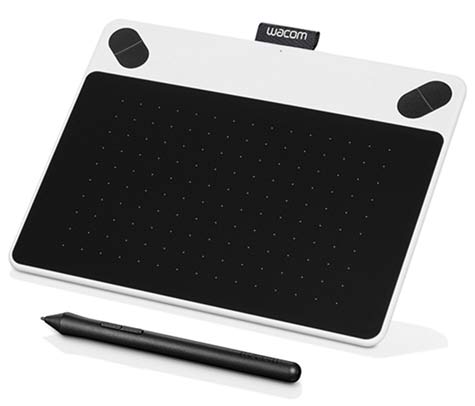 Wacom Intuos Draw graphics tablet (CTL490DW)
Compact and portable, this little tablet packs quite a bit of artistic tools in one place. Use the pen as a replacement for the mouse, and the board becomes your canvas.
Use the express shortcut keys to make copying and pasting easier and faster without having to put down the Wacom battery-free pressure-sensitive stylus.
Measuring only 8×6 inches, this is perfect for users with limited work space. Included with the tablet purchase is the ArtRage Lite drawing software. With free online tutorials, you can learn to do everything digitally that a professional can do on canvas. Plus, you'll get a free 8×10 metal print from Horizon Worldwide.
Pros:
Express Keys are 

customisable

Left and right handed usability of the stylus

Free drawing software

Free metal print of your choosing

Wireless kit sold separately
Cons:
No multi-touch feature

Online tutorials are only free during 30-day trial membership
See the latest price of the Wacom Intuos Draw (CTL490DW) here…Click flag
Wacom 

Intros

 Art graphics tablet (CTH490AK)
The Art tablet lets you paint, draw, sketch, and doodle with a pressure-sensitive pen as it recognizes the slightest movement of your hand.
There are four customizable express keys for things like copy and paste, and everyone's favorite – the undo command. The pen needs no batteries, and it's compatible with both Mac's and PC's.
The multi-touch feature allows you to navigate through the program, scroll, and zoom in or out using your fingers. Plus, the included Corel Painter Essentials 5 downloadable software makes drawing a breeze. Also included are online tutorials showing you how to use these great toys, an 8×10 metal photo print, and a snazzy 20-page photo book from Shutterfly.  For the price this is one of the best tablets for art.
Pros:
Compatible with all Adobe programs

Multi-touch features

Left and right hand capable

Included software, free metal print, and photo book

Wireless accessory kit can be purchased separately
Cons:
Membership for free online tutorials expires after 30 days
See the latest price of the Wacom Intuos Art (CTH490AK) here…Click flag
Wacom Intuos Comic graphics tablet – perfect if you are learning how to draw comics!
The Comic tablet is small and portable, as are our other tablets, but it comes with Clip Studio Paint Pro and Anime Studio software that puts the world of creation at your fingertips.
With multi-touch functionality, you'll get hands-on in bringing your characters to life. Use the express keys to customize your shortcuts. It's right-and left-handed compatible. And with a pressure-sensitive stylus, you can create those fine line details that make your heroes and villains jump off the page.
Perfect for beginners, you'll be able to draw and ink frames. Characters spring to life with this tablet that's easy to use and exceedingly affordable. As a bonus, purchase 25 comic books, and you'll receive 10 more for free.
Pros:
Multi-touch features

Included animation software

Bonus free comic books

Wireless adapter kit sold separately
Cons:
Online tutorials expire after 30-day free membership
See the latest price of the Wacom Intuos Comic Graphics tablet here…Click flag
Wacom Intuos Photo graphics tablet 
For the budding photographer on a budget, this compact tablet pulls out all the stops. It's almost too easy to create brilliant color photo books with the included Corel Paint Shop X8 software and free online tutorials.
Photos can be edited and enhanced like a pro – all with a touch of the ergonomic stylus pen. Change the opacity, thickness, or fineness of the lines as you draw on your photos. Suitable for righties and lefties, the pen fits comfortably for all users.
Along with the included software, you'll receive a Shutterfly photo album to showcase 20 pages of those beautiful photos you created. As if that's not enough, this affordable tablet has multi-touch functions for zooming, scrolling, navigating, and copy/paste commands as well as the customized express keys.
Pros:
Photo editing software included

Shutterfly photo album included

Free 8×10 color print

Wireless adapter kit available
Cons:
Online tutorials expire after free-trial membership
See the latest price of the Wacom Intuos Photo graphics tablet (CTH490PK) here…Click flag
Final Thoughts: The best graphics tablets for beginners  with software for each drawing tablet included
Letting your imagination run wild can be fun, easy, and affordable with any of these remarkable graphics tablets. They are all compact, portable, and have functional similarities, but each one is slightly different.
Drawing, painting, editing photos, or creating comic book characters can all be done using one of these tablets without the need to purchase any software separately. You can use this drawing tablet for pc or Mac and could  be for yourself or as a gift for a loved one in fact these tablets will be perfect for any budding artist.  
This range of tablets are becoming very popular and may well become the most popular and best selling graphics drawing tablet on the market in 2017
due to the price, quality and included  graphics software bundle – a real winner!