Art equipment
Blog
Gift ideas
Graphic drawing tablets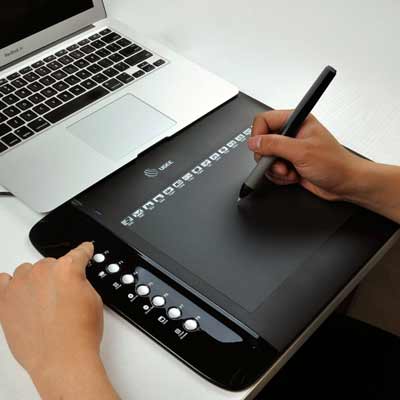 In this graphics tablet review there are five  tablets across the range that all have a common thread – quality and high customer rating.  
I look at both direct and indirect draw with different sizes and prices to suit a variety of situations.  
For those of you who are trying out digital art for the first time I would highly recommend that you try out an indirect draw to start (at lower cost) before venturing into a direct draw.  
The reason is simple.  For a small outlay you can see if digital art is for you – it doesn't suit every artist so don't splash out too much cash until you know!
I believe that graphics tablet reviews should focus on previous experience.  There is no better guide of quality  than the validation of those that have tried and tested  any product.
Wacom Intuos Art Pen and Touch digital graphics, drawing & painting tablet

A recent addition to the Wacom Intuos range with four variations designed for different art styles ART – COMIC – DRAW and PHOTO designed for different art styles.  Basically the same tablet with different graphics software included to suit each art style.  
The tablet comes in small and medium sizes.  The tablets attach to your computer via USB cable or you can purchase an add on Wifi kit that can be added as part of a bundle package.  
Wacom Intuos Art – includes Corel Painter Essentials drawing and painting software
Wacom Intuos Comic – includes Clip Studio Paint Pro and Anime Studio software
Wacom Intuos Photo – includes photo editing software: Mac – Corel After Shot Pro 2 and Macphun Pro package. Windows – Corel Paint Shop Pro X8 and Corel After Shot Pro 2
Wacom Intuos Draw – includes Art Rage Lite sketching and drawing software
If you are entereing the graphics tablet world this Wacom rangel of small and medium tablets which include graphics software is not only a quality product but exceptional value – a one stop shop to get you up and running!

Ugee Digital Pen Tablet Display Drawing Monitor with 19 Inch screen
Looking for a direct draw graphics tablet with a generous screen size and at a reasonable price?  The Ugee Digital pen tablet could be the just one you have been looking for.  For a comparable Wacom direct draw tablet you are looking at about a third the price and it is of excellent quality and performance.  
The 19 inch LED drawing area with TFT panel provides an impressive resolution of 1440 x 900.  With a battery free pen offering 2048 pressure sensitivity levels this tablet can accuratly process your drawing skills.
This comes with 2 rechargeable pens which have  and pen charging leads plus a drawing glove and screen protector.  The tablet is mounted on an ergonomically designed stand which is rock solid for stability.  It can also be adjusted for different angles to suit your own drawing preference.  
This is an impressive direct draw tablet at a considerably lower price point than comparable sizes in the Wacom Cintiq range.  If you are looking for a Cintiq alternative with a direct draw screen you will be really pleased with what this has to offer.

XP-Pen G430 OSU Tablet Ultrathin Graphic Tablet
This is a compact tablet with a 4″ x 3″ active drawing area and ideal for those with limited desk top space and highly portable.  The classy XP Penhas a nice glossy finish and is available in black or white.
You do not need to charge the pen or suppliy batteries and is a superb alternative to the traditional mouse.
This is also the least expensive in this graphics tablet review and at under $50 is within most artists budget.  It is ideal as an additional tablet as it is ultra thin, small and robust and can be slipped into a pocket to quicky hook up to your laptop.  Perfect  for the artist on the move as it's simple to set up. 
The XP Pen is compatible with MAC or Windows and can be used with the main graphics software such as Coral Draw, Photoshop and Sketchbook Pro.
In a nutshell this tablet is inexpensive, classy and has one of the highest customer review recommendations.  For a starter tablet, a smaller companion to your existing tablet or something more portable this is a great choice. It's a no brainer!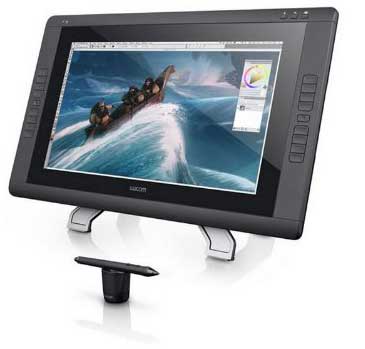 Wacom Cintiq 22HD
This is possibly one of the best graphics drawing tablets you could ever own.  It exudes quality, packed with features and has a large direct draw screen.  
The only drawback is the price which compared to other direct draw tablets can be two or three times more expensive.  However this is the Rolls Royce in the tablet market in my opinion.
You might be wondering why I haven't recommended the Wacom 27″HD tablet which is of equal qaulity but with an even larger drawing area.  For me the 27″ is wonderfully large but!…It is a very large and heavy tablet with a really expensive price ticket.  The smale 13HD is also a great piece of kit but the mid range 22HD.
Main features:
Time saving Express Keys and Scroll Ring

Adjustable display stand

Grip pen with pen stand plus 10 replacement nibs and a nib removal tool

Grip Pen recognizes 2,048 pressure levels
25.6″ x 15.7″ by 2.2″ and weight 18.7lbs

Wide viewing angle with widescreen aspect ratio ideal for large-format work
If you can afford this or can to save up for the Cintiq 22HD – buy it!  It really is a class act and if you are really serious about graphic artwork you will be hard pressed to top this.

Ugee Art Graphics Drawing Tablet with 10 x 6 Inch Drawing Area
This small to mid sized indirect draw tablet offers a lot of punch for the money.
8 express keys that  can be customized to your individual preferences.

Pen with 2048 pressure sensitivity levels

Compatible with Mac and Windows

Compatible with main graphics software such as Photoshop, Coral Draw and Sketchbook Pro

Tablet overall dimensions 14.2″ x 10.2″ x 0.3″ 
This tablet is just over the $50 mark but you get extra control to customise  with the 8 express keys.  Great value and one of the highest ratings.

Graphics tablet review – which tablet would suit your artwork?
Only you can determine which tablet would suit your art style.  
If you are a complete novice to digital art the Wacom Intuos range is a great starter kit with graphics software included.
If you are a more seasoned campaigner there is only one tablet in my book – the Cintiq 22HD which is reassuringly expensive – but you get sheer quality for the money.