Blog
Gift ideas
Pens and Pencils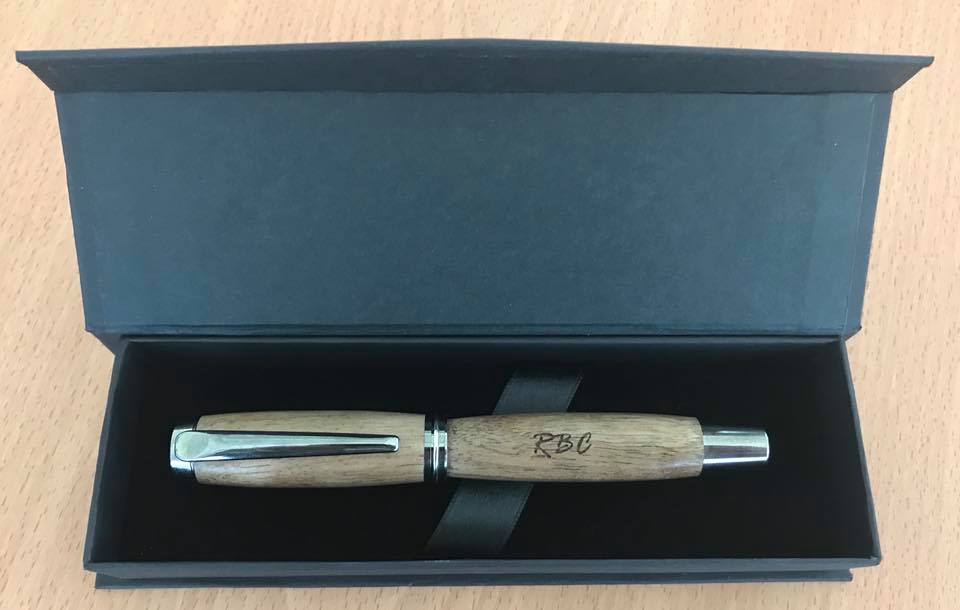 There are quite a few wood carvers out there who are making and selling hand made custom drawing pens and pencils.  However, there are not that many who really 'cut the mustard' with a quality product.  I was fortunate to find Ritter's Writers a small cottage industry based in Monmouthshire in South Wales UK.
As a constant scribbler, doodler and cartoonist I, like most of you cartoonists out there, have a fetish for anything that draws, writes and generally scribes!  After seeing Ritter's Writers Facebook page I decided to that I had to meet up with the entreprenuer behind this class brand.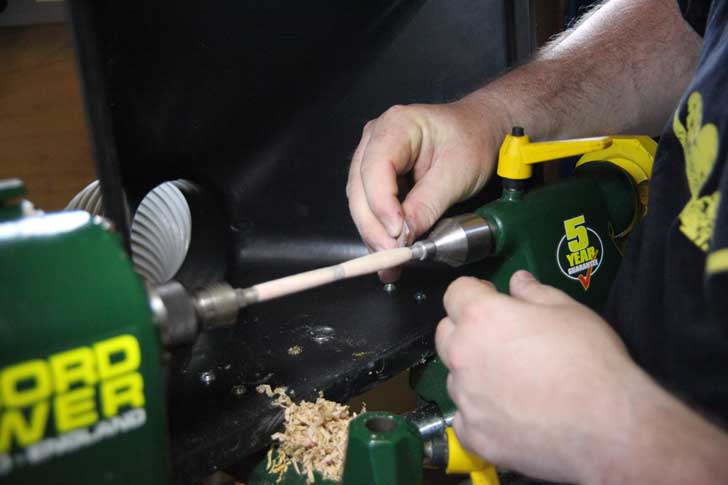 Gareth Ritter originally wanted to have a career in woodworking but due to circumstances, fate and other influences became a music teacher.  The love of wood has never been far away and Gareth has recently revisited his first vocation and began a small business making gifts out of wood.  Amongst his products are Welsh love spoons and high end writing pens and pencils.  It is the latter that has really taken off.
During a recent European trip I took a detour to meet up with Gareth at the Ritter's Writers workshop in Raglan, near Monmouth.  Set in the rolling hills of Monmouthshire Gareth lives in a converted barn with his family in some of the most stunning countryside you will find in the UK.  His workshop is an old farm building that has beed set up for wood turning and carving to a very high standard.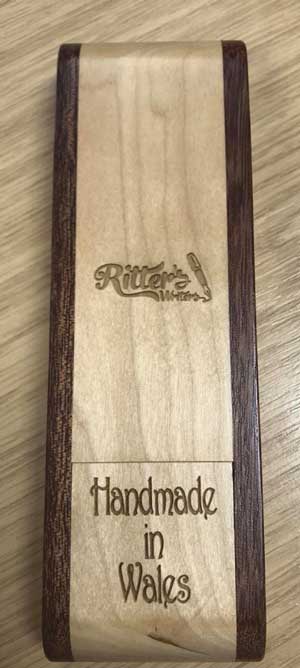 He told me that he had first seen custom wood turned pens on Youtube and decided to try this out for gifts – just for friends and family…or so he thought!  Gareth is a perfectionist and has developed special finishes to his pens that you will not find anywhere else.  
Once he had made a few pens the 'word of mouth' network went viral and soon he was getting orders from all over South Wales and beyond.
Top Secret Finish Makes the Wood Come Alive
While I was discussing his new venture he made me a pen as we were talking and it was an amazing experience to see a top quality writing tool appear from, basically a 'lump of wood'.  
It was the last part of the process that really brought the wood to life and I have been sworn to secrecy regarding the unique method which is simple but something I would never (in a million years) thought of doing to really get the grain and color of the wood to leap out at you.
Custom Drawing Pens and Pencils using Wood from Your Ancestral Home.
Another fantastic selling point is to do with ancestry.  Tracing family roots has never been as easy and now millions of people using simple internet tools can trace their origins – many of which are in the UK and Europe.  
Gareth is able to source and verify wood from any county in the UK and other parts of Europe (as we speak I am collecting olive wood from the Greek Island of Corfu for Ritter's Writers).  So…if your ancestors came across on the Mayflower and originated from Nottinghamshire, Gareth can source Oak from Nottinghamshire (generally Sherwood Forest – home of the legendary Robin Hood) to make the pens.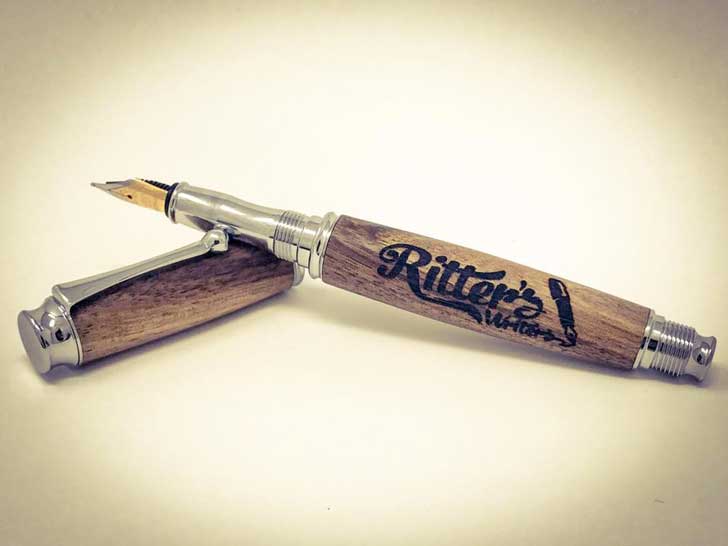 Custom Drawing Pens of Sentimental Value
Another selling point is creating writing implements from pieces of wood that hold great sentimental value.  Grandma's apple tree or the tree on which your childhood treehouse lived.  Gareth has created many pens and pencils using wood sourced by the customer.  He says this really makes his job special and lovingly creates great pens from 'sacred wood'.
Customising Pens and Gift Boxes With Absolute Accuracy
Sophisticated laser technology is used to create pin point lettering and logo work on his pens, pencils and packaging.  This is extremely important for the Ritters Writers brand to ensure that presentation and finish is perfection itself.  The result is an exceptional product that I could not fault in any way and will make a stunning and unique gift to be cherished. 
How Does he Manage to Find the Time to Produce These Qaulity Pens?
Gareth's full time profession is a music teacher at a local high school and also conducts and plays in brass bands including the worlds current premier brass band – the famous Cory Band from the Rhondda Valley.  
Ritter's Writers is a part time business but is expanding rapidly.  Gareth said that he finds wood turning the perfect tonic to unwind from the everyday hurly burly of school and musical life and still manages to keep up with an ever growning list of customers.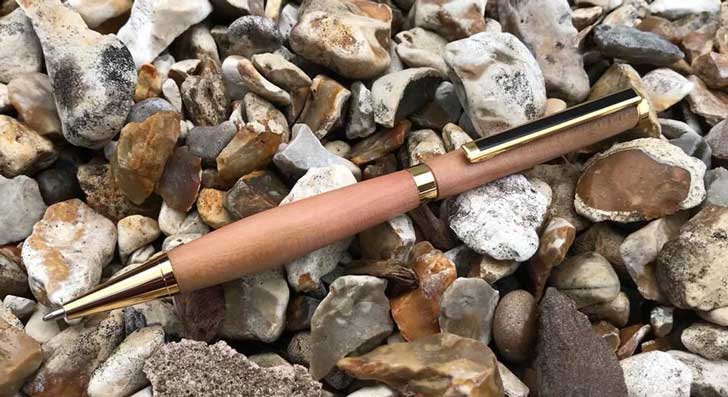 At the end of my visit he presented me with a pen made from locally sourced Monmouthshire Oak.  I have used the pen every day since and it writes superbly, looks superb and feels superb in hand with a great balance and weight. Sheer class!

If you would like to order a pen made from wood sourced from your ancestral home or to see more information and examples visit the Ritter's Writers Facebook page here…
If you would like to win a set of Ritter's Writers in the Procartoon.com August 2017 prize draw simply sign up for the Procartoon Monthly Newsletter here…