Blog
Other Artists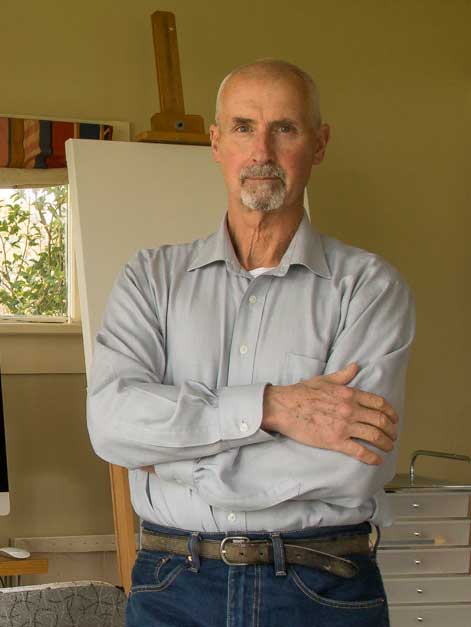 Perceptual artist Lester Blair was one of the two winners in the June 2017 Procartoon prize draw.  
I contacted him to arrange for the prize to be delivered and during correspondance I noted a link on one of his e-mails to his art web site.  Curiosity got the better of me and I am so glad I took a look.
Lester is a talented  painter with an almost photographic style that really appealed to me.
I found the work on his online gallery very impressive and it was an opportunity I couldn't resist particularly as Lester is a New Zealand artist – a country I have recently spent time in, love and without doubt will re-visit. 
It was also a great opportunity to explore the art scene in this far corner of the globe.
Lester kindly agreed to discuss his life in art and I began by asking him for some background information…
I was adopted and brought up by a farming family in Taranaki, New Zealand. This was the 1950's-60's. There would have been a few struggling bohemian artists in New Zealand at the time, but any of that was viewed with much suspicion by my parents. Career choices for me would be a job in an office, or the trades.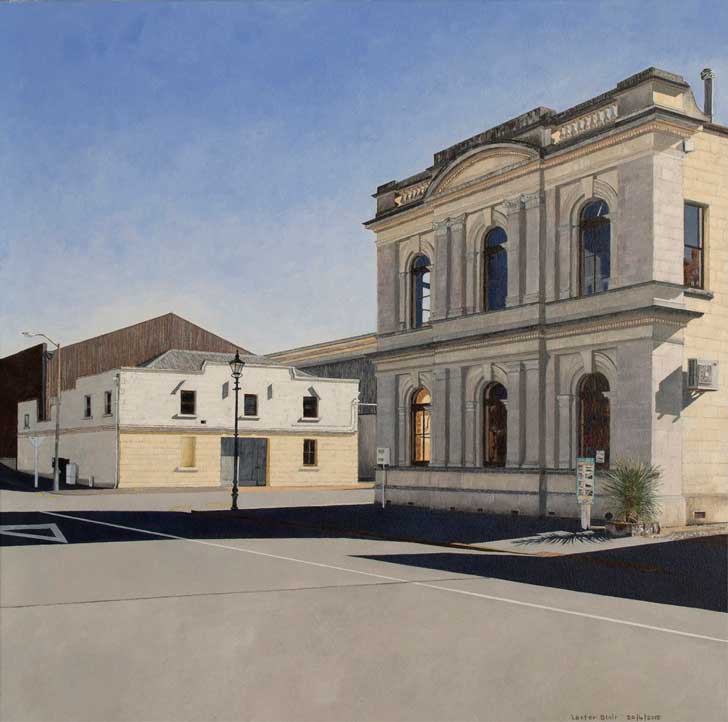 Though I loved drawing, mostly copying cartoons or artists drawings from books etc my jobs were of a more practical nature. I had a stint in the New Zealand Army, plus a trade apprenticeship in the engineering sector. 
My hobbies at the time were drawing cartoons for my army buddies, and I loved photography. I was in my mid thirties when I picked up a book by the UK illustrator Paul Hogarth, looking at these seemingly simple drawings, I thought I could do this. I began carrying around a sketch book.
I was introduced to my biological parents at this time and I discovered that my Grandfather was a commercial artist in Wellington New Zealand. I also had brothers and sisters that were all involved or had an interest in art. I thought then maybe art could be my thing.
I enrolled into a community art class in New Plymouth. The tutors were Tom Kreisler and David Clegg, both national artists. I loved these weekly classes, the talk about art and artists fed my passion for painting. They did not teach techniques so much but critiqued our paintings and had a way of guiding us in discovering our unique way in art.
I was painting in an expressionist style. I would start and finish a painting in a day. I showed my work in various local shows and over the following years did manage to sell a few.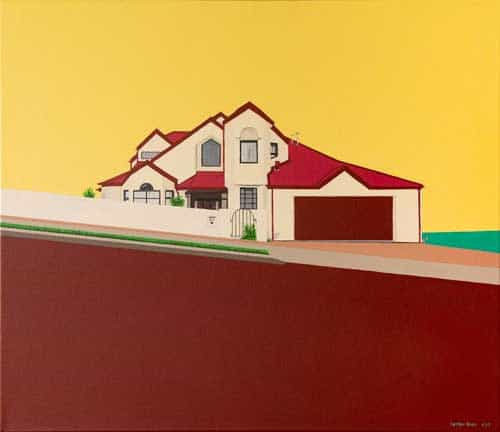 It was around this time I made a promise to myself that when I was near retirement age I would be working full time as an artist. I had a young family by now so there was always a matter of earning a living.
The biggest problem having the art muse was that my various jobs were patchy at best, I was always distracted with wanting to make art of some sort. I tried various jobs, real estate sales, taxi driving.
In the early 2000's I brought one of the early digital cameras. My painting for 10 years was suspended while I followed again my passion for photography
I began to paint again in 2013, this time in a more photorealistic way, though now I am beginning to make paintings in a more reductive way. I am now at retirement age, and I can say I am a full time painter.
Is everything you have developed artistically self-taught or have you had help along the way?
Community art classes got me started in painting and was a great help in showing me possibilities. I have always loved books., My education has been mostly self directed, reading and looking in galleries. I find that looking at other work in galleries gives me permission to do things that I would have not considered. Now there is the internet, YouTube, and I still buy books.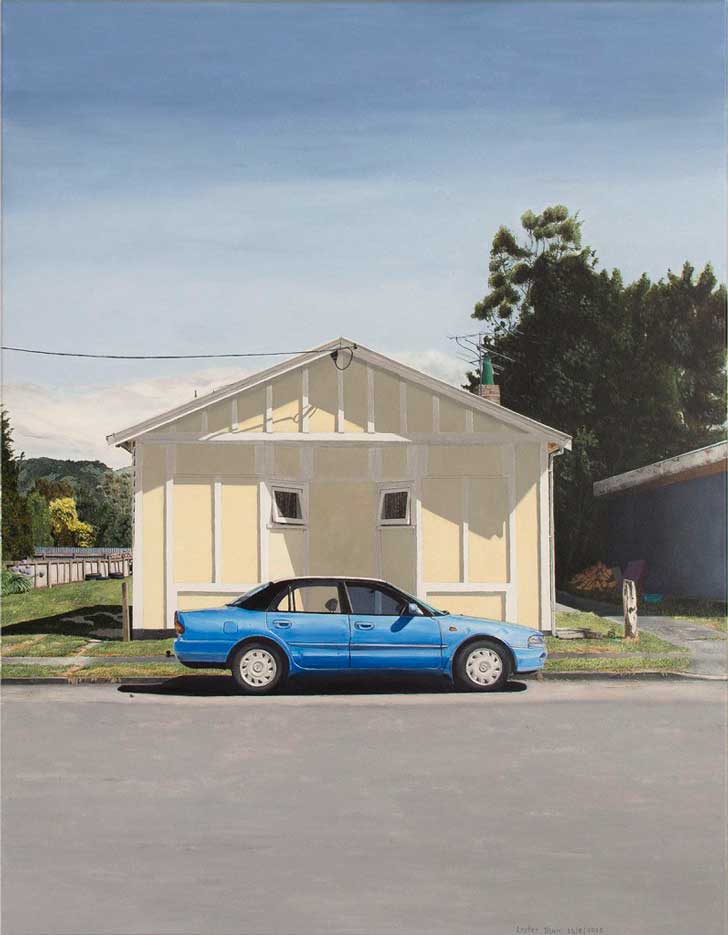 When did you realise that you had a flair for art?
My parents provided me with sketch books at an early age, I always felt motivated to make drawings, copying cartoons. Over the years there were doubts as well as periods of optimism.
I always wanted to make images, sometimes photography sometimes drawings, and later in my mid thirties I found with a bit of help I could make paintings.
Are there other artists in your family past of present?
There were no artists in my adopted family, their lives were centred around farming, my father loved engineering and making things.
I discovered my grandfather on my biological side was an artist working for an advertising company in Wellington called Illots. His brothers also were accomplished artists.
I have two brothers on this side of the family that also paint, and one making cartoons for a local paper in Dunedin. My sisters too have homes filled with art.
Your term yourself a 'perceptual artist' – could you explain what this strand of art is and what attracted you to it?
I see myself following the tradition of artists like Hopper who just wanted to paint the light on the side of a building. I love walking down side streets and looking at the shop fronts, the remnants of desires and dreams that are sometimes abandoned.
Photography uses the term 'Social Landscape' which I think is where I am at. I also like watching the birds I see out my studio window.
I find the world a very interesting place. The Bible says "young men will have visions and old men will dream dreams, my thought is; making pictures is like thoughts made visible.
Do you have your own studio?
Yes, a year ago I was using a small bedroom in a Wellington apartment. I sold up and have moved to a rural town near Wellington I have brought a spacious house with a big room for a studio.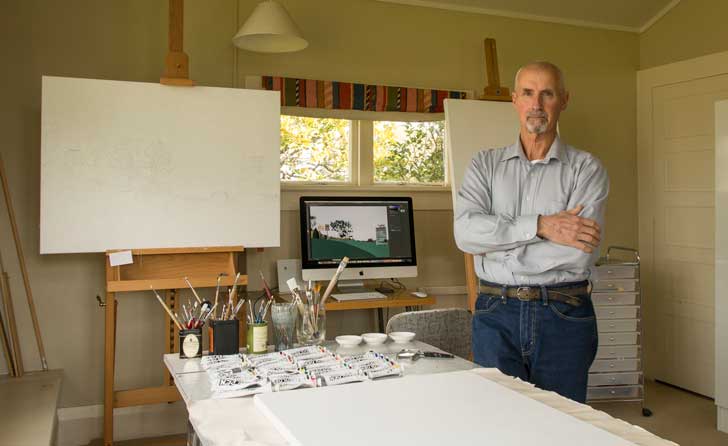 Do you paint at the site you are painting or is it all done in the studio?
I take photographs when I am out and about. All my painting is carried out in the studio.
Do you ever use electronic and digital tools to create part or all of any work that you do?
My work process is still evolving. I use a digital camera, Olympus OMD. I process photos with light room and photoshop. I project the images onto a canvas with a Artograph digital projector.
I have also just purchased an iPad 10" Pro with an apple pencil. I have done my first drawing with it, and projected it onto a canvas, I love it, it is going to be very useful.
Do you accept commissions and how does that process work?
Recently I had someone contact me about a painting in a show, but it was sold. They made the comment after looking at my online photographs that a certain image would be of interest if I ever painted it.
I eventually did paint it because it appealed to me too. They did buy it. This is as close as I came to doing a commission. Commissions do not appeal, I guess I love the freedom of doing my own thing though I am open to any suggestions from my own photographs.
How did you develop your style of photographic painting and what is the process?
I make up my stretcher canvas with 12 oz cotton duck. I seal the canvas with Golden GAC-100 acrylic then apply several coats of Golden Gesso. Once dry I lightly sand and rub down with a damp cloth to get a reasonably smooth surface.
I wanted to use my photographs for a starting point. The paintings just seemed to get tighter and more photorealistic as I progressed. Now I am painting in a more reductive style.
I alter the image in photoshop, simplifying, and changing colours. I project the image onto a canvas and sketch in the composition. I then begin to paint, using the image on my iMac as a guide.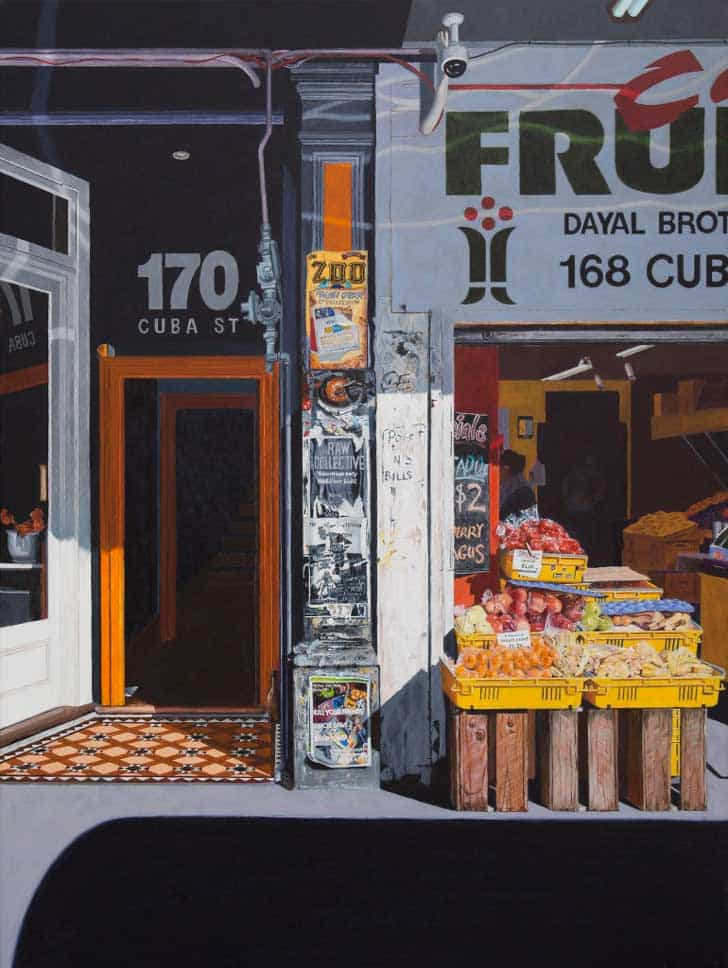 Who are your influences or other artists that you particularly admire?
My influences are always in a state of flux. I have been looking at Alex Katz, I love how his work always looks so contemporary. A week or two ago I found images by the UK artist Gary Hume, love the surface and colour of his work.
Also another UK/USA artist Michael Craig-Martin, again the reductive style and colour inspire me. The strange thing is Michael Craig-Martin was taught by Alex Katz, and Gary Hume was taught by Michael Craig-Martin.
Other influences are photographers; Gerry Johansson, William Egglestone, Lee Friedlander, Daido Morriyama. The Illustrator Paul Hogarth, Cartoonist Christopher Ware, The painters; Gerhard Richter, David Hockney.
New Zealand painters; Tom Kreisler and Dick Frizzell. I also love the UK artist Lowery.
What is the art scene like in your home town of Masterton and generally in New Zealand? 
Masterton is a town with a population of 25,000. It does have an art gallery. Most of the art scene is in Wellington, about one and a half hours drive from here. There is a National Gallery there plus several dealer galleries. New Zealand have several universities with art schools attached.
What is the best thing about painting and the worst?
The big thing for me is I feel totally free as an artist. The other side of the coin is it can be a little lonely at times though I am mostly happy in my own company.
What are your long-term ambitions for yourself and your art?
I have modest and hopefully realistic ambitions. I now get national superannuation and next year so will my wife. I would like to supplement that with some art sales, possibly a mixture of paintings and prints. I would like to think I have been some influence on my family and those that know me. I am hoping they to would follow their dreams and find the one big thing in their lives.
If you could jump in a time machine and go back in time what advice would you give Lester Blair when he set out on his artistic career?
I would tell Lester Blair to be confident in the talents he has been given and that passion is the key. I would also tell Lester not to compare himself with others.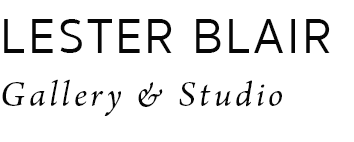 If you would like to see more of Lester Blairs work and get more information please visit his web site at the Lester Blair Gallery & Studio