Art equipment
Blog
Drawing tips
Warning
: Trying to access array offset on value of type bool in
/home/procartoon/public_html/wp-content/plugins/wp-social-sharing/includes/class-public.php
on line
81
Creative journal ideas can be the most valuable asset an artist or cartoonist can have.  Artistic inspiration can appear at any time, any place with any person. A journal can be used to capture that fleeting idea before it evaporates into the ether of your subconciousness – gone forever!
Art Inspiration Generator
In addition a well maintained journal can become an art inspiration generator as ideas, sketches  and ideas are collected used, recycled and moulded into new artwork and cartoons. Unless you have a photographic memory creating an effective method of netting those great ideas is too good not to!  
How many times have you seen something that either made you laugh or stimulated your creative thought with an artistic idea.   Have you wished that you had written an idea down because it had vanished.  Do you remember dreaming in that half awake state? Dozing, first thing in the morning when you get a brilliant idea and it's gone in a flash!
Discipline yourself to carry a journal.  Although it may seem a bind at first persistence will turn into habit and second nature.  You'll never be scratching around for artistic inspiration again.
Creative Journal Ideas in the right Format
Setting out your art Journal prompts and ideas in a workable format may seem a bit boring and stuffy.   However,  a little thought can reap great benefits.  Here are some suggestions of layout and topics that can make your artistic reference really effective:
Leave the first couple of pages in your art journal blank
Use the first page or two as a content index. Imagine researching your past journals after you have been filling them up over several years.  An index at front will provide nice little prompts to find past ideas quickly.  
It is also a good idea to put a start and finish date at the front. You can immediatly see which journal was completed in what time frame.
Setting out your artistic goals
Setting out goals is a sure fire way way of achieving them.  Put them near the front of your art journal, right in your face so you are constantly affirming what you want to achieve.  
List short, medium and long term artistic and art business goals.  Read through them every single day to lodge them indellibly between your ears.  Goals should be read outloud – maybe? If it works for you then use it.

Collect inspiring quotes
Collecting inspiring quotes by others has a twofold benefit.  The obvious is that inspiring thoughts (as it says on the tin) inspire and can help lift your creative side.  Another use is for ideas related to specific quotes.  
As an example the composer Edward Elgar was attributed to the quote 'There's music in the air'.  This particular quote was used as the caption for a cartoon I had published in Brass Band World Magazine several years ago.  
I took the quote and twisted the meaning around to illustrate a brass band in a storm where the music they were playing was actually blowing away in the wind (amongst other things!).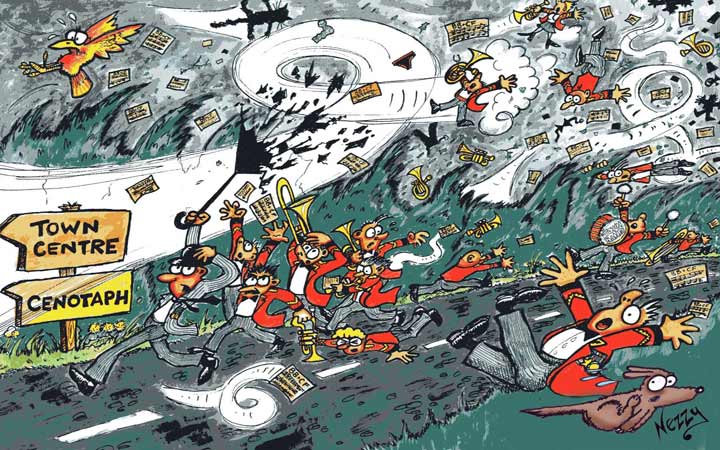 The quote and cartoon seemed to work and the magazine editor agreed.  Quotes do not have to be art based as you can see and there are a large number of quotes out there to be used  The web site Values.com has literally thousands of inspirational quotes for you to tap into.
Gag Cartoon Ideas
Ideas for a cartoon gag line will come when you least expect, probably just at the wrong time!  You may overhear someone on the train or a bar.  See a situation when out shopping that can be turned around into a workable gag or even an idea for a visual image.  
Brian Tracy once said that music is 'chewing gum for the ears' and that we should spend more time listening to learn.  He meant listening to podcasts and online courses to increase our knowledge rather than hum drum gum!  
I part agree but believe that sometimes we artists miss a great opportunity by having head-phones glued to our ears.  Remove the chewing gum from your ears and listen to what is going on around you.  There are golden nuggets of ideas when you focus on the real world!
Get them straight into the journal and don't let that idea float away!  Before you know it you will have a large stock of gags and visuals to draw upon.  As you develope this section of your journal it will naturally increase in thought, ideas and viable art.  I use this resource all the time as it saves hours of 'research' and thinking time. 
To do lists
Hand in hand with your goals.  It's good to give yourself day to day, high value artistic targets.  Some jobs seem daunting and to do lists are sometimes the right approach to getting them done.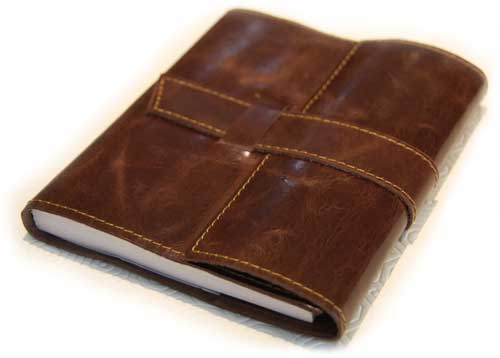 Professional Writers set themselves a time to sit and write and a word count target to complete every day. Scheduling works for authors which  will work for you. You can set out your workload, carve it up into manageable chunks creating valuable breathing space.  
I am currently working on illustrations for a biography of a musician.  The task is large as there are around 25+ full color cartoons required.
To do this all at once is not practical.  All other work would have to be put on hold.  The most effective option is a cartoon a day rather than slave away on several.  It lets me get on with everything else I need to complete. I can devote more energy to each cartoon with a better result.
Three high value tasks a day is my aim.  Any more than that results in brain overload, usually end up getting nothing done.
These are just a few suggestions which work for me.  Yes the internet is a fantastic resource for ideas. The internet will never replace human interaction, live scenery and the sounds, conversation and situations that everyday life provides.  
Get yourself a journal, fill it up, rinse and repeat and  you will have a library of brilliant ideas!
Robust, stylish and refillablle – your notes are taken out and stored with ease.
As an alternative the Wacom Bamboo Slate Smartpad is a combination of traditional pen on paper which are automatically digitally recorded and transferred to any device – See my review here