Blog
Graphic drawing tablets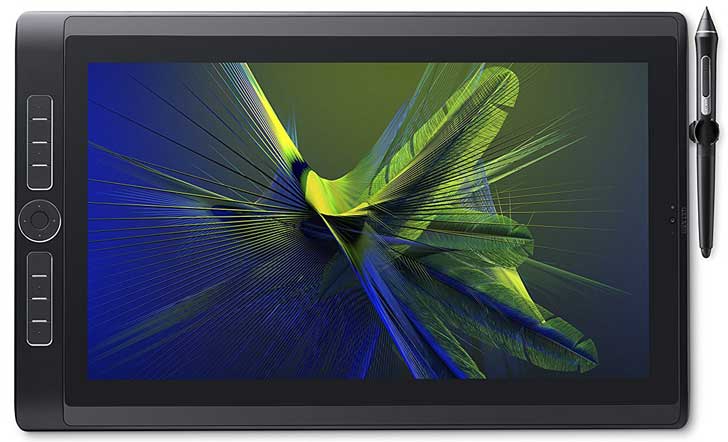 Say goodbye to the ball and chain of an art studio.  Wouldn't you love to leave the paints and canvases at home?  Now you can enjoy the freedom of using all your creative tools without the hassle of carting them around with you. 
Everything you need to create an art project is packed into one powerful computer and pen that weighs less than some hardcover books. It's thin and lightweight, but don't let that fool you.  The mobility doesn't stunt its capabilities.
Powered by an Intel Core processor, it easily handles 2D, 3D, and computer-aided design (CAD) software. Several models are available with various features to meet the needs of just about any project.
The initial 13-inch models have some amazing features that the 16-inch models build on to deliver the ultimate in high performing tablets. .  Product designers, CAD engineers, and 3D sculptors can capture the essence of real world objects without getting their hands dirty.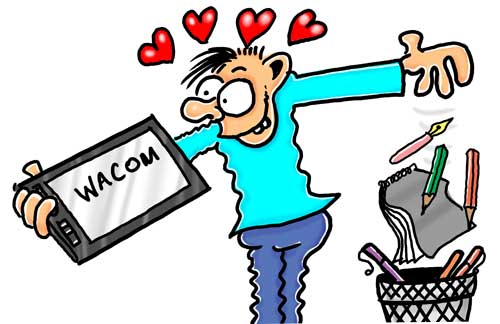 I recently bought the Wacom Mobile StudioPro 16″ i7 512Gb Graphics Drawing tablet for my cartooning work and was blown away by how good it is – The best mobile graphics drawing tablet and mobile animation tablet on the market!  
In this review I will cover the essential information and give you my thoughts on its performance, what arrives in the box, pre-installed software and what you need to make it the perfect experience.
What is a Wacom MobileStudio Pro?
Creative professionals who draw, paint, and create other types of graphic design are no longer bound by thousands of tools to create one project.  Wacom has introduced a mobile art studio trapped within the confines of a tablet and released by the stroke of a high-powered pen. 
A deluxe computer fueled by an Intel Core processor effortlessly runs multiple creative software applications so you can draw, paint, edit, and save your files without needing a desktop computer to do it for you.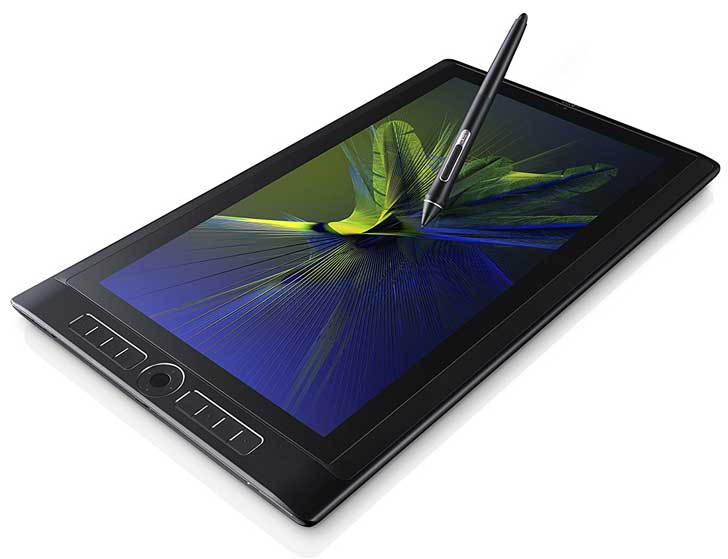 Extremely High Resolution Screens
With up to 4k resolution, admire your work in startling clarity.  Images are crisp and clear thanks to the stupendous color quality.  Photos, drawings, and graphics are heavy with intense details that are obscured on lower resolution devices.  High resolution displays coupled with amazing color display captures the tiniest detail. 
The etched glass surface feels like velvet and was designed for the perfect amount of resistance for the pen.  Gone is the bulky feel of a metal stylus.  The feel – and control – of the pen is remarkably close to that of a pen gliding across a piece of paper.  Hand fatigue is eliminated, helping you work smarter, not harder.   
Customizable Shortcut Keys
Six express keys can be quickly customized for those repetitive tasks (i.e., copy, paste, cut).  Onscreen controls are clear and visible… 
A radial menu button has a comfortable fit to your finger while giving you manual options to select menu options.
Plus the multi-touch screen responds to finger selections like a smart phone which will save time and increase productivity.
The express keys are really easy to program so that you have your most frequently used actions associated with any graphics software you install immediatly to hand.
Three USB Ports and an SD Card Slot
While the RAM and memory range from 128 – 512GB across all models, Wacom wanted to make sure its customers had an external storage option as well.  An SD slot lets you use your own SD card to load or transfer photos and other files.  
Of course, we'd like to connect to other devices.  Three USB 2.0 ports are built in so we can connect to monitors, laptops, or an outlet adapter to recharge. No USB cords are included, but they're common enough to find almost anywhere. 
One think to consider is that the 3 ports are USB C which is smaller than the current convetional USB male connector.  The battery charger which comes with the tablet has the correct USB C fitting.  However if you want to connect your tablet to another device such as a laptop, external hard drive or external CD/DVD drive you will need adapters.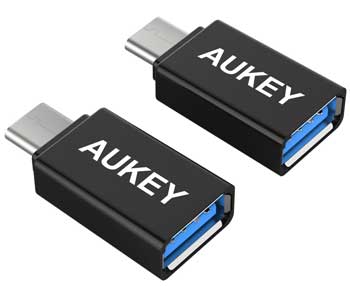 Because my existing external devices and cables do not have the latest USB C fittings I bought two adapters that allow you to connect devices to the tablet simply.  Thankfully I researched the choice of adapters suited for the StudioPro range and found that the width of the adapter is critical.  
The AUKEY USB C to USB A is the perfect sized adapter for the job, only costs a few dollars for a two pack set and is the same shiny black color as the tablet making it the perfect solution.
Can be Used as a Stand Alone or With a Computer – Mac or Windows
You can use the Mobile Studio Pro as a mobile graphics tablet or you also have the option to link it up to your Mac or PC and use it as you would the static Cintiq Range such as the Cintiq 22HD.
Why would you want to do this?  It allows you to work using the software on your desktop or laptop and gives you more options and less clutter on the stand alone.
Workstation Grade Graphic Cards
A standard graphic card runs standard applications.  But they often aren't powerful enough to handle the intricate mechanics of complex graphic software. 
The 13-inch tablets use the Intel Iris Graphics 550 graphic card which is powerful enough for medium-range CPU usage.  It's able to handle basic games, photo shopping, and medium-weight graphic designing. 
The 16-inch tablets use NVIDIA Quadro M600M cards of either 2 or 4GB.  This higher grade of card is what allows the tablets to run the extremely powerful 3D software.  It also adds speed and faster response times. Larger files and complicated 3D software are able to run using this graphic card because it was made to handle more complex computing processes.
Front, back, and 3D cameras
All models have a 5MP front camera and an 8MP rear camera. Only the models with the 512GB SSD storage offer the 3D Intel Real Sense camera for scanning 3D images.  
While the 13-inch 512GB model has a 3D camera, only the 16-inch models (both 256 and 512GB) can perform 3D sculpting plus 3D CAD tasks.
The cameras are each equipped with high definition functionality.  Photos are not grainy or pixelated.  Crisp and clean images are showcased near perfection with fine details. 

Long-life Batteries
Fully charged batteries last between 4 – 6 hours. The lighter the tasks, the slower the drainage is on the power level.  Of course, for heavy 3D projects that tax the battery, you'll need to recharge a bit sooner.
It runs on one lithium battery that's included and fully charged. The tablet is ready to go right out of the box.
Uses Windows 10
You won't need to download any special drivers.  These tablets run on Windows 10 so transferring files from the tablet to your laptop to work on at home is simple.
It's all about the pen

It's all in the brush strokes.  Artists breathe life into images through a combination of thick and thin lines, contrast and shading, and lots of imagination. That's where the Pro Pen 2 comes in. 
The pen supports over 8k levels of pressure sensitivity.  That's four times more sensitive to pressure than any previous models.  There is also a higher tilt recognition, almost no parallax, and almost no lag.
It's as light as a pencil because no batteries are required.  That means no recharging, either. An eraser is built in to correct mistakes just like a pencil.  When you're done, slip it inside the included carrying case.
It's packed full of the necessary tools for running 2D, 3D, and CAD software.  Combine that with an enormous range of graphics features, and you hold an entire art studio in your hand.  
Lightweight and Mobile
Because it weighs less than five pounds and has an ultra-thin design, it can go anywhere with you.  The slim design is especially useful when you need to slip it into a purse or briefcase.   
Wacom Studio Pro Accessories
Like all technology, there are accessories to enhance the already outstanding features.  A wireless keyboard, cases, and stands are available but sold separately.   
What's in the 13" models?
There are three variations of the Wacom 13" model.  The most notable pertains to the amount of storage and memory each provides.  For our purposes, we'll divide up the models based on that.
Version 1 – 128GB
With 128GB of storage and 8GB of memory, this model has the smallest amount of storage space.  That's not a bad thing.  If you need a tablet for editing images and doing some graphic design work, this would work well for you.  Sketching, drawing, and illustrations can be captured and stored.  Equipped with two high definition cameras, the front uses 5MP while the back uses 8MP.
Purpose: Sketch, image editing, illustration, graphic design
Intel Core i5 processor

128GB SSD storage

8GB memory

5MP/8MP front and back cameras

Intel Iris Graphics 550 graphics card
Version 2 – 256Gb
With a stronger processor comes more gigabytes.  The first upgrade to the Wacom 13" is the boost to the Intel Core i7 processor.   What remains the same is the memory, graphics card, and cameras.  The big upgrade here is that the storage doubles to 256GB. The larger processor means it can handle more difficult tasks.  You can still draw your heart out, but editing and retouching images is more detailed.  It can handle graphic design, detailed concept art, and 2D animation without slowing down or cause a system crash.
Purpose: Drawing, image editing/retouching, graphic design, 2D animation
Intel Core i7 processor

256GB SSD storage

8GB memory

5MP/8MP front and back cameras

Intel Iris Graphics 550 graphics card

Version 3 – 512GB
This is where you truly start to see some distinct changes.   Using a 3D camera and scanning software requires a huge amount of storage and memory.  This version has over three times the storage of its predecessor.  With 512GB of storage and 16GB of memory, there's no need for external storage. It's 3D ready.
Purpose: Drawing, 3D sculpting and painting, motion graphics, detailed concept art, and much more advanced image editing/retouching capabilities
Intel Core i7 processor

512GB SSD storage

16GB memory

5MP front camera/8MP back camera/3D Intel Real Sense camera

Intel Iris Graphics 550 graphics card
What's in the 16" MobileStudio Pro
 Is bigger better?  In this case, most definitely.  In a world where devices are becoming more compact, there are times when size does matter. 
No more weird pixelated squares that make no sense.  High resolution on smaller screens can be problematic.  Menu buttons on high resolution smaller screens are hard to see and too small to be used.   The 16-inch glass surface accommodates the higher resolutions so menu buttons are clear and easy to use.  
Both 16-inch models come with an extra VNIDIA Quadro graphics card.  This extra processor adds speed and storage, so enormous files are no longer a problem. Even the most challenging workload is no match for this tablet. 
Version 1 – 256GB
A wider screen means a larger work area.  The pen glides smoothly over the velvety-like glass surface.  Working on detailed concept art is easier with a larger screen.  Drawing, 3D sculpting/painting, motion graphics, photo editing, and 3D CAD work flawlessly.  The storage and memory are more than enough to hold the software, your saved files, and not bog down the system.
Purpose: Drawing, 3D sculpting and/or painting, motion graphics, detailed concept art, advanced photo editing, and 3D CAD work on a much larger screen
Intel Core i5 processor

256GB storage

8GB memory

5MP front camera/8MP back camera

NVIDIA Quadro M600M 2GB GDDR5 graphics card
Version 2 – 512GB
 As the ultimate of all the tablets, the buck stops here.  The enormous amount of power contained within this tablet will impress even the most seasoned artist.  Speed, clarity, and efficiency combine to make this the one-stop shop for designers.
With loads of storage and memory, software can function as fast as your hand can draw.  The standard front and rear cameras are high definition, as with the other models.  But the 3D camera coupled with the 4GB graphics card neatly piled on top of the mega amounts of memory means scanning, sculpting, and designing in 3D is faster and more efficient than it ever was.
 Gigantic image files can be safely organized. Saving them to your laptop of external hard drive is now an option rather than necessity. 
Purpose: Drawing, 3D sculpting and/or painting, motion graphics, detailed concept art, advanced photo editing, and 3D CAD work on large screen with maximum power and storage
Intel Core i7 processor

512GB SSD storage

16GB memory

5MP front camera/8MP back camera/3D Intel Real Sense camera

NVIDIA Quadro M1000M 4GB GDDR5 graphics card
Wacom tablets are leading the way in graphic design.  Creating sketches, drawings, concept art, and animation gets better with every iteration and upgrade. 
The 13-inch models pack a definite punch when it comes to serving the artistic needs of the art community. Front and rear high definition cameras, copious amounts of storage, and high quality results abound. 
But for those who need all that and more, reach for the 16-inch models.  It does everything the 13-inch models can do and then some, specifically 3D sculpting and painting and running those intricate CAD applications.  Animation, advertising, engineering, and industrial art require designing three dimensional curves, surfaces, and solids on a two dimensional surface. 
So why settle for slow computers with archaic software?  Wacom tablets have the functionality and usability to provide everything an art studio can and more.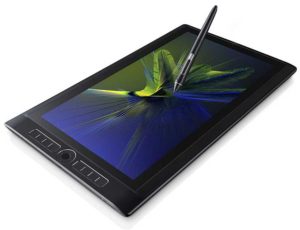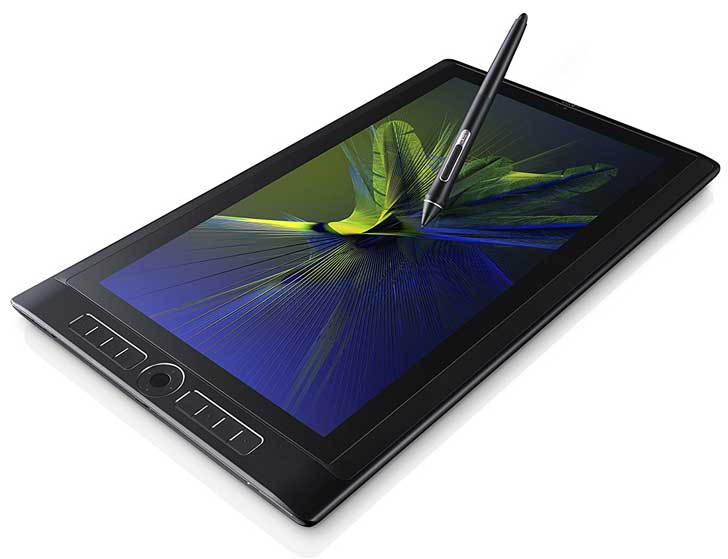 Get the latest price for the Wacom Studio Pro 13 and 16 Range here