Blog
Graphic drawing tablets
Boogie Board LCD Writing Tablets: The Best of Both Worlds
As many creative people know, the best ideas oftentimes come to mind in the middle of the night. What happens when you forget to bring along your notepad and pen? You end up dragging yourself out of bed to write down the idea before it's gone. Once you get your hands on a Boogie Board lcd drawing pad, you'll never forget to bring it along.

What is a Boogie Board?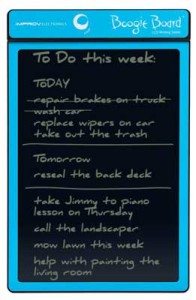 A Boogie Board is essentially an electronic memo tablet – a mobile notepad that can easily be transported, stored away in a book bag, pocketbook, or suitcase, just waiting to be used. No pen, no paper? No problem! Whip out the Boogie Board and have a platform that instantly allows you to take notes, sketches, and more.
The LCD screen is pressure sensitive, making it easy to draw either thick or thin lines, depending on what your creation requires. This feature is especially useful for artists. Also, getting Boogie Boards for general everyday use can be a huge advantage.  Shopping lists, 'to do' lists, ideas, lecture notes, mind maps…the list is endless
Boogie Board Models & Accessories
Throughout the past few years, a few different models of the Boogie Board have been released. Let's take a look and figure out which one is best for you.
Original 8.5
This ultra-thin device is the one that started the Boogie Board revolution. To erase your image off of the LCD screen, you simply press the one button on the device. After a moment and a screen flash, the image is gone and ready to go. The Original 8.5 comes with a magnet kit that can be set up for attaching to the refrigerator – this is especially useful when the tablet is being used as a digital to-do list. The batteries cannot be replaced. This model comes in solid colors of black, pink, green, red, cyan, and white, as well as patterns of flower, soccer, and camo. Available accessories include a neoprene sleeve and a message center that can be attached to any flat surface, providing easy storage. Get latest price right here…
Original 10.5
The Original 10.5 model is just a bigger version of the 8.6 model above. Despite the larger size, sleekness is maintained. The main difference on this model is that the batteries can be replaced. Besides the single erase button, an erase lock switch is included, preventing accidental erasure of images. This model comes in black only. A neoprene sleeve is available for purchase. Get latest price for the 10.5 model right here…
Jot 8.5
The Jot 8.5 is similar to the two Original models, but looks slightly more modern. It includes a kickstand slot that enables the tablet to stand up when the stylus locks into a certain place. Built-in magnets are included in this tablet, as well as the single erase button and erase lock switch. The batteries are replaceable. This model comes in graphite, red, and blue. Available accessories include a folio, jacket, and replacement stylus. Get latest price for the jot 8.5 right here…
Jot 4.5
The Jot 4.5 is essentially an extremely compact version of the Jot 8.5. This model functions the same, but has been crafted into a design that can easily fit into a pocket. It's easy to hold with one hand while writing with another. This model is a great choice for those who are on the go and prefer not to carry something slightly bulkier. The single erase button and kickstand slot is included, as is a snap-on cover that prevents scratches. The batteries cannot be replaced. This model comes in pink, gray, red, and blue. No extra accessories are available.  Get latest price for the jot 4.5 right here…
Rip
The Rip was groundbreaking compared to the previous models – this is the first model that saved images as files that could then be uploaded to a computer. This is a particularly handy tool for artists, as the files upload as PDFs that can easily be imported to programs like Photoshop. To sync your files, you simply plug in the USB cable to your computer and let the tablet handle the rest. Compatible with PC / Mac, this model features an erase lock switch and a save / wake button. This model comes in black only. Although this tablet has been discontinued, it is still available through Amazon. A neoprene sleeve is available for purchase. Get the latest price for the Boogie Board Rip right here…
Sync 9.7
The Sync is just an updated version of the Rip – with Bluetooth capabilities. Compatible with PC / Mac, this model features a virtual desktop companion that provides additional functions like a virtual whiteboard, Evernote integration, and more. There are three buttons on this model – an on/off button, erase button, and save button. The batteries are rechargeable. This model comes only in black with orange tones. Available accessories include a folio and replacement stylus.
Get the latest price for the Boogie Board Sync 9.7 Right here…
Where to Buy Boogie Board LCD Writing Tablet
So, you've gotten an idea of how much the Boogie Board can do – perhaps you're wondering, "Where do they sell Boogie Boards?" These devices are available on Amazon, as well as places like Barnes & Noble, Michael's, Costco, Staples, and many other retailers. If you find yourself in need of a Boogie Board replacement pen, your best bet would most likely be Amazon or eBay.
Which is the best Boogie Board for Artists?
Overall, the Boogie Board is an extremely useful device for artists, students, kids, and parents alike. Although low-tech when compared to today's most popular tablets, this device gets the job done in a different way that is unmatched by the higher-end tablets. Now that you've seen how to buy a Boogie Board, what a Boogie Board is, what it does, and how it works, it's your choice to choose the perfect one for you.
If your main purpose is to create artwork, either the Sync or Rip is an excellent choice, as the other models aren't crafted to hold multiple images at once. Both the Sync and Rip are high quality products that will not disappoint.