Art equipment
Blog
Pens and Pencils
Warning
: Trying to access array offset on value of type bool in
/home/procartoon/public_html/wp-content/plugins/wp-social-sharing/includes/class-public.php
on line
81
My personal recommendations for the best pencils to sketch with – for artists who draw with pencils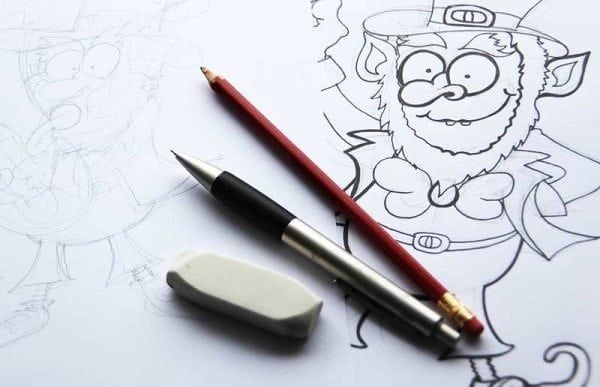 This is a question with many answers depending upon what you want to draw and your preferred method of sketching and cartoon style. The humble pencil has come a long way since the discovery of a deposit of pure graphite at Borrowdale, Cumberland, England in 1564 and has developed into wood encased graphite clay and metal/plastic propelled pencils in a variety of hardness/softness 'leds' It is virtually impossible to review them all but I will give you my choice of the best 3 pencils based on over 50 years of cartooning and other customer and artists reviews.
I am only recommending three pencils (one mechanical and two conventional) as I have not tried any others over a reasonable length of time and I want to give you my best advice. 
Best mechanical retractable pencil to sketch with
LAMY Safari Red 0.5mm Mechanical Pencil
My first choice is the LAMY Safari mechanical pencil which has great 0.5mm nibs and is the number one recommendation I give when I am asked what is the best pencil for sketching. The barrel grip is shaped so that there are two flattish surfaces for your thumb and fingers and it is so comfortable that you almost forget its in your hand.
I use LAMY both in mechanical pencil and pens simply because of this feature. If you draw for long periods of time you will know exactly what I mean when you start to get 'cramped drawing hand' where the pen or pencil becomes really uncomfortable. I don't get this problem with a LAMY in this ergonomic design.  Another nice feature is the pen clip which looks good and keeps the pencil very secure in your pocket.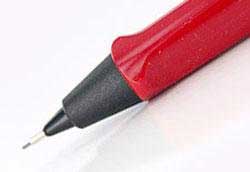 The pen has a removable top with the spare nibs in a secure chamber topped with a small eraser. I don't use the eraser as it is a bit small for larger areas, although it is very precise for the removal of small pencil marks.

There are a variety of colors including blue, red, charcoal, white and yellow. They are not the cheapest on the market at between $18 to $22 (depending on color) but for me they are the best in hand I have experienced in over 50 years cartooning. See the latest price for the LAMY Safari Mechanical Pencil right here…



Best conventional wood encased pencils to sketch with
I also use conventional wooden pencils and normally go for the middle of the road in terms of hardness/softness with a #2 (American classification) or the equivalent HP (English classification). This provides the best of both worlds for me in terms of definition of line with some softness which is easy to erase at the inking in stage.
With conventional pencils I tend to go for a decent brand as some cheap and cheerful pencils often don't deliver what is stamped on the shaft and I have experienced HB pens which have been so flaky that they should have been marked much higher on the softness scale so beware of 'bargain packs' which are often false economy as they sometimes don't perform well and the wood splits when sharpening – it's basically a gamble! Here are my choices of wood/graphite pencils that I use regularly:
Staedtler Norica #2 /HB Woodcased Pencils
Which you can buy in a 36 pack in black with eraser which works out at around 50c per pencil. Why? – because the Staedtler pencil provides superb sketching variety with dark line and the nib is not prone to breaking easily. Another essential feature is that the wood does not splinter when sharpening. This particular pencil has a top 5 star rating on Amazon so it's not just me that thinks they are superb. See latest price for the 36 pack of Staedtler Norica #2/HB pencils right here…
General Pencil Company Cedar Pointe #2 /HB Pencil
This comes in a 12- pack which works out at just over 50c per pencil. This is a high quality American pencil with a top 5 star rating on Amazon. The pencils are hard wearing, produce clean line and are easy to rub out. They sharpen really well without splintering and as an added bonus they smell fantastic! See latest price for the General Pencil company cedar Pointe No. 2 HB right here…
You can easily see which pen is best for sketching in my opinion but it's your opinion that counts and no doubt you will eventually settle on your own favorites. I hope I have helped you find your ideal sketching tool!
Related drawing equipment reviews:
Best drawing pens for cartooning

This is a tough call as there are so many brands and variety on the market it can be difficult to sift the wheat from the chaff. I review pens that I have used myself because I don't think advising on something as important as the ink pen should be done from second hand experience.

See my article on the best drawing pens right here…