Blog
Drawing tips
Warning
: Trying to access array offset on value of type bool in
/home/procartoon/public_html/wp-content/plugins/wp-social-sharing/includes/class-public.php
on line
81
Create a portfolio of your best artwork
This is essential to be able to show off what you can do. This can either be an electronic version or a physical portfolio of your very best work. I produced a booklet using word/ pdf format and created a physical hard copy which was wire bound to look professional.
If you have this in place before you start you will not have to waste precious time creating it after the potential customer you have found asks to see more of your work as you will have it ready – to show either there and then or via e mail. Make it so easy for them to see your work that they will look at it.
A friend of mine insisted that a web site was much better. I agree that a web site could be a great asset but when you are trying to get your prospects eyes on your talent it is simple for them to open an email and look or view your professionally prepared and bound portfolio. There is no effort – just a click of a mouse or moving their eyeballs at the portfolio. Searching for web sites takes effort and has to be remembered.
Make money from cartoons 'indirectly'
You may have an abundance of artistic creativity. You may have a million ideas for fantastic original cartoons in your head. You may have all this talent but not a nickel or dime is coming your way. Trying to make money from cartoons can be the hardest obstacle to overcome.
From my own personal experience the direct approach has always proved the least fruitful. I have sent submission after submission to national papers and magazines and have enough rejection slips to paper every wall in the Whitehouse!
The indirect approach, which I discovered totally by accident, has given me the best results and here's how and why…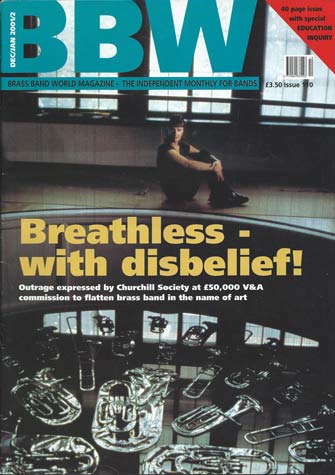 Case study Brass Band World Magazine:
I am a brass player and have subscribed to Brass Band World Magazine  for about 20 years. In early 2002 I read an interesting article on an artist who created an original piece of artwork for the Victoria and Albert Museum in London. Artist Cornelia Parker crushed a whole set of old brass band instruments and arranged them between two huge circular sheets of glass, suspending them between floors in the museum. I thought that this was a brilliant idea but many others didn't. There was outrage in the brass band press who saw it as a complete waste of musical instruments. I saw it differently. An interesting piece of art that highlights brass bands in one of the most famous museums on the planet.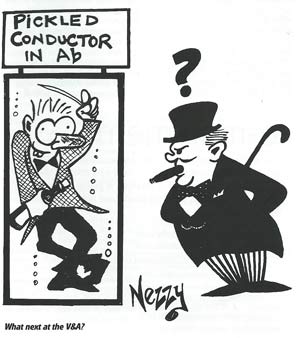 I put pen to paper voicing my support for the artist and her work and decided to spice it up with a cartoon. The Churchill Society had also condemned the artwork so I did a cartoon of Winston Churchill staring at disbelief at a 'pickled conductor in E Flat' which encompassed the Churchill Society and the 'Turner Prize' for art which 'breathless' was nominated for and was won previously by a pickled cow in a glass case.
I sent the letter and cartoon to the editor who liked what he saw and included it in the next edition. I was very pleased with this and delighted when the editor contacted me and offered me the magazines cartoonist position. 13 years later I am still cartooning for the magazine and although the fees that the magazine pay are nominal the offshoots from having your name and work out there in the public gaze is phenomenal.
The lesson I learned from this experience was that an indirect approach is sometimes more effective. Another serendipitous moment happened when I went to a local printer for some printed lables. I just happened to mention the cartooning work that I do and he asked me to leave contact details. From that I received several jobs from his clients who needed artwork for their printing jobs.
Keep improving your drawing skills – make it a lifetime goal
Little gains in the cartooning market help build up your reputation and slowly but surely work will come your way. When I was learning the craft I gave myself a 'cartoon improvement directive' and that was – whenever asked to draw I would do it and mostly for free. You might think that this is a particularly stupid idea but I can assure you that it paid off in two ways.  
Firstly at around the age of 20 I was not happy with my style or finish – the cartoons I was creating were very amateurish and I knew that if I wanted to make something from drawing I had to improve. This inner policy of accepting work without payment and at every opportunity made me improve and it worked. I don't profess to being the greatest cartoonist on the planet but I am happy (never absolutely happy!!!) with my standard of work and I am also happy to sell cartoons for a reasonable price.
I just couldn't do it all those years ago as it wasn't up to the mark. Secondly my work output was phenomenal and people started to know someone who could draw cartoons. This 'free publicity' has repaid itself over and over.
If you need to improve – take on as much work as you can cope with – paid or free. 
Finding a niche to develop cartoons and gain recognition
Find a niche or hobby that really interests you and find a magazine or website (with a lot of traffic [visitors]) and offer the editor/webmaster free cartoons on a regular basis. You will stand much more chance of getting published by offering freebies. You will also get well know in that niche and work will come your way.  Once you are established you will be recognised by fans of the magazine/website as the cartoonist in that niche and this gives you huge credibility.
Get your own cartoon web site
A web site can be your art gallery, your shopfront and portfolio all rolled into one that can be seen globally.   You don't have to have a web site as social media can get you out there and doesn't cost a bean.  however! – a web site is your personal platform and you are in charge.  
You control the look, what goes on there, what doesn't – you are in total control.  You don't have the same luxury with social media as someone else owns the site and can pull the rug from under you at any time.  
The other great thing with a web site is that you can advertise, promote and sell your work.  The main advantage is that you get to promote yourself in the way that you want to.  A no brainer really – get a web site if you haven't done it already.
Create a social media following for your artwork
Your web site is the hub of your talent but Facebook, Pinterest, Instagram and several others are the satellites that funnel admirers of your work back to the hub. Instagram is also another excellent social media tool but I have found the best evidenced results with Facebook and Pinterest. 
Facebook
Facebook has been a fantastic social media tool to getting noticed. I had my own personal profile for a few years and occasionally added some cartoons. I soon realised that out of all the items I posted cartoons got more likes shares than any other format – people like images and being entertained. A cartoon does both!
When I opened my first cartoon web site I also created a Facebook page which took about 5 minutes. I added about half a dozen cartoons and invited all my existing friends to like the new page. Once that was done I trickle fed a cartoon or so a week and within a few weeks I had people sharing to all their friends.
The shares cartoons were obviously well received as friends requests and more likes soon increased the audience. It's a simple but effective strategy particularly if you are topical.
I live in South Wales in the UK and the Welsh are rather passionate about their rugby Football – especially when they play the 'old enemy'…England!
In the 2015 rugby world cup Wales beat England and effectively put them out of the cup. I couldn't resist the opportunity for a face book cartoon and came up with the idea of George and the Dragon with the match score in the smoke from the dragon's 'rear end' flame.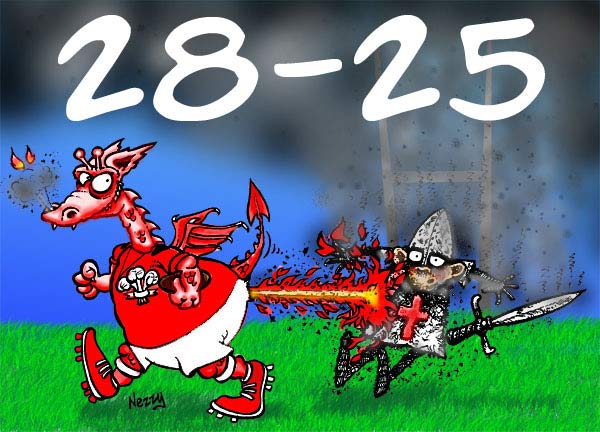 The result was around a couple of hundred likes for the cartoon, which was excellent but astonishingly it was 'shared' over 1250 times and reached around 80,000+ people around the globe. I was inundated with friend's requests from every rugby loving nation on the planet.
I now have rugby loving friends from Argentina, Australia, Japan, USA and even England!!!. I was really humbled to think that a cartoon had, within hours, been seen across the planet! This proved beyond doubt to me that with the right material you can get yourself out there globally.
Pinterest
Once Facebook was set up and I had got used to navigating the screen and administration side I took a look at Pinterest. Pinterest is another social media platform but with the emphasis on 'visual' – perfect for cartoons.
Here's how it works. You set up a free account and create 'boards' (imagine a wall display board).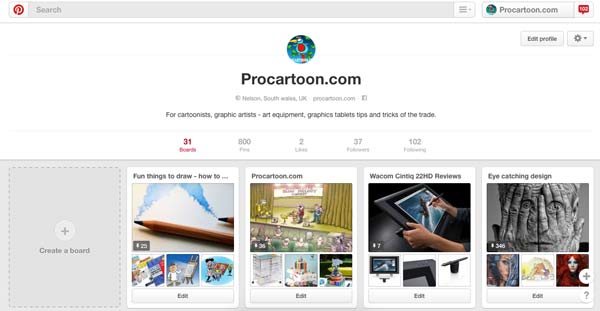 Then you can 'pin' your images to the board.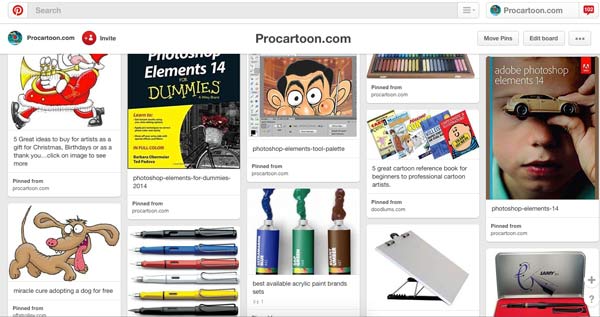 Each board can also display a certain amount of text that you add. You can also link the image to your web site or Facebook page. When other Pinterest users visit your 'boards' and 'pins' they can place them on their own boards. This sharing of 'pins' gets your work spread about globally and also creates an ever expanding network of links back to your web site and Facebook page. A lot of businesses are now using Pinterest to promote their products and it can be extremely effective.
I must admit that I have not tried out Instagram yet but that is on my artistic bucket list!
Give and Ye shall receive…The power of 

reciprocity 
The law of 'reciprocity' is a very powerful natural, physiological phenomenon. If you give people something (free cartoons) they will bend over backwards to repay you. This can take the form of publicity and sales.
I read about this a long time ago and it definitely works. By giving free work to others (in your drawing improvement stage) and to editors and webmaster you will get much more back. If you want to learn more about this see Dr Robert Cialdini's book 'Influence: The Psychology of Persuasion' – it is a revelation if you want to sell your artwork.
Once you have built up a reputation and start making sales you can reduce the freebies and focus on being paid for your talent.
Get to know local businesses and organisations that might benefit from a local artist.
Have you a local printer in your home town?  I live in a small town and there are several printers in the area.  Approaching them with a small portfolio of your best art can bring  work your way.  Most smaller outlets don't generally employ a dedicated artist and occasionally they may feed work your way.  
I have had a great stream of work from this method.  The approach is that you are not selling them directly but are offering a solution for their clients if they need something that you can supply.  
As an example I went to a local printer and had a quick chat telling them what I could do.  I also left a comb bound portfolio of cartoons that they could show to their clients.  From this quick pitch I have regular work.  The first one that came back was for a government department that wanted cartoons for an anti social behaviour brochure.  If I hadn't left my details with the printer they would have struggled to fulfil that request.  Win win for the printer, client and yours truly.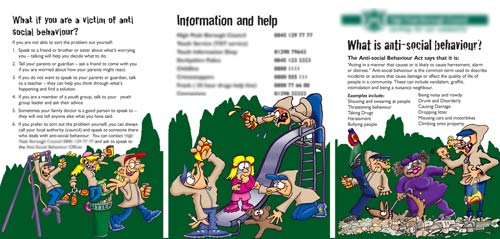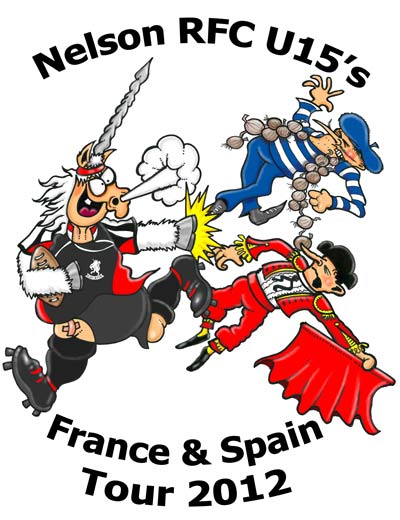 I often get asked to design artwork for local organisations such as sports clubs, who use my cartoon designs to create tour tee shirts and logos. But you can't sell anything they don't know you exist.
I have had some great orders just by sending out mailshots with examples of my cartoon designs.
One in particular was my village Rugby Club (nicknamed the 'Unicorns') whose youth team were about to go on tour to France and Spain.
I sent them a sample design and they immediately placed an order.
They had the shirts printed and I simply supplied the design for a fee.
I also mail shot all the rugby clubs in the area and soon had similar success designing more tour shirts.
Create products with your original cartoon designs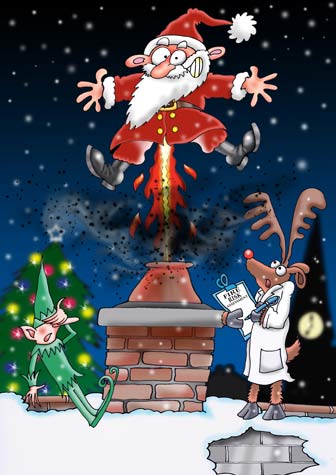 If you can draw you can create an endless stream of products to sell.  Here are some ideas that you could turn your art into products:
Greetings cards
Tee shirts
Place mats
Mugs
Limited edition cartoon prints
Phone and IPad covers
wall plaques
Mouse mats
Wall clocks 
Wedding stationary
Business cards
Original artwork
This is just a small sample of what you could do with a bit of time effort and imagination.  I have tried all of these and had success particularly with mugs (sublimation printing), limited edition cartoon prints and Tee shirts (sublimation and screen printing).  There is a fair amount of research to be done to make sure you can source the products at a price you can make a reasonable return on investment (ROI).  As a rule of thumb you need to be making at least 50% profit per sale to make it worth the effort.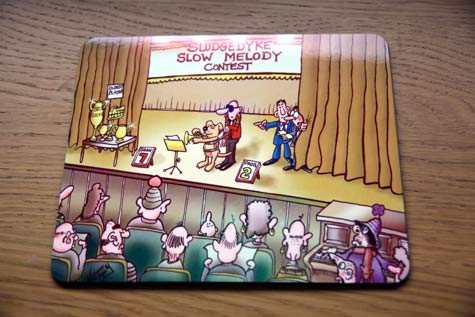 Tee shirts produced using screen printing was  something that I had to outsourced as the cost of the equipment made it impossible to make a decent profit.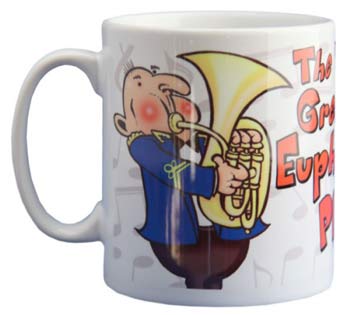 Sublimation printing (heat transfer) was a different story as the equipment set up cost was reasonable and production wasn't rocket science.  I invested in a sublimation printer and heat press for mugs and tee shirts and within a couple of weeks I was making money from my own original designs selling direct off the web site.
Two informative articles on Craftsfinder.com show the whole mug sublimation process. 'Blank mugs with your designs & sublimation' details the equipment,designing, and printing processes. 'Turn blank ceramic mugs into an art business'  lists the equipment you will need to set up your own mug printing business.  Why am I recommending these articles? – because I wrote them from first hand experience setting up a branch of my business producing mugs from my own designs.
Limited edition cartoon prints worked for me as I am quite well known in the brass banding fraternity through Brass Band World magazine.  A limited edition print is a piece of your artwork with a set number in the 'edition'.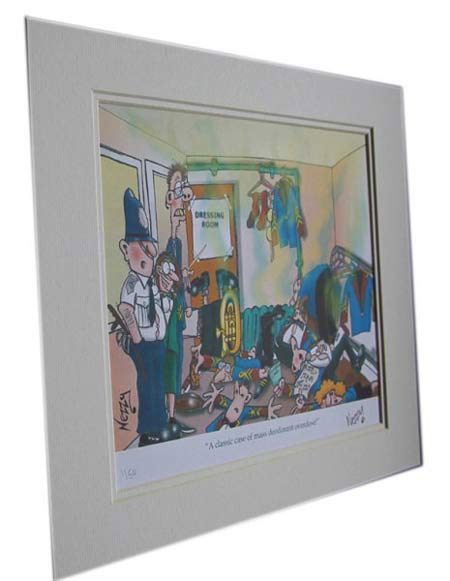 Each print is individually numbered and personally signed by the artist.  It can also be sold with a 'certificate' of authenticity.  I tend to sell limited edition prints in a double mount with backing board as it looks much more professional than 'just a piece of artwork'.  Limited edition prints tend to attract a higher price simply because they are perceived as scarcer (limited) and have the artists original signature.  I believe this will only work once you are established as an artist.
Original artwork can also be very lucrative as it is a 'one off' and can attract a much higher price with a considerable ROI.  I have sold many pieces of original artwork and have made really good money from it.  
There is one massive downside however.  Selling your original cartoons for me is like saying goodbye to an old friend for ever!!! Perhaps it's me but I have kept every piece of artwork I have ever done apart from the originals sold.  If you  can part with your artwork and not bat an eyelid – crack on and make some money!  
I generally tend to create art to fit mounts that are ready to frame and provide a certificate of authenticity personally signed.
Success by these methods is not guaranteed.  You will need a bit of luck and plenty of initiative and determination to succeed!