Blog
Graphic drawing tablets
In this digital drawing tablet review I look at the XP-Pen Deco 01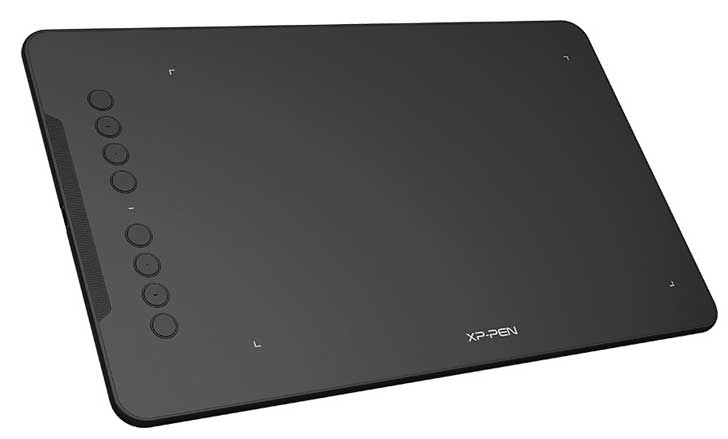 I was recently asked to review the Deco 01 by XP-Pen.com, which I was happy to do as it has very good reviews and customer ratings.
While researching the XP-Pen.com web site I saw that it has some interesting features and was mightily impressed with the amount of inbuilt technology for such an affordable price point. 
The XP-Pen Deco 01 Is what I would call an indirect graphics drawing tablet or digital drawing pad. That is a tablet that is attached to a computer monitor where you draw on the surface of the tablet and the the image appears on the monitor.
It was quickly delivered and I opened the packaging to find the tablet and accessories contained in a sturdy flip top box. On inspection I found that the box was quite substantial and really secure unlike like some other tablet packaging I have experienced in the past.  
When you buy a new graphics drawing tablet you want to keep it stored safely when not in use and it is a bonus if you don't have to immediately spend more on a protective cover.
XP-PEN Deco 01 Digital Drawing Tablet – What do You Get in the Box?
The first thing that struck me was how stylish and sleek this tablet was. It certainly looked the business as I was unwrapping it.
It had a nice feel, fairly light and felt strong enough to take the usual knocks and bangs when being moved about…so far so good.
I was pleasantly surprised at the contents in the box:
XP-Pen Deco 01 Digital Drawing Tablet

Passive Pen Stylus 

Pen Stand 

8 spare Graphics Pen Stylus Nibs

USB-C to USB Cable Approximately 1.5 meters in length

Comprehensive Manual

Anti Fouling Graphics Tablet Glove
It is ultra thin at a mere 8mm. How do they pack everything into such a small space these days? We have come a long way since the space race of the 60s with IBM computers filling the whole room and probably with less computing power the mobile phone.
I know that everyone is trying to make some electrical items such as laptops and smartphones as thin as possible but for me that often means 'flimsy'. Not so with this tablet as it is obviously well bonded and not a hint of flexing.  I think if I dropped this on a solid floor it wouldn't hurt it – but I wasn't going to try that out!
The Deco 01 has a  classy matt black finish. The  downside is you can have any color as long as it's black! On saying that I don't think this tablet would look as good in any other color as the matt black really does look cool!
Retro Backplate and Secure Tablet Feet
The back of the tablet is described as 'Retro' on the XP-Pen.com web page for the Deco 01.  To be honest the back of a tablet really doesn't really interest me much – however that's just my opinion.  What I am interested in on the reverse side of any tablet is how it sits on a worksurface. It needs to be secure on whatever surface it is placed on. In my case I usually work at a desk or inclined flat easel stand. 
I was pleased to find that the reverse of the Deco 01 has rubber padded feet in each corner with a neoprene feel to them – slightly tactile for grip.  They are not just stuck onto the back of the tablet and liable to peel off.
They are secured in small depressions in the back plastic casing. This is thoughtful design as it adds a lot of strength and durability to the pads.  As a result the tablet sits rock solid on any surface letting me draw without a hint of tablet movement.
Express Key Positioning
There are 8 customizable express keys which are right at your fingertips without being obtrusive. Some tablets are rammed with 'on surface features' that just get in the way.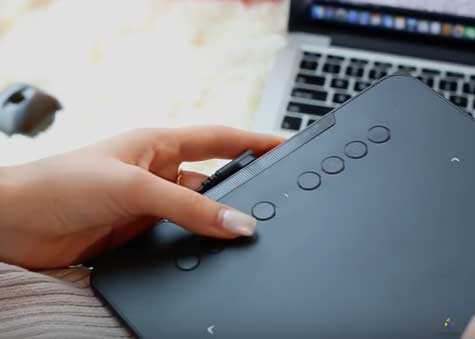 The express keys are lined up in two groups of four on one side (reversible depending on left or right hand use of the tablet).
This is far enough from the active area but near enough for instant use.  The keys are also large enough and separated from each other to make them easy to use.  
Again this has been well thought out at design stage to make optimum use of the express keys. 
I have tried other tablet brands where the express keys are in such an awkward place that it is often quicker to switch tools on screen – taking the 'express' out of the express keys!
XP-Pen Deco 01 Digital Drawing Tablet – Installing the Tablet Driver
Things that really bug me about any gadget, that requires some form of installation is the lack of information on how to install / program the device.  I was recently asked to review another digital drawing tablet but due to a total lack of logical information I could not get it to work.  I contacted the supplier who wanted the review but they failed to respond – the result as you can imagine was no review!  
Thankfully the instructions for the Deco 01 were easy to follow and worked first time I downloaded the driver from the XP-Pen.com web site. It placed the Pen Tablet Setting application in my applications folder (program files in Windows) and a shortcut on the desktop (optional).
The Pen Tablet Setting App allows you to tailor the shortcut keys to different software that you may use. I find it off putting when any gadgets get so complicated that you end up being overdosed with technical capability. However, XP Penn.com have got it cracked.
As you can see this is pretty straightforward with 5 tab menus:
Pen

Monitor

Table Area

Express Keys

About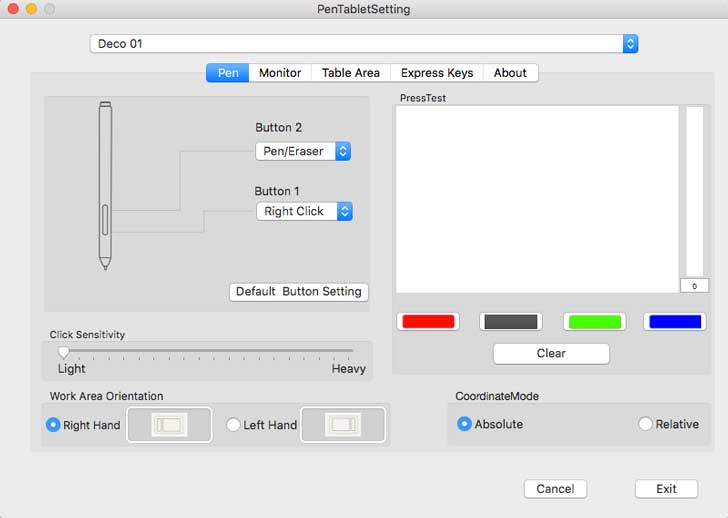 That's a huge tick in the box for me! I hate it when tyou have to borrow Einstein's brain to be able to understand, program and use the features!!!
It is simple to recallibrate the tablet from right to left hand use (or vice versa). This is easy in the Pen Tablet Settings.
To reprogram the customizable express keys was also very straightforward. The whole setting up process was smooth as silk and I believe that most people would be able to navigate the Pen tablet Setting control interface easily.

So…back to the Deco 01 Graphics Drawing Tablet!
Like most of the latest tablets coming out it has a C-USB connection. The power lead supply has a male C-USB connector which attaches to the tablet and a standard USB connected to the computer. The cable is 1.5m in length which is a decent size to work with.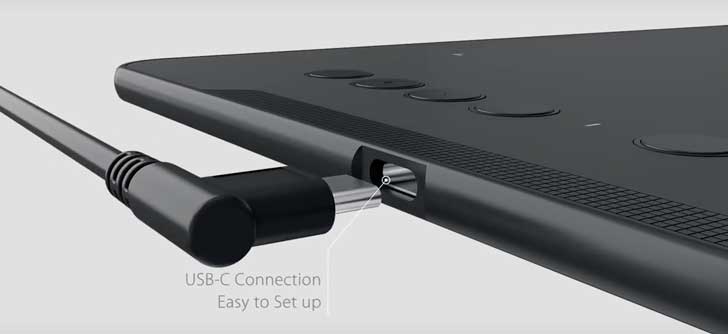 XP-Pen Deco 01 Graphics Drawing Tablet – Active Drawing Area
On the top surface of the tablet are four white right angled markers which light up to indicate the active area thus defining your drawing space. These 'landing lights' are a nice feature as it allows you to see exactly where the active area is when drawing in lower lighting and even in pitch dark conditions. It also adds to the stylish look of the tablet.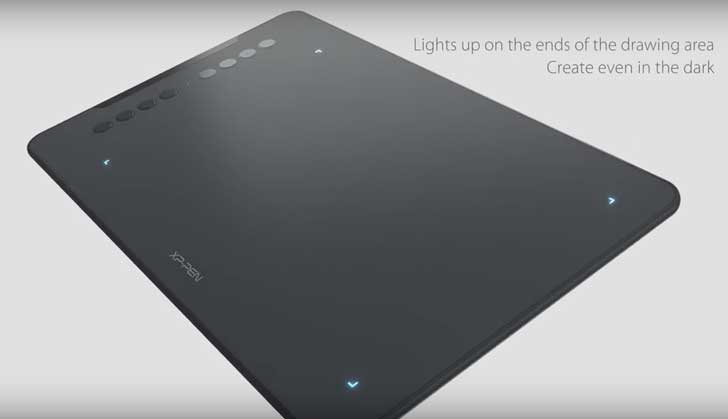 XP-Pen Deco 01 Graphics Drawing Tablet – Pen Stylus
The battery free pen stylus is another big plus for me. It is not as 'clunky' as a lot of graphics drawing pens I have reviewed are and has a nice thin profile with ergonomic shaping to the barrel. The profile of the pen is triangular with rounded corners – far easier to grip and doesn't kill your fingers after you have been drawing for a long time without a break.
I use LAMY Calligraphy pens for pen and ink drawing and they have a very similar design this makes the drawing experience much more comfortable. Round pens tend to make your hands hurt and often cramp up after prolonged use.
The pen stylus draws beautifully and is one of the best graphics drawing tablet pens that I have used. Due in part to the ergonomically shaped barrel and also to the excellent responsiveness.
The stylus has 8192 levels of pressure sensitivity which is a big step up from the general standards of 2048 LPS. As technology advances the drawing experience gets much closer to the real thing. On saying that a graphics drawing tablet can in some ways be better than the real thing!

XP-Pen Deco 01 Digital Drawing Tablet – Pen Stand and Spare Nib Store
With the pen is another great feature the pen stand. It has a nice weight so it's not going to be rattling around the table and doesn't take up much room.
On the downside (and this is a very minor blip) the pen is stored horizontally on the top of the pen stand – but this is just my personal preference. I would love it to stand upright in a secure slot as would a quill pen in an ink pen stand. 
The stand is approx.1.5 inch square with a domed top. It has a neat feature as XP-Pen have designed this to store the 8 spare nibs. With a simple twist action the pen stand separated into two pieces with the bottom half securely containing the nibs.  The base of the pen holder has a small slot to extract nibs and replace them in the pen stylus.
XP-Pen.com have got it just about right with awaiting stylish pen on the holder. Just a pity about resting the pen horizontally.
XP-Pen Deco 01 Digital Drawing Tablet – 

Other Features and Freebies
Graphics Tablet Anti Fouling Glove Included
One thing I really liked was the inclusion of the tablet glove in this set. For those on the tight budget it is one less item to buy amounts another tick in the box for XP-Pen.com.
For those who have never used a graphics tablet glove they are a fantastic asset to have as they keep your hand gliding smoothly with the pen (particularly when your hands get clammy in hot weather) and also keep the tablet surface dust free.
Compatability with Operating Systems and Graphics Software
The deco 01 tablet is compatible with Windows 10/ 8/ 7 Mac OS version 10.8 and higher.   It is stated as running with Photoshop, SA 1, painter, illustrator, trip station plus more in other words it works with all the major graphics software that you are likely to use.
I sent the Deco 01 up on my Mac book Pro. After removing an existing tablet driver (as you need to remove previous drivers for this to work) the installation of the driver from the XP pen.com website was easy to follow and use.
There is a hardcopy manual that comes with the set or you can download a Pdf from the XP-pen.com website.  I found it easier to read a Pdf – being of an age when the eyes don't like small print!.
The beauty of the downloadable Pdf is that it is always to hand  on my Mac and I don't have to go rummaging around to find it (and I can see it to read it!).
Customizable keys are preloaded in the following order:
Ctrl + "+"

Ctrl + "-"

Brush

Eraser

Undo

Save

Brush +

Brush –
Another enhanced feature that XP-Pen.com have put into the Deco 01 is the report rate. In other words the speed at which the interaction between the stylus nib on tablet surface is reported to the software to appear on the screen.
The report rates of the deco 01 is now 266 PS which is very fast and in conjunction with with the 8192 levels of pen pressure sensitivity gives a great performance and one experience. 
Conclusion – How did I rate the XP-Pen Deco 01 Digital Drawing Tablet?
I've been using the Deco 01 tablet for around 3 weeks and here is the verdict:
Ease of set up – Excellent
Appearance – Excellent
Features – Excellent
Responsiveness of the stylist – Excellent.
Drawing experience – Excellent.
Value for money – Excellent
Overall – Excellent
Only one very minor nit picky things for me and it's just my personal preference. That was the pen holder i.e pen placement, which I mentioned earlier (pen lies flat on the pen holder and I would have liked to see it more secure in a slot in the upright position).
In the big scheme of things does not detract from the overall standard. As you can see from my verdict this is a great all round tablet.
It has actually made me rethink which is the best tablet in this class and I have to say this is as good or maybe even better than other similar tablets. My previous front runner was the Wacom Intuos Range (Art, Comic, Photo and Draw) but the  XP-Pen Deco 01 has really given that particular range of Wacom Intuos tablets a really good run for its money.  
The differences between the two brands are cost and software (included graphics software as a package).  Wacom do offer included software.  However, there is such a price difference between the Deco 01 and the equivalent Wacom Tablet that the XP-Pen Deco 01 gets the edge.
I always tell anyone that wants Procartoon to review a product that I will always give an honest review.  in this case it was a pleasure to put the Deco 01 through it's paces and discover that it passed with flying colors in every aspect.
Who is the XP – Pen Deco 01 Digital Drawing Tablet for?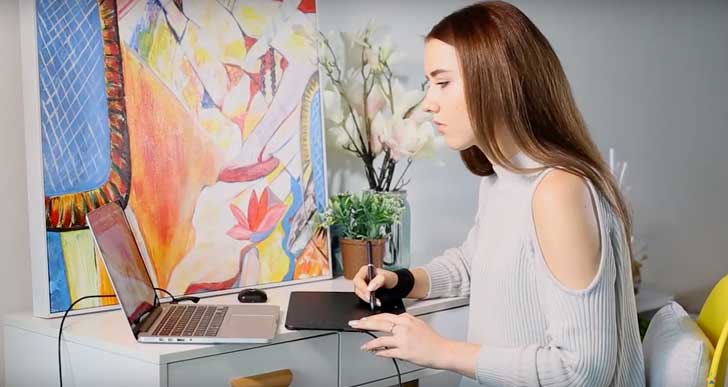 This will suit any level of drawing skill from absolute beginners to professional artists.
If you're on a tight budget but want quality a lot of great features this fits the bill.
If you are looking for second more mobile tablet, this is just the right size with lots of valuable features.  Plus it is very strong and durable to be carried around.
This could also be perfect for getting kids into digital drawing.  The Deco 01 is very reasonable in cost and not too overcomplicated for young artists.  Possibly a good bulk buy for schools and colleges.
If you would like more information on the XP-Pen Deco 01 Digital Drawing Tablet visit the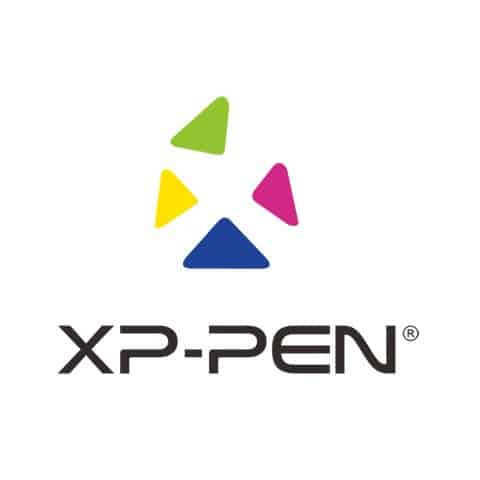 You can also buy the XP-Pen Deco 01 from Amazon
Check out the latest price here

If you would like to see more graphics tablet reviews see the full list here…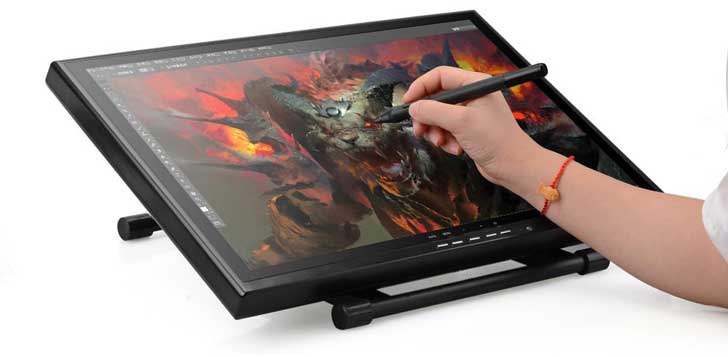 SaveSave