Art equipment
Blog
Graphic drawing tablets
Those of us who love to draw are always looking for the best drawing tablets with screens to spark our creativity.  But are drawing tablets with screens better than those without? Graphics tablets with screens provide a more traditional way of drawing, similar to paper and pen.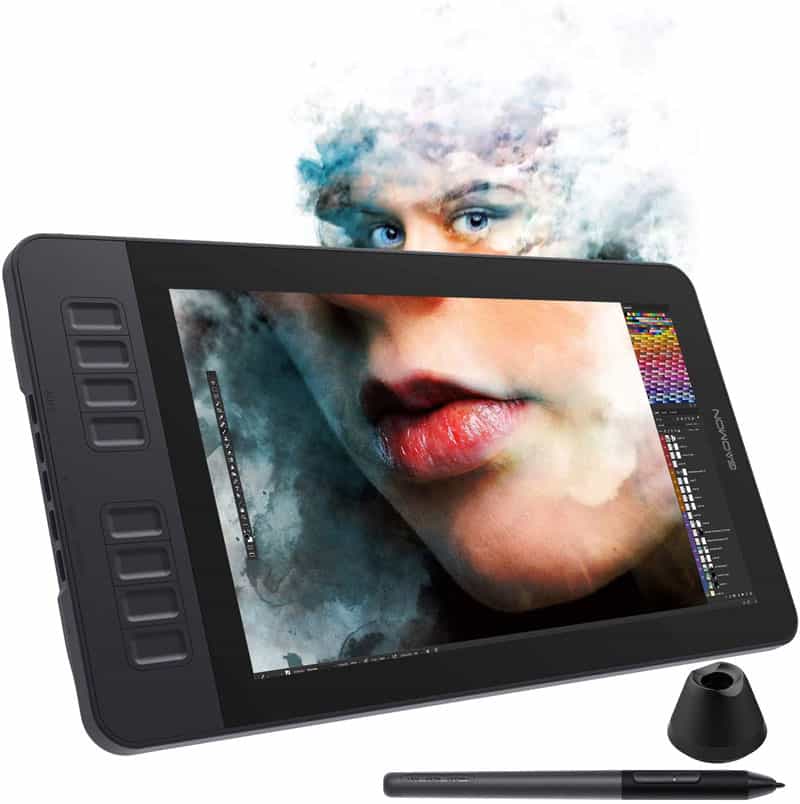 Tablets without screens require you to draw while looking at a computer screen.  Animation, note-taking, practicing calligraphy, painting, and drawing are all possible on drawing tablets with screens. And the results are crystal clear and vibrant.
Drawing tablets with screens for professionals students and casual drawers
Wacom Cintiq 16" Drawing Tablet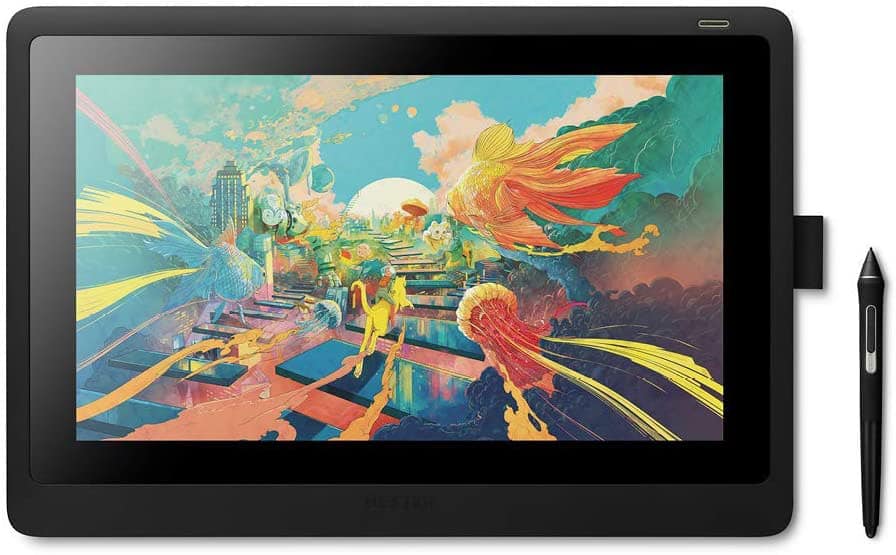 ASIN: B07L77GTTY
If you like to draw in your spare time, or you're an art student trying to get the hang of working on a screen, the Wacom Cintiq 16" Drawing Tablet is a great transitional tool. 
The folding legs let you find that perfect angle on which to work most comfortably.  The tilt recognition allows for precise control of your pen strokes while the high resolution HD display provides immaculate clarity.
The impressive 15.6 inch screen gives you an extensive work area.  The tempered glass is scratch resistant with an antiglare film so there are no annoying reflections as you draw. 
The pen needs no batteries because it automatically charges when it touches the screen. Two programmable buttons reside on the pen, keeping your favorite shortcuts literally at your fingertips. Since it features over 8k levels of pressure, the screen recognizes the slightest pen tap.
When you wish to connect the tablet to your computer, plug in the included 3-in-1 HDMI cable.  This is one of the better drawing tablets with screens for artists taking the plunge to transition from paper and pen to draw on screen.  It's compatible with several well-known software suites including Adobe, Corel, ArtRage, Artweaver, plus a host of others.

 Graphics tablets with screens for intermediate artists
XP-PEN Artist12 11.6 Inch FHD Drawing Monitor Pen Display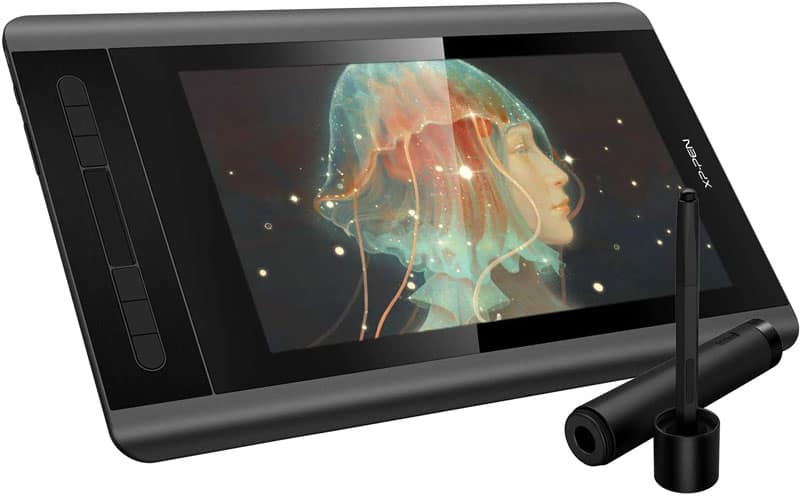 Don't let the small screen fool you. This tablet can compete with all the bells and whistles the larger drawing tablets with screens have. 
The 11.6 inch tempered screen gives it a sturdiness to avoid common breaks and scratches. The antiglare coating guards against distracting reflections as you draw.
On the side of the screen are six programmable shortcut keys and touch bar you can customize to scroll, zoom, and make menu selections.  The pen (which is battery free) has a hexagonal shape that mimics that of a standard lead pencil. 
The tip is partially transparent so you can see exactly where it makes contact with the screen just like a real pencil.  There's also a button on the pen that can hold several shortcuts.
Made a mistake? Use the digital eraser on the opposite end. 
The HD IPS display offers stunning vibrancy, making it one of the best drawing tablets with screens for animation, image editing, 3D sculpting, architecture design, and – of course – drawing.
It supports Windows and Mac operating systems.  Compatible with a multitude of software, you can use it with Clip Studio, Photoshop, Illustrator, and most other design programs.

Huion KAMVAS Pro 12 Drawing Tablet with Screen Graphics Drawing Monitor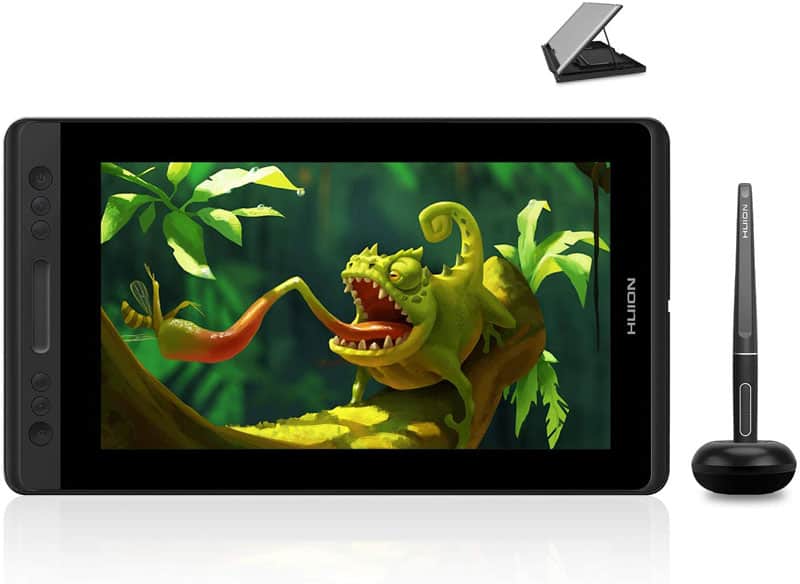 Similar to the XP-Pen 12, this wonderful gadget has a few minor differences.  The touch bar has four customizable shortcut keys versus the XP-Pen 12's six keys.
The pen doesn't need charging, and it has a 60-degree angle tilt recognition to replicate a realistic drawing experience.
The 11.6-inch antiglare screen not only protects your eyes from damaging reflective lights, but it helps to decrease the space between the pen nib and the cursor. The less the distance between the two, the more realistic is the feel of drawing on paper. 
Two express keys are built in to the pen as extra-quick short cuts.  The pen comes with a classy little holder and is equipped with 10 extra nibs and a clip. 
It's lightweight and ultra-thin for portability, but it requires being connected to a computer to be used (a 3-in-1 HDMI cable is included). 
The built-in kickstand is a nice touch that gives you six different angles on which to work.

 Drawing tablets with screens for the more advanced drawer
GAOMON PD1161 11.6″ IPS HD Graphics Drawing Pen Display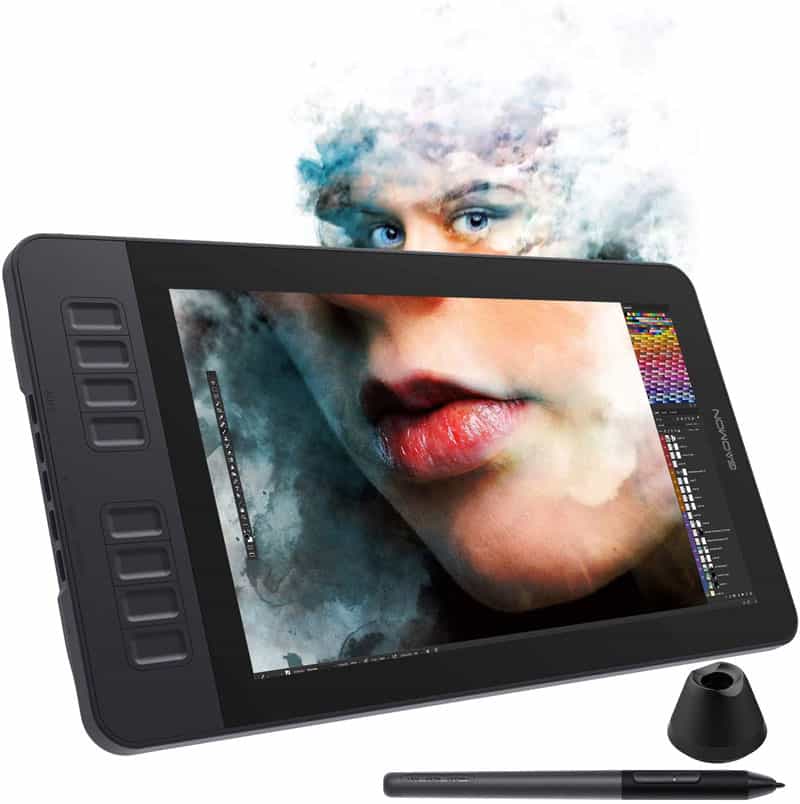 Another superb artistic tool, the GAOMON PD1161 11.6″ IPS HD Graphics Drawing Pen Display works well for those who are a bit more tech savvy. 
There are eight express keys that you can customize along with five menu buttons. You can change your brush strokes, zoom in and out, scroll up and down, and use a host of other neat tricks.
While it's compatible with software that requires a subscription like Adobe and Corel, it also works with free software such as Gimp, Krita, and Firealpaca. The pen doesn't need charging since it has no batteries. 
You'll also get eight replacement nibs which are included in the handy pen holder. 
And let's not forget the included glove. Using a glove helps reduce smudging and oily fingerprint residue.  It also reduces friction while you're drawing, allowing the pen to glide smoothly without jerking across the screen.
It's not a standalone tablet, so it needs to be connected to your computer.  Plug the included HDMI cable into your computer, and you're ready to go.

The Best drawing tablets with screens for the multi-tasker
Simbans PicassoTab 10 Inch Drawing Tablet and Stylus Pen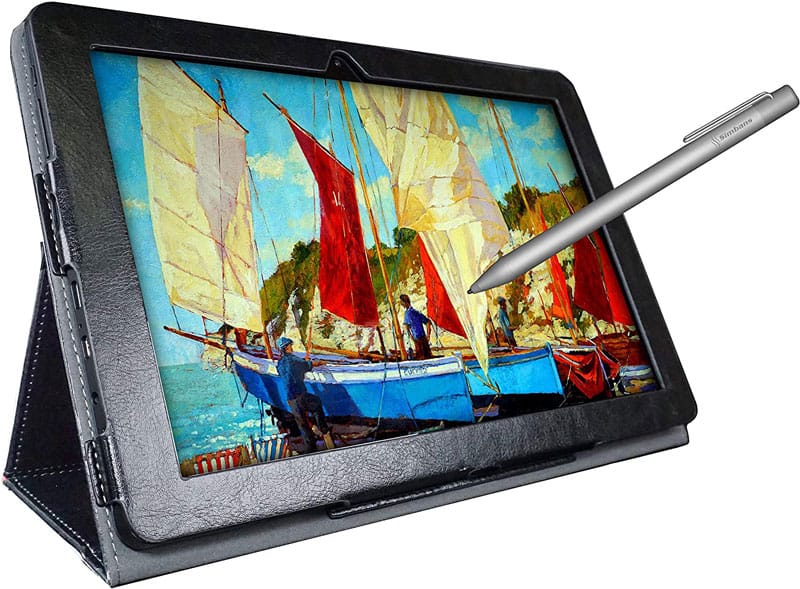 If you want to do more than just draw on your tablet, the Simbans PicassoTab 10 Inch Drawing Tablet and Stylus Pen is the perfect Android solution. 
It comes pre-installed with Autodesk and Sketchbook apps.  The 10 inch HD screen is smaller than the other graphic tablets with screens we've mentioned, but it has a few things the others lack. 
A front and rear camera lets you take photos and videos, and the 32GB internal storage holds everything.  If that's not enough, there's a micro-SD slot for another 128GB of storage. 
It is Wi-Fi enabled, so you can upload and download, or just surf the internet. Check email, social media, or play games downloaded from the Google play store. 
The quad-core processor can handle movie downloads, sending messages, and drawing apps.  Link it to the television via the micro HDMI port to view your drawings or just watch videos.  It also offers a USB type C port. 
Turn the pen on and use the stylus in any application. Turning the setting off lets you use the not only the pen but also your fingers to write on the screen. 
Students can take this to class and use it to take notes, record lectures, or paint in art class.   If you want more of a tablet computer, this could be one of the best graphics drawing tablets you could ask for.
As a free bonus, a faux leather case, universal power adapter, and screen protector are included.

You need to have some nice drawing apps to get the best out of your drawing tablets, you can check out this post on drawing apps by Pixpa – they have listed down some of the best drawing apps available right now.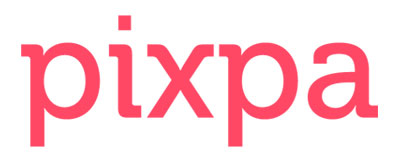 And there it is, our pick of the best drawing tablets with screens.  Students and professional artists all require a few of the same things when it comes to drawing tablets. But the details make all the difference. 
Depending on what matters to you most – screen size, shortcut keys, resolution – that will be the deciding factor.  The best graphics drawing tablets let you forget what you're doing so you can enjoy what you're creating.
Article by our US correspondent Laura Lee Hathaway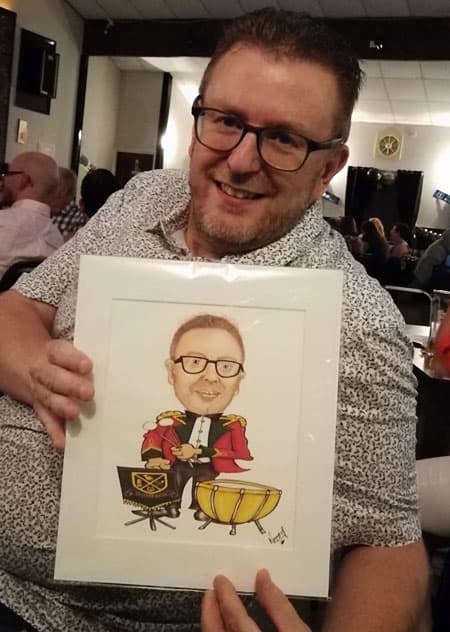 Have you ever tried to draw caricatures and got totally frustrated?  That was how I felt and I nearly gave up trying. 
I have developed a simple fix with a lightbox that takes the pain out of capturing the likeness.