Art equipment
Blog
Graphic drawing tablets
Procartoon was approached by XP-Pen to 'road test'  and review their range of three Deco Fun graphics tablets.  For the review, we were sent the Deco Fun L in apple green.
The Deco Fun range comes in three sizes – XS, S AND L 

Deco Fun XS: 182.4×134.7×10.5mm with an active area of 4.8"× 3"
Deco Fun S: 210.5×159.8×12.9m

with an active area of 6.3"× 4"
Deco Fun L: 315×222.9×12.5mm

with an active area of 10″ x 6.27″
The whole range is available in four  stylish colors – Classic Black, Space Blue, Apple Green, and Carmine red: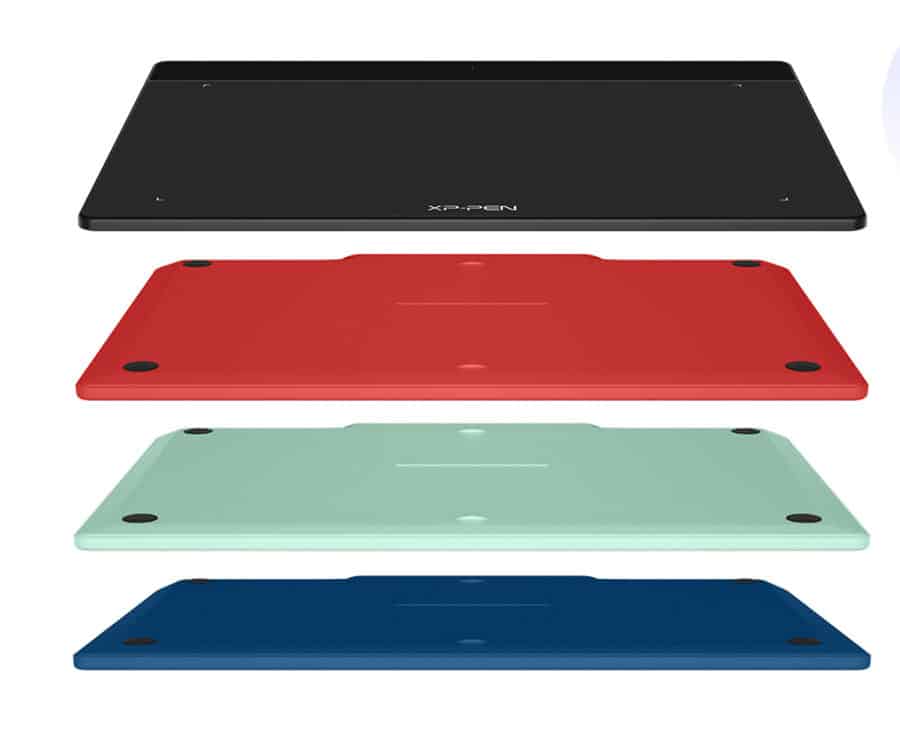 What do you get in the box?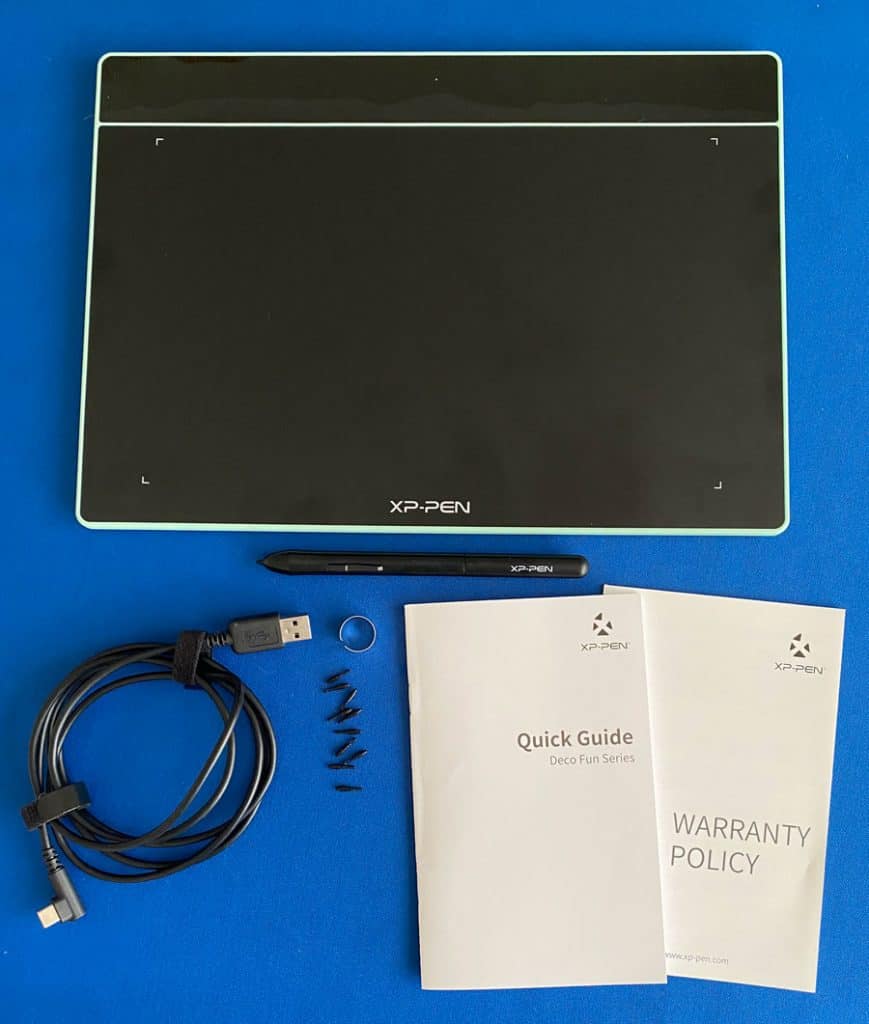 Whats in the box?
You get the tablet, a PO1 stylus battery-free pen, with an additional ten spare nibs. A pen nib extractor tool. A 1.6m USB-C cable, a quick start guide, and warranty. Thumbs up for the cable length as many other devices we have encountered have been short and restrictive. 1.6m allows the monitor to be positioned on a stand at eye level with plenty of cable to snake around to the computer/ laptop connection.
The Deco-Fun L, the largest of the three models is 315mm x 223mm x 12.5mm. The active area i.e. The area on the tablet that you draw in that will be picked up by your computer software is 254mm x 159mm (10" x 6.27" in old money!) which is defined with four white markers on the surface.
The size of the Deco Fun L makes it a highly portable tablet.  It's just a smidge bigger than the Mac book pro we used to test it out.  It's sleek, slim, and fits easily into a laptop bag or small holdall, and very robust, particularly useful to know if you are thinking of getting one of these for a younger user who may not treat it with the care it deserves.
The tablet connection is located along the top of the tablet.  The connector can be inserted left or right to your preference, allowing the cable to snake unobtrusively away to the C Port connection. A very small indicator light on the glossy black panel on the front indicates when the P01 stylus is in action, whenever it is on the surface or within 10mm of the active area. 

On the reverse side are 4 small round rubber surface protectors and when on a table or solid surface makes the unit as steady as a rock.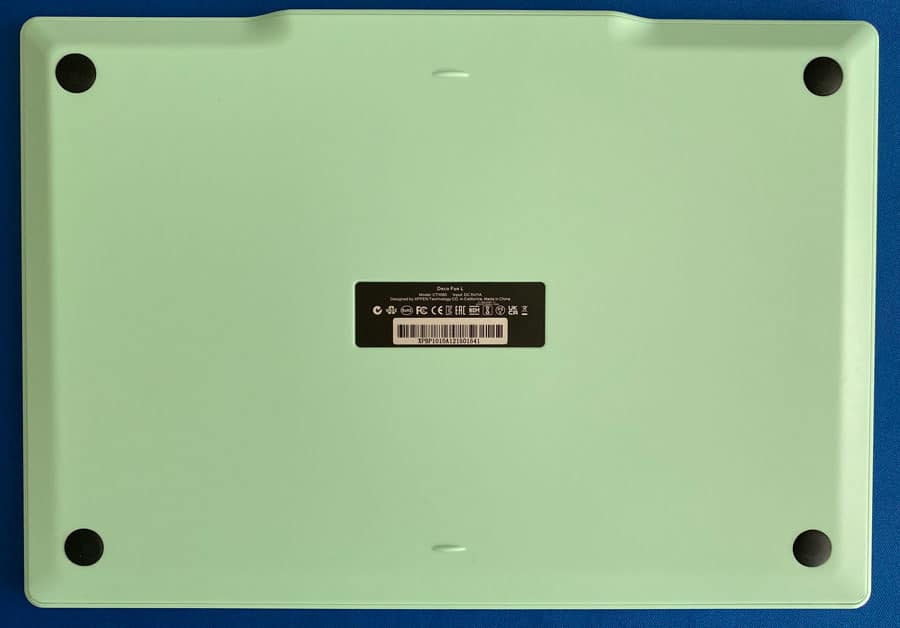 The black XP-Pen P1 is tactile, sleek with just the right size and feel in hand.  There are two stylus buttons that are unobtrusive while drawing, which we really like. Some other pen brands have buttons that simply get in the way of the primary use of the pen – drawing!  The two buttons default setting activates the pen/eraser and right-click function. These settings can be altered in the software (see below) for user preference.

Setting UP the XP-Deco Fun L
There are written instructions, but it is quite straightforward once connected to the XP-PEN website https://www.xp-pen.com/ 
On the home page, hit the 'support tab' then look for 'downloads' in the drop-down menu. This opens a new page. Scroll down (ignore the box for typing the model number as it doesn't do anything) find 'Deco fun' which opens up a new page, Scroll down and select your preference – either Mac or PC and then download, which takes just a few seconds.  Once downloaded activate the download and you are ready to start.
We use Photoshop and have done it for over twenty-five years on a variety of tablets so we knew what we were looking for. The pen wasn't quite giving us the pen pressure we wanted.  By opening the X-Pen application we were able to increase the pen pressure settings by pushing the slider left or right to increase/ decrease pen sensitivity.  There are also screen options in the controls (but we didn't touch them – it is there if you need them) and it is also possible to amend the left/ right button click options if desired but again we left it on default.
Once happy we handed the deco Fun L over to our resident cartoonist Rob  to start drawing.  It took less than 5 minutes to set up and once done it is just as it says on the tin, 'Plug and Play'.
Rob Nesbitt – Drawing experience using the XP-Pen Deco Fun L
As a cartoonist, I don't want to have to battle with technology.  I just want it to feel as natural as possible and work, so I can get on with the job. My usual techno tool is an expensive Wacom sixteen-inch Studio Pro 'direct draw' tablet that cost an arm and most of a leg!
I did not expect to get the same quality drawing experience that I get with a direct draw tablet.  However, the Deco Fun L  really does live up to its name and was a pleasant surprise. 
As it says on the tin, it is fun to draw with. Quick to set up, lightweight, portable, and the feel of the pen on the tablet surface is as good if not better than most other indirect drawing tablets I have used and tested. The pen is very responsive and draws beautifully.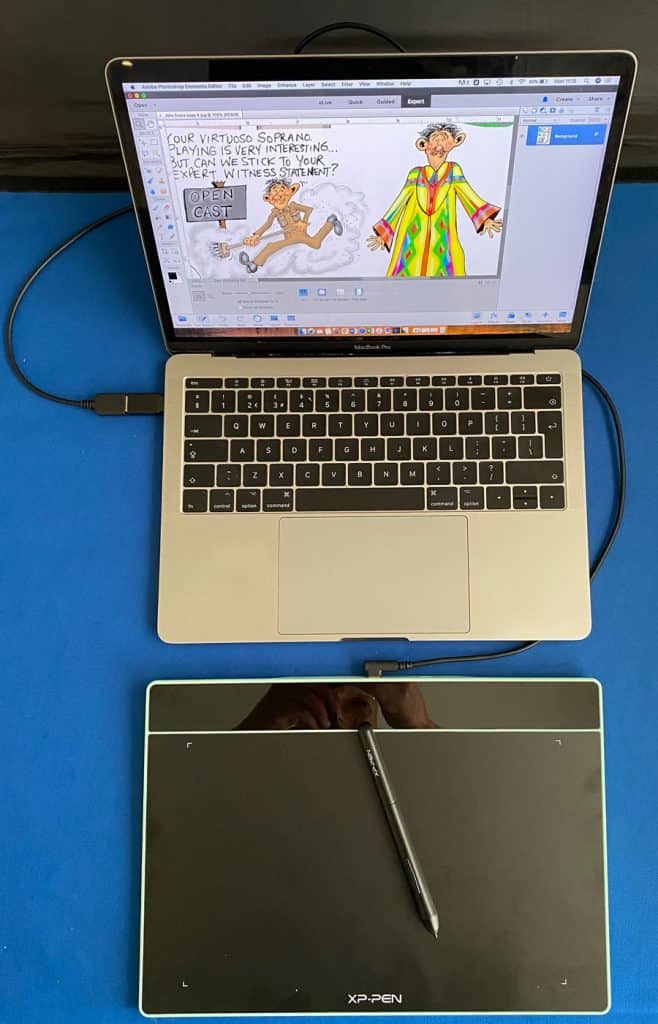 I did the following quick sketch of an owl to try it out.  This was my first go on the tablet and It was a very enjoyable experience.  The nib was responsive, accurate, and most important – no lag, which I have experienced with other indirect draw tablets.
No problem using the variety of tools that my Photoshop graphics software has to play with (I used Photoshop elements in this demo).  The time-lapse took just over ten minutes in reality, which is testament to the Deco Fun L – No fuss—No bother—No hitches—No glitches. Just how I like to draw!
Our opinion of the XP-Deco fun Tablet
For kids, interactive school work, games, as a business tool, and for general drawing and sketching the Deco Fun range provides exceptional value as an inexpensive, fun to use, robust, and very appealing selection of tablets.  The only downside we could find, and this really is nitpicking, is the slight downward movement of the nib when it initially makes contact. with the screen.  That minor 'gripe' lasted all of a minute as the brain adjusted to the feel of a new pen on the surface.  Apart from that we couldn't fault the tablet and would recommend it to anyone as a general use tablet or for a more seasoned graphics tablet user it makes an excellent mobile device that can be used virtually anywhere.
Techy stuff – Deco Fun L

:
Pressure sensitivity: 8192 LPA (which is generally the norm for most tablets)
Tilt: 60o
Resolution: 5080LPI
Report rate: ≥200 RPS
Active area: 254mm x 159mm
Overall size: 315mm x 223mm x 12.5mm
Where can I get more information on this product?
Direct from XP: