Blog
Drawing tips
Warning
: Trying to access array offset on value of type bool in
/home/procartoon/public_html/wp-content/plugins/wp-social-sharing/includes/class-public.php
on line
81
Easy drawing warm up to keep your creative genius supercharged!
Top athletes work really hard to keep their bodies and minds in peak condition.  plenty of exercise and mind preparation.  Professional and aspiring artists are no different.  Your artistic muscle needs to be exercised and prepared for action and simple drawing warm up exercises can really help to supercharge the brain.
I have used drawing exercises for more years than I care to mention and one in particular really works for me.  It involves a random 'pencil scribble' which is then developed into a cartoon.  In the following example I have used my graphics tablet with Sketchbook Pro software.  I have created several cartoons based on a single pencil 'scribble' using the layers feature:
First you need to create a random pencil scribble.  If you using a graphics drawing tablet it is better to select a contrasting color to the pen you will add later.  I have found that blue is better.
Take a good long stare at your scribble and see if any shapes start to ignite your imagination. If nothing springs to mind try moving the image around 3600 and see if anything inspirational leaps off of the page.
In this example I am seeing several female heads.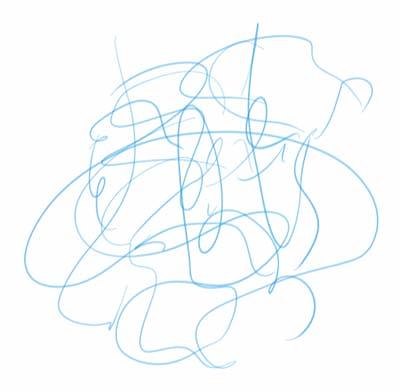 I pick one out and using the existing lines only I pick out elements that make up the cartoon…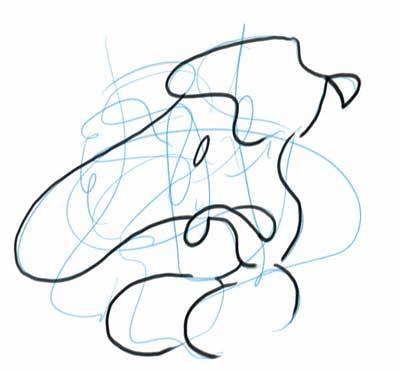 The next step is to add your own lines to make a black and white basic cartoon…sorry I picked the miserable looking one!…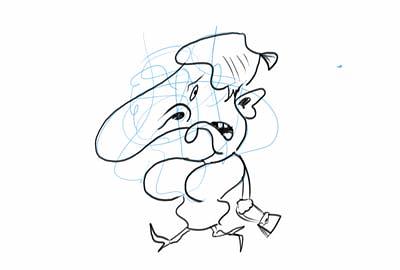 Back to the original scribble…another image this time. The main purpose of the exercise is to give your imagination a good workout as well as your drawing hand.  Can you see a crook carrying a sack?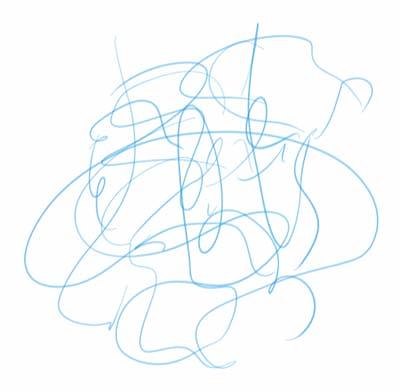 Using only the existing pencil lines ink in what you see and he starts to appear…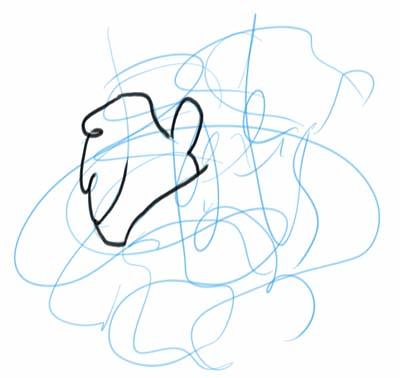 Adding some lines of your own and the image appears and develops character…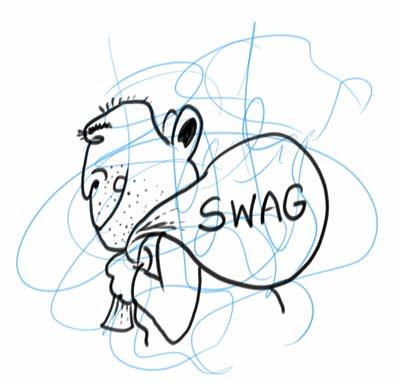 Back to the original scribble.  It is amazing how many images pop out of the page. This time I can see a large fish…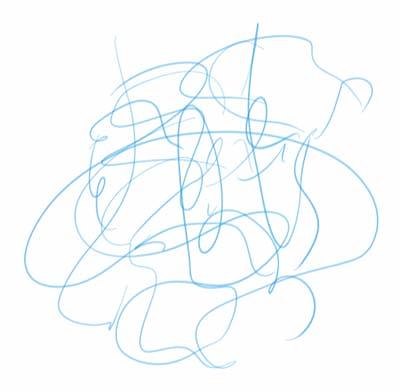 Again using only the pencil marks I begin to lift the fish off the scribble…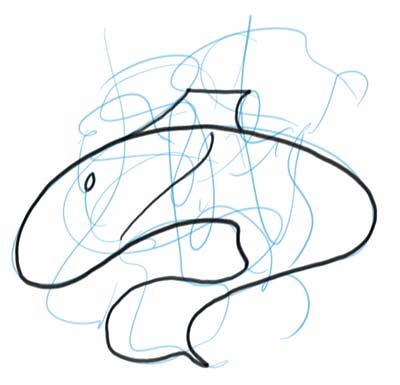 And add some imagination – some teeth scales and a few bubbles and movement lines.  This could be taken further and color added and perhaps a marine background…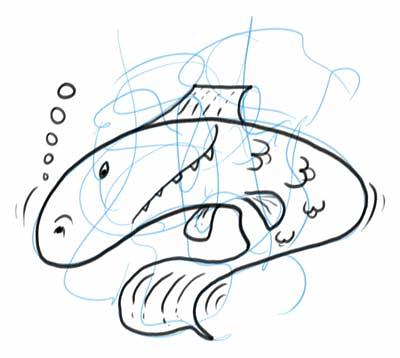 Last but not least I can see the image of a  snail slithering across the screen…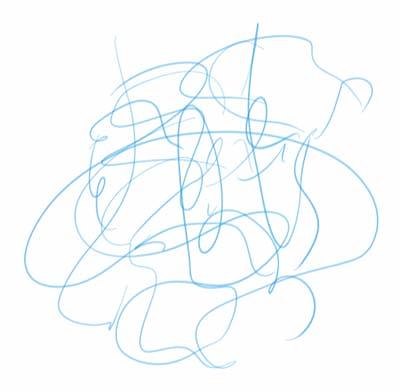 Adding ink to the pencil gives it basic 'snaily' shape…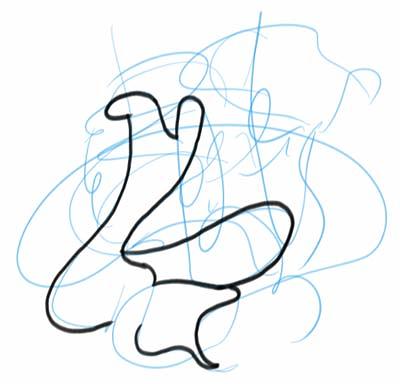 Then a bit of refinement with a nice slimy trail and the snail appears…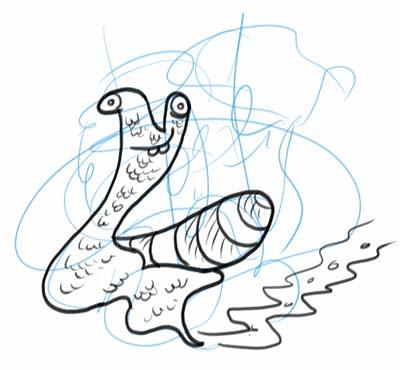 With a few more details and a splash of color we have a full color cartoon.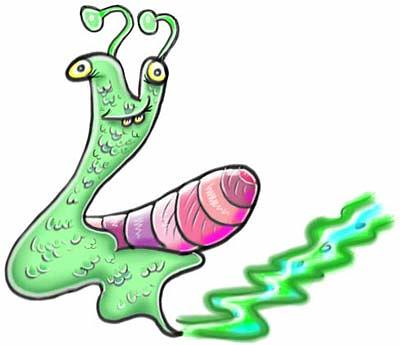 Apart from adding the color to the snail at the end the exercise only took about 15 minutes to do all four cartoons.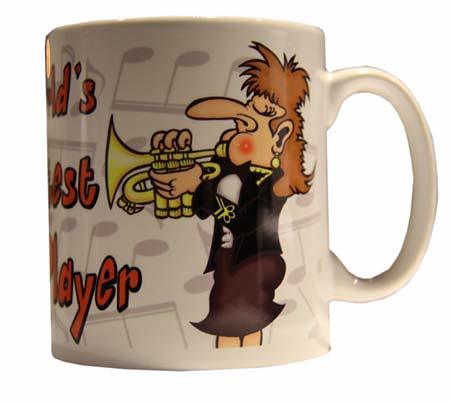 I have found that this exercise keeps me on my toes and in the process some great ideas have come out over the years.    It is quick simple and easy to complete and will keep your creative mind ticking over.  It's also supercharged warm up drawing exercise that you can do before the 'main event'.
It may not be for you or you may have your own style of warmup exercise.  All I can say is that it works for me and I have produced some great cartoon characters from it.  Here is one that came out of a scribble and ended up as a design for a mug!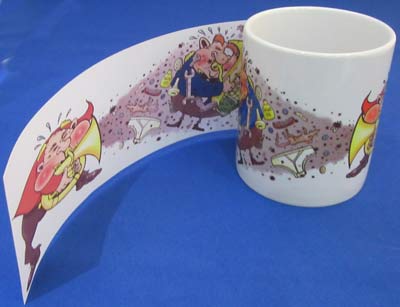 If you would like to see the process I use for creating cartoon mugs see my article on mug sublimation printing 'how you can set up your own mug printing business' at Craftsfinder.com.  You can make a lot of money by creating your own designer mugs to sell. 
When I need to create a new cartoon I have also developed a method using a type of mind map to come up with original ideas.  This has also been really effective and given me many ideas that have been developed into published (and paid) cartoons.  See the article – creating original cartoon ideas and finding fun things to draw right here…
[supsystic-social-sharing id='1′]