Art equipment
Blog
Books
Gift ideas
Warning
: Trying to access array offset on value of type bool in
/home/procartoon/public_html/wp-content/plugins/wp-social-sharing/includes/class-public.php
on line
81

5 of the best adult coloring book examples – the new adult coloring trend
Who would have thought it – coloring books for grown ups!  Stress relieving coloring sheets in book format are making a big impact particularly in America where the popularity of adult colouring books is at an all time high.  
In our high stress, high tech world adult colouring books have been found to be one of the best art therapy ideas you can have.  According to leading  therapists the relaxed focus of coloring between lines in complex patterns is like repeating a mantra resulting in relaxation producing a form of meditation.
Here are some of the best adult colouring book pages you will find in paper back book form including one recently at #1 on the New York Times Best Sellers list.
Millie Marotta's Tropical Wonderland: A Colouring Book Adventure
Millie Marotta is an exceptionally talented illustrator and her intricate and quirky botanical illustrations are ideal for adult colouring books.  The black and white exotic drawings compel you to get out the colored pens and pencils  to bring the tropical scenes fully to life. It has some of the best  and intricate wildlife, plant and flower coloring pages for adults.
This 96 page paperback is packed with  Millies exotic artwork and if you like this book you will love her other online colouring books for adults including 'Animal Kingdom' and 'Wild Savanna' both highly rated on Amazon and all beautifully illustrated
Get the latest price for Tropical Wonderland and see Millies other titles right here… 
'Coloring Book for Adults' Featuring Mandalas and Henna Inspired Flowers and  Animals.
An amazing adult colouring book with 48 intricate designs inspired by henna patterns.  This is one of the top rated Amazon books (#1 in the meditation,#1self help and#1in humour and entertainment categories – December 2015).  Can be colored using virtually any medium including watercolors, art pen brushes, colored pencils and felt tips.
96 paged paperback with 10 other titles available from 'Coloring books for adults'  one of the most popular authors of quality adult drawing books on Amazon.  There are adult coloring pages covering animals, paisley patterns, flowers and mandalas.
See the latest price for 'colouring  book for adults' and other titles in the series right here… 
The Enchanted Forest by Joanna Basford
This is Johanna Basfords sequel to her hugely successful 'Secret Garden' that has sold over one million copies.  The drawings are highly detailed and printed on high quality 'bleed free' paper.  
Beside the fantastic and highly original designs there is a hidden bonus with the 'Quest' – where you will need to find nine symbols to unlock the castle gate in the final section of the book.
This has been listed as #1 on the New York Times Best Sellers list and if you like Johanna Basfords exquisite artwork there are other adult colouring books in her portfolio for you to enjoy.
Get the latest price of the Enchanted Forest and Johanna Beresfords other books right here…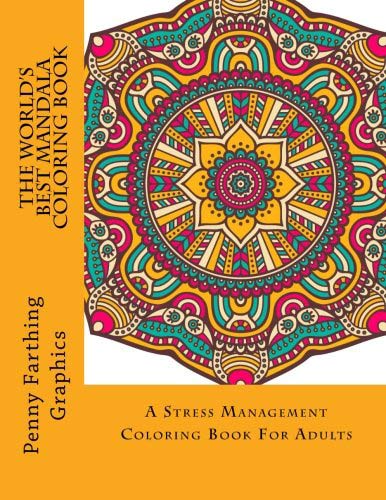 The World's Best Mandala Coloring Book: A Stress Management Coloring Book For Adults 
The title has made a substantial claim but does it live up to it?  Customer ratings on Amazon don't put the book in pole position, however the ratings are very good as are the reviews.  
The book consists of individual artists who have submitted designs and the book editors have selected what they consider the 50 best mandala designs.  Just to clarify mandala comes from Sanskrit and means " circle". The mandala designs loosely follow a symmetrical circular patten.
The designs vary in style and complexity as you would expect from different artists so there is a lack of consistency.  However this does not appear to detract from the high quality of the book.  So is it the best mandala colouring book – that of course is in the eye of the beholder!
Judge for yourself and see the latest price right here…  
Magical Bouquet: A Colorful World of Fruits & Flowers
Last but certainly not least is a newcomer to the adult colouring book market. Manny Young's debut book has produced 100 pages with 45 illustrations that I predict will be up there with the best sellers as the designs are very appealing, not overcomplicated or too repetitive in design.  
The flowers and fruit theme  begs for plenty of color which makes it even more attractive.  Although this has only just gone on the market in December 2015 I believe it is a must buy.  For anyone who is really 'into' adult colouring books this is a bit different to the norm and I think you will really enjoy it with refreshing and exciting designs.  This is the only book in this review with very little reviews – however I believe to will soon get plenty as cream always rises to the top!
See the latest price on Amazon for Manny Youngs Magical Bouquet right here…  
Which adult coloring books will give you the best stress relieving coloring pages?
For sheer class you won't go wrong with Johanna Besford's Enchanted Forest. This is my recommendation as it has beautiful complex and quirky illustrations with the added intrigue of a layer of clues to solve.  She has achievied #1 on the New York Times Best Sellers list on her previous adult colouring book The Secret Garden by selling over 1 million copies which speaks volumes (excuse the pun!!!).
The newcomer Manny Young has produced a great debut adult colouring book with Magical Bouquet and will be an enjoyable colouring experience – highly rated and well worth looking out for!  If you want to relieve stress and enjoy doodling it looks as if grown up colouring sheets and books are now in vogue and here to stay!
What equipment do you need for adult coloring books?
A quick check list:
Soft Core Colored Pencils (set of 48+ is ideal to give you plenty of color range)
Gel Ink Pens-Multiple Color (20+pack is ideal)

Pencil sharpener

Eraser – soft is best so that the paper and designs are not damaged

Pencil case – roll up is best to keep your most used tools in one place
Always keep your colored pencils sharp for fine detail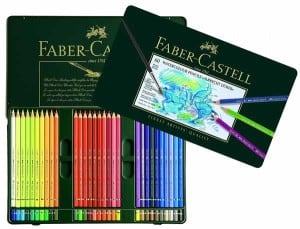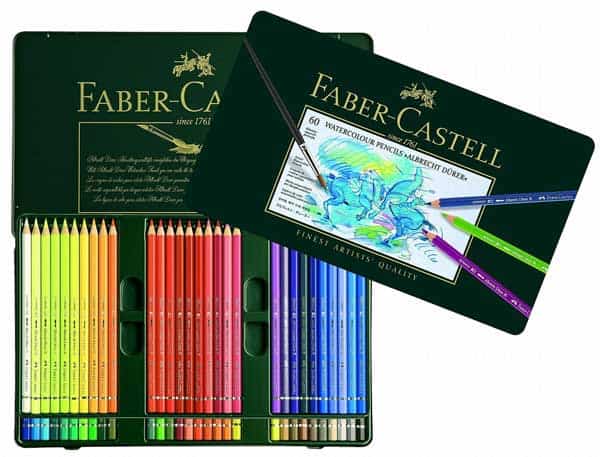 If you are wondering how to color adult colouring books take a look at some of our reviews of different art medium for inspiration right here…