Blog
Drawing tips
Watercolor paint
Creating cartoon designs for a new web site is great fun but frought with dangerous challenges.  The client wanted a mole surfacing in a garden wearing a world war two pilot's helmet and goggles.  And it had to be studying a paper map of the garden!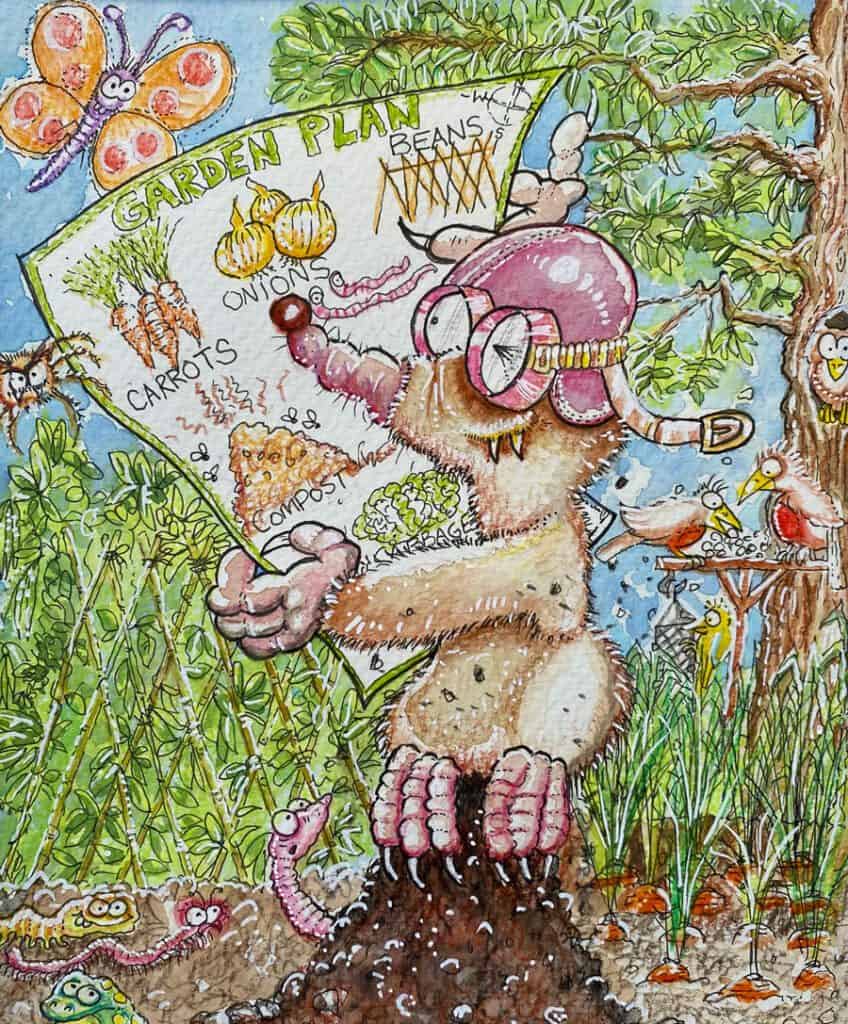 Easy right?… Wrong!  I discussed the 'look and feel' of the design and ink and weatercolor was the desired medium.
Creating a watercolor technique
I groaned inwardly – I am so used to using my trustee graphics tablet. Watercolor is a medium I seldom use in these days of electronic art. But hey-ho, they were paying for the commission!
'Hard copy' cartoon designs used to be a nightmare. I have developed a technique for making sure any errors along the way are not catastrophic.  In years gone by a single ink smudge or slip of the pen would see me balling the design up. Hurling it across the studio floor in a cloud of swear words – but not any more.
I sketched out the mole design in pencil then overlaid it with staedler black line marker (0.5mm).  Doing this quickly makes the creative juices flow and even though there were some tiny errors I wasn't bothered as I have my go to error correction method, particularly for non-electronic work.
Using a light box
I placed the first ink draft on a light box and created a new drawing using India ink on quality 300gsm Arches, Cold Press Watercolour – fine grain paper laid over the original image. Using waterfast ink I made a copy.  The beauty is that the original design isn't crystal clear through the illuminated top sheet which allows for more creativity rather than a straight copy.  This is something I learned from the genius that is Quentin Blake who uses this method to create his amazing children's illustrations (see my article on roughing out cartoons which shows Quentin Blake in action.
Watercolor pencils for accuracy
The new copy is ready for watercolor.  Before you gallop off reaching for a tin of watercolor paints I would advise you to think of accuracy.  I find watercolor pencils to be the perfect medium for controlling the pigment and allows pinpoint accuracy.  Conventional tins of watercolor sloshing around a pallet is,  best left until you are an expert in that medium.  Watercolors are so difficult to master.  Watercolor pencils allow you to create the perfect colors and shading before a drop of water is added.
You will notice in the design I use a white marker pen to highlight certain features, such as white hairs on the body.  A white marker is so useful, particularly when you need a bold white.  Watercolor paint/ pencils cannot achive this successfully over darker colors.
If you make a mistake it is really annoying. You may need to make another ink copy from the original on the lightbox. Not half as heartbreaking as having to start the design from scratch!  I have used this method for years. It takes away the fear of creating watercolor cartoon designs.