Blog
Drawing tips
Selling your artwork
As an artist,  you need to know best place to sell art online that will promote your artwork and products without eating into your profits.
The term "starving artist" was coined because it's sometimes harder to sell your art than it is to create it. You could starve waiting for someone to buy it.
It is the best time in the history of art to sell artwork.  In this digital age, we can create, transport and sell our wares at the click of a mouse button.  There are so many opportunities out there in the great cyber store that it makes no sense not to be in it.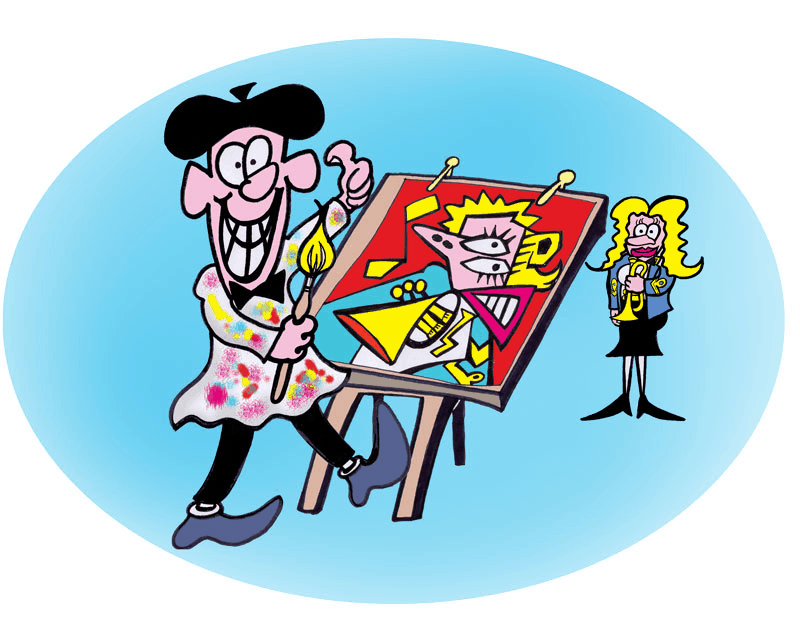 Technology has advanced to an amazing level so that you can upload your artwork n one side of the globe and sell it on the other side in minutes. No longer do you have to make a physical product and sell in a physical store.  You can do everything from home without stepping outside the door if you wish.
Once you learn how to sell your product online, you may be able to make a living doing it. Making and knowing how to sell art are two entirely different ball games. Especially if you're trying to sell original art as an artist who's not very well known.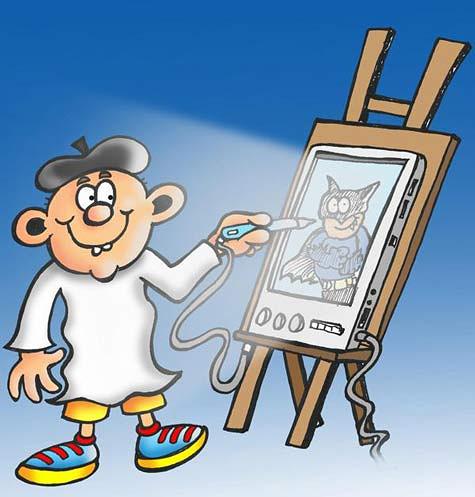 Creating an art gallery online sounds daunting and impossible if you're not tech savvy. Don't let that stop you! Be adventurous. It may have taken a long time to learn your own craft but with so many tutorials and information, online anything can be overcome quickly.  Nothing is impossible and the only thing holding you back is you!
The best way to sell your art online is to showcase it to a global audience as often as possible. And that means getting your work splashed across the World Wide Web.
What artwork can you sell?
You have created a great cartoon, painting or maybe even taken a fantastic photo.  Any image can be used to make an endless number of products.  You may just wish to sell the original as a one-off or you could do that and still use the image to create even more products to sell.
As an example I created this image for a music magazine: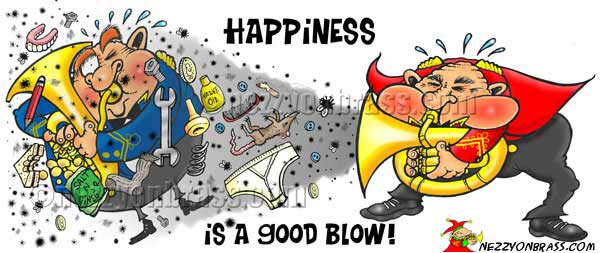 I could have left it at that but I decided that the image was also perfect for other products. I created a limited edition print with the same design which made sales and mugs which sold very well through my music web site. After this first design, I created a range for brass players and they sold like hotcakes!
You could probably look back through your portfolio and identify many products that could be created from your artwork.  Here are a few ideas:
Prints

( see my article on how to create prints that sell)

Mugs and other sublimation products

(see my article on creating your own designer mugs)

Create downloadable products on ETSY

(see below for more information)

Create your own adult coloring books

and sell on Amazon

(see some examples in my article on the top-rated coloring books for adults)

Greetings cards

–

the greetings card market is massive and always in demand.  Create your own or design for a greetings card company.

Tee Shirts

–

Another way to sell and promote your designs

Art and designs for websites

– web owners are always looking for images for their blogs and articles

Children's Book Illustrations – Either working with an author or create your own.  it has never been easier to self-publish on a variety of platforms such as Amazon Kindle, Kobo or Smashwords.  If you haven't explored the possibilities that children's picture books have to offer see my interview with Lynn Chapman a prolific UK book illustrator who offers great advice and a terrific course to get you firmly on track.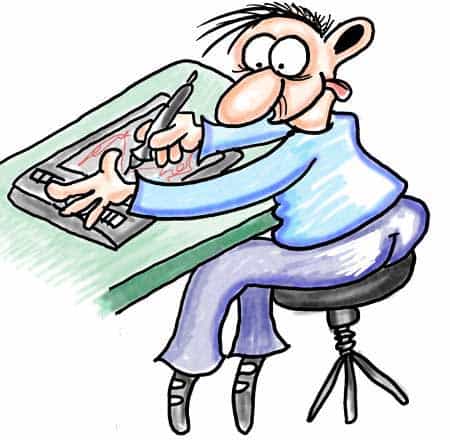 Digital vs physical ststorefronts
The best place to sell art is anywhere that gets your product in front of people. Even if they don't buy it, they'll mention it to their friends. Flea markets, craft shows, local vendor meets, festivals, and any other place you can set up your work is a potential marketplace.
You never know who may catch a glimpse of your product and wander to your table or booth. Have some business cards made up with your website so they can shop at a later time or pass it along to a friend or family member.
The internet is in 87% of households across the world. Everyone shops online, and it's becoming more and more frequent. It's easier to click on an icon and checkout online than it is to shop at the local supermarket.
With millions of people shopping online, tap into that community of busy buyers. Showcase your work and get your name out there.
A lot of artists enjoy selling their artwork out of their studios. But how will anyone know about it if you don't tell them?
Websites and business cards are inexpensive and easy to make. Leaving a few strategically placed business cards with your name and website on it is fantastically cheap marketing.
Each year, more art is being sold online. You may never meet the person who buys your art, but they could be your biggest fan.
Selling online helps you keep more of your sales because you skip the middle-man processing fees and commissions from museums and other similar institutions.
Rules for selling art
Price your work accordingly. If you underprice your work, the buyer will judge it to be only worth a few bucks. A cheap price can make a buyer undervalue your talent and pass you by.
A price tag that's too high (for an artist no one has ever heard of) is also disastrous and won't attract customers. Find out what artists in the same genre are pricing their work at, and use it as a baseline for yours.
Know your skill level. Be proud but also be humble enough to admit there are others who are better than you. Make sure that the price attached to your work reflects your experience level.
If someone pays you for your product, the government wants its cut. You'll have to claim it as income when you file your taxes. If you're making a good amount of profits, investing in an accountant or tax specialist may be a good idea.
If you're offered a commission, get it in writing with very specific terms. A contractual agreement should outline the price, the deadline, the desired art piece, and any miscellaneous items like frames, etc.
When you want to sell original artwork, you have to create like an artist but learn how to sell art like a businessman.
Sell more by giving away your work
Giving your artwork away that you have taken hours, maybe even days to produce may sound crazy! But free art can become a huge lead magnet for raising your artistic profile, creating a following and eventually creating a huge sales funnel.  
Discounts and sales are terrific, but everyone loves a freebie. Holding a contest on Facebook or other social media is a great way to interact with people.
But another great way of exposing yourself is to donate your pieces to charities, hospitals, schools and other places with a lot of foot traffic. They could feature you on their website, and voila, free advertising.
If your rent a spot at a local art show, set up a raffle where the winner can pick any piece from your inventory. Or ask for feedback on your website and choose a person to be the recipient of your giveaway.
There are tons of ways to engage people to visit your website or go to any site where your work is for sale. The point is to get them to go online and tell their friends about it, too.
You could gain a large following by giving away freebies. You'll win in the long run because they'll tell everyone where their freebie came from. Networking and word-of-mouth advertising is free and usually turns a few customers your way.
I provided free artwork for years before having the courage to start an art-based business.  That experience was invaluable as I was able to learn and hone my craft without the commercial pressures.  It also built a huge list of contacts and I am now in a position where I have to turn work away. 
Selling on your own website
Yes, you'll have to pay some fees up front to build and host your site. But it averages out to pennies a day for a way to earn hundreds – maybe thousands – per month. And who says you have to show just your own art?
You can sell other artists' work (hopefully to make a profit) on your storefront. This will reel in consumers who will peruse and possibly purchase your art as well.
Listing with third-party vendors is a splendid way to get your gallery set up quick and easy. But you'll probably have to share the profits. Remember, they're doing all the advertising, website hosting, and marketing for you.
The best place to sell your art online is your own website, of course, but definitely list them elsewhere for the extra exposure. Consumers can always loop back around and find your digital store where they may discover a lower price, free shipping, and larger variety.
When you learn how to sell art on your own site, you'll realize how much more control you have. Plus, you can keep all the profits. E-commerce sites are one of the best ways to sell original artwork because they open the door to entirely new communities of shoppers you wouldn't otherwise have access to.
Best Place to Sell Art online – The Best Sites
Artists need a place to sell their products, and in today's digital world, the internet is probably your best friend. You don't really need to know much about how to sell your product online because these sites walk you through the process step by step. They are designed to be user-friendly, quick, and make money for you and them.
The best place to sell your art online is a website that attracts consumers – lots of them. Interior decorators, new homeowners, people looking for gifts, and art lovers descend in droves to the internet to find ways to adorn their walls.
Listing your art on a few good websites exposes you to a multitude of potential buyers.
A few of the best sites to sell art on are: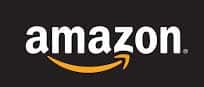 Amazon 
Anything under the sun can be sold on Amazon, and that includes various forms of art. Sell original art here at a price you set. Selling fees vary, but it's worth it for the extensive amount of shoppers who could see your work.  
There are a couple of options for the Amazon selling process.  You can either advertise on Amazon and ship the orders yourself.  This is the best strategy particularly if you are producing one-off items.  
The other option is to use the Amazon by Fulfillment program.  This is only viable if you have a product that can be replicated in larger numbers such as prints or mugs carrying your designs. In simplistic terms, you join the Amazon by Fulfillment program, send your products to the Amazon warehouse, create the adverts and Amazon do all the rest.  
This sounds terrific yes?  However, there are some drawbacks.  Amazon charges quite a tidy sum for this service which by rule of thumb works out at a third of the product price.  They also charge a monthly fee for your membership.  
On the upside, Amazon has the best online sales marketing system and even for their apparently large fees they are able to promote your artwork like no other on the planet.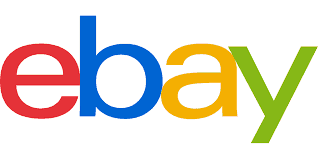 E-Bay
This platform is still a great way to sell your artwork and I have used it many times.  
For those of you not familiar with eBay you set up an account, link it to a PayPal account and your good to go.  
eBay takes a listing fee and a small commission on the sale of the item.  You can create your own virtual shop on eBay and link the shop to your own website if required.  
There are two ways of selling – either as an auction or as a buy it now.  
With the auction, you can set a minimum price and the length of the auction.  The advantage of the auction method is that your products get more exposure and you could end up with a bidding war especially for original products one-offs.  
The buy it now option is more straightforward and you have a set price for your product.  You can also list multiple products on the same listing so the same product can continue to sell under the same campaign.  
For example – you are selling 25 limited edition prints and can place them on the same listing advert at a fixed price that is available to buy it now.  The listing will end either when you have sold out or when the time set for the listing to run expires (whichever comes sooner).
Made for and of all things art, this online gallery caters to everyone in the art world. Put your design on pillows, coffee mugs, t-shirts, bags, and more.
Thousands of artists can list their work here for free shipping and no tax. Bargain hunters will often pay more for a product if there are no shipping fees.
Social media (Facebook/Instagram/Twitter) 
Social media sites are trolled by thousands of people every minute. Post a link to your website or a photo of your work. A few well-placed hashtags could drive traffic and potential customers to your site.
For a few extra dollars, you can create ads that will post your artwork in front of buyers who have a history of shopping for items similar to yours.
If you don't have a website where you can show off your art, this is one of the easiest ways to build one yourself to showcase your genius. Use a template, upload photos of your work, and set your prices.

The perfect place to connect artists with international buyers. They keep a 30% commission from each sale but advertise your art around the world which is a pretty good deal.

Harngallery.com – Artists show their work and keep 80% of the purchase price.
Upload photos of your pieces and they do the rest.

Imagekind.com – Forget keeping an inventory. This is a print-on-demand marketplace that offers printing and framing options to complement your pieces.
It features fine art and photography, abstract, animal art, landscape, nudes, seasons, religious pieces and so much more. Artists keep 100% of sales. A 5% transaction fee is charged on anything marked up 100% or over.
FineArtAmerica.com – Similar to Amazon, you can set your price while they handle fulfilling each order for a small fee. Canvas prints, metal prints, posters, cell phone covers, greeting cards, and more can be made featuring your art.
Create a profile, and upload your images. They do the rest from filling each order, printing/framing, packaging, and shipping.

Over 80,000 artists currently list their work here. Photography, drawings, digital art, and illustrations are available for purchase. Artists keep 95 – 100% of profits.
It's free to create your gallery, and the print-on-demand feature means you get paid every time you make a sale.
For pieces priced over a grand, list them here. A flat fee per piece is deducted for advertising fees, but they never charge commission. The rest is yours to keep.
Art galleries, dealers, and private collectors are some of the clientele who shop this site. Art deco, expressionism, impressionism, pop art, realism, and many other genres are featured.

Creativemarket.com  
Graphics, logos, prints, and more can be sold here.
Artists keep 70% of all sales and can set their own prices. Nature, abstract, educational, and other categories are available.
Digital art, photography, designs, cartoons, fan art, comics, and so much more is listed here by artists of every genre.
Artists of all types promote and sell their work here.
There is a fee so set your prices accordingly.
Consumers spend a couple billion dollars a year on this site. Lucky for you, there's a section just for artists to sell their wares. List your stuff, pay a 3.5% transaction fee, and get your products in front of over 30 million shoppers.
Etsy is a reasonably easy platform to set up with step by step instructions.  Etsy requires that advertisers must only sell original work.  This cuts out all the general traders that would otherwise swamp the site with products that can be bought anywhere.
The fees are very low and another huge advantage, particularly for designers, is that you can sell digital products that can be automatically downloaded on purchase.  
I recently listened to a Smart Passive Income podcast hosted by Pat Flynn in which he interviewed Kelsey Baldwin – You can listen to the podcast here  SPI 257.  
She has created a great business out of original downloadable products that she has designed.  Kelsey runs online courses letting you know exactly how the Etsy system works and how to make money from your designs.  
I bought the course which was really well constructed, informative and excellent overall and have started to use Etsy as another income stream.
Yes, you can sell artwork and art related products on Craigslist. Upload a few photos, set your price, and let the buyers come to you.

Attract Buyers by making a strong artist statement
Talk about your work. Admiring the colors and beauty of a piece of art will be more profound if the buyer has a glimpse into your psyche. A peek into the mystery behind the brush strokes can add a significant amount to the price tag.
You don't have to write a paragraph for each piece you're selling, but an interesting explanation of what it represents can engage viewers and entice them into becoming a buyer.
People won't risk looking stupid and ask what the artwork is about. By offering a short yet entertaining explanation of what you created, you can attract people who will love your work as much as you do.
Find your art niche and get started
The best place to sell your art online isn't cut and dry. One single place won't get you the exposure that you need to make a decent profit.
You didn't draw one single sketch, so why advertise your work at a single place? Use a variety of locations – both physical and digital – to showcase your talent.
Give a few pieces away as gifts or to your local doctor's office, museum, or government building.
The point is to let people see your work so that they'll want to buy some of it for themselves.
It may be a little rough to get through the learning curve of how to sell art of your particular genre. But once you do, it will get easier each time.